For the Love of Golf
By: Elisa Gaudet
So many celebrities and professional athletes have developed a passion for golf. With 27 million golfers in the United States it's easy to see we live in a country that loves the game. If you needed further validation of how large the industry has become, just attend the annual PGA Show in Orlando. This is where anyone related to golf from around the world shows up. It's not unlikely to see Greg Norman crossing the floor from his apparel booth to the McGregor booth, or Jim McLean, Ann Liguori and others signing books, or David Leadbetter giving swing tips.
For those of us in the industry, we also enjoy a few unsuspected treats like meeting Johnny Damon. The New York Yankee centerfielder was on hand at the Puma booth at the 2008 PGA Show, which just ended. Damon is a Puma Golf spokesman and has dropped his handicap from an 18, the number that appears on the back of his Yankee uniform. Damon is the perfect guy for the hot, trendy Puma line that is taking golf fashion by storm. Puma has also signed up 8-handicap actor Luke Wilson, who will host a celebrity golf tournament in Los Angeles for the line.
Damon grew up in Orlando and often plays Isleworth, a place known for such famous residents as Tiger Woods and other PGA Tour players. Damon went to Dr. Phillips High School in Orlando, where he was drafted directly into professional baseball. Before playing for the Yankees, Damon was on the Red Sox team that won the World Series for Boston, which finally broke its fabled "Curse" with the long-awaited victory. The win in 2004 broke an 86-year-old losing streak in the World Series. Although he now plays in New York, you get a sense of his love for Orlando, the place he considers home. Johnny recently held his own golf tournament in Orlando which raised $220,000 for a number of area charities.
Johnny began playing golf at age 18 and, after deciding to get serious about the game, has lowered his handicap to a 12. When asked about the improvement, he says, "I just got smarter about the game and I enjoy it more." His wife and 8-year-old twins - a boy and a girl - also play. His dream foursome would be Ronald Reagan, Ice Cube, Mark Wahlberg and Justin Timberlake.
For someone who played for both the Red Sox and the Yankees, one of the fiercest rivalries in sports, it begs the question: If you put a Yankee foursome against a group of Red Sox, who'd win? What would be the outcome if such Yankees as Alex Rodriguez, Andy Pettitte, Johnny Damon and Derek Jeter were pitted against golf-playing Red Sox like Tim Wakefield, Jason Varitek, Kevin Youkilis and Curt Schilling?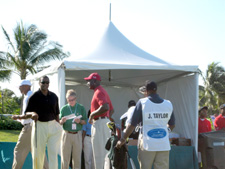 Scottie Pippin was another sports personality attending the PGA Show. Apparently, the former NBA player is a major investor in the Carolina Club in Margate, Fla.
Meanwhile, out in the Bahamas, the most famous NBA player of all time hosted his annual celebrity golf tournament. Numerous sports stars were on hand for Michael Jordan's tournament at the One and Only Club in the Bahamas, including former Yankee Paul O'Neill and New York Giant great, Lawrence Taylor. The game of golf just keeps growing, and you never know who you'll see next.
Elisa Gaudet brings a wealth of entertainment and golf experience to Cybergolf. Elisa has spent the past several years in the golf industry in the U.S., Latin America and Spain. She worked for the PGA Tour and the Tour de las Americas before founding Executive Golf International, a golf marketing company that works with clients to develop strategies using golf as the medium. Often referred to as the Maria Bartiromo (a business analyst for CNBC) of golf, Elisa says: "Golf, as a marketing tool, has been around for years. It's amazing how many new ways companies can align their brand with the golf market to reach their target audience. Our goal is to create alliances and establish cross-border relations." Elisa also worked in the entertainment industry for over 10 years, including five in Los Angeles as a model and actress. She can be seen at many celebrity golf events and often gets the inside scoop from PGA Tour players. For more information about Elisa, visit her websites at www.onthelip.com or Executive Golf International www.execgolfintl.com.