Forced Carries & Lay-up Hazards
There are other types of penal tee shots that have both fallen out of vogue, and yet are still prevalent, mostly because environmental regulations have limited creek, wetland and pond removals over the last 25 years.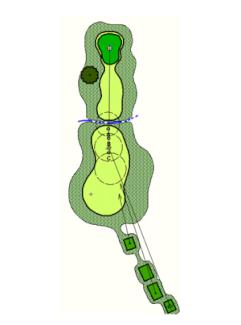 Cut 'Em off at the Pass
One is the "Cut 'em off at the pass" tee shot, where a creek crosses the fairway just past the landing area, usually at about 300 yards - not just suggesting a lay-up shot would be prudent, but truly preventing a full tee shot. These holes can be frustrating, because we all like to hit full drivers on nearly every hole.

They are even more frustrating to the 99 percent of us who can't reach the creek with any drive, while we witness the 1 percent of big hitters actually clear a creek at 300-plus yards! If I intentionally place a hazard to force a lay-up, I have learned it must be wider than the narrow creek shown here!

There is some distance-control and club-selection strategic value if the hole plays directly up or downwind, or is severely downhill, as it complicates the club selection necessary to get as close to the stream, without actually going in. There is no additional value when these holes play crosswind.

As shown below, there is "Position A" within a few yards of the creek, "Position B" safely back of the creek, and "Position C," where a bad shot or club selection leaves you with a really long second.
While these holes aren't really stellar strategically, they might be used on a par-5 where the longest tee shot might reach the green and a lay-up would not, so there is no real lost stroke. On a short par-4, the resulting approach is probably easy enough even well back, negating the strategy. On a long par-4, laying up 20 to 30 yards short of the creek might prevent reaching the green (increasing the approach to over 200 yards on a lay-up), which might be too difficult.

They work best on mid-length par-4s, where the resulting second shot on a might transform from a mid-iron at Position A to a long iron at C, making the longer approach just hard enough to create the dilemma of playing close to the creek.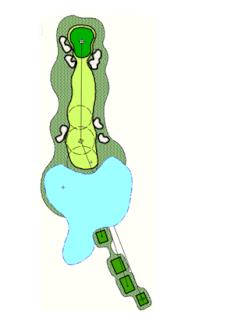 Forced Carry
The "Forced Carry" Tee Shot

Another type of tee shot we would never use, if environmental regulations mentioned above didn't sometimes require it, is a forced carry. A pond or wetlands in front of the tee isn't terrible, since it is easier to clear the water with the ball on a tee. We try to minimize those to carries the average player can make easily, usually a maximum of one-half to two-thirds their normal distance, as discussed previously (i.e., 90 yards for the 135-yard hitter, 120 for 180, 160 for 240, etc.) .

Longer forced carries to attain the fairway are penal, and of little use strategically, while being sure to slow play, given close to a quarter of these tee shots are somehow muffed by average players. For shorter hitters - or players on the wrong tee (such as in a scramble, or if they have inflated egos) - they are simply unfair as there is no way to play the hole.

Hopefully, we can arrange some openings or angles to provide strategic interest or a bail-out. Most golfers dislike forced lay-ups and carries, making each of these sometimes necessary, but rarely intentional in design.
Jeffrey D. Brauer began his career as an apprentice in the Chicago area in 1977. His first project was Kemper Lakes, which shortly after hosted the 1989 PGA Championship. He formed GolfScapes in Arlington, Texas, in 1984. In the last 29 years he has designed and consulted on a wide spectrum of projects, ranging from partial renovations to international resorts. His recent work includes teaming with the design team of Pascuzzo and Pate on a remodel of the world-famous La Costa Resort & Spa in California, and renovations at Superior National Golf Course in Lutsen, Minn., and Mesquite Municipal Golf Course in Mesquite, Texas.

He has been a member of the American Society of Golf Course Architects since 1981, serving as President during its 50th Anniversary year in 1995-96. Jeff still studies the classic works - both old and new, and has played more than 75 of the best courses in the world.

Jeff gives many presentations and is a regular architecture columnist for many publications and websites, including Golf Course Industry and Cybergolf.com. He has also been a strong advocate for the "Tee it Forward" campaign and strives to make his courses fit the description of "fun to play every day."

Jeff's work has been spotlighted in most of the world's major golf magazines. Golf World ranked him as one of the top-20 golf course architects and Golf Inc. ranked him as the world's fourth-best value in golf architecture in 2010. Jeff's portfolio and reputation keep him at the forefront of desired designers for new courses, reconstruction and renovation projects. For more about Jeff, visit http://www.jeffreydbrauer.com/sites/courses/layout.asp?id=859&page=48451.