FORE Golf Asia to rep AB Pro Golf in Asia
May 9, 2011. Custom apparel provider AB Pro Golf has named FORE Golf Asia is exclusive sales representative for Southeast Asia, Hong Kong, China and Japan.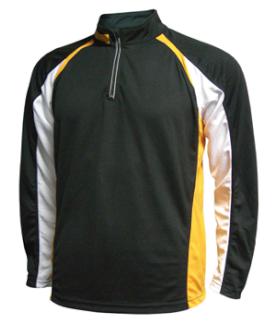 Led by PGA professional Jeff Puchalski, FORE Golf Asia (www.foregolfasia.com) is a full-service consulting firm specializing in merchandizing, tournament operations, course development and club management. Based out of Ho Chi Minh City, FORE Golf Asia will sell the complete line of AB Pro Golf sportswear to golf clubs, tournament organizers, golf retail shops and corporate clients across the region.
AB Pro Golf (www.abprogolf.com) is a leading factory direct manufacturer of custom golf and sports apparel with offices in Ho Chi Minh City, Vietnam, San Marcos, California, USA, and Zurich, Switzerland. ABPro Golf designs and manufactures a complete line of customized men's and women's fashions that can be embroidered, sublimated or printed - with private labeling available for that tailor-made feeling at no additional cost.
"Why buy in-stock products when clubs and tournament organizers can customize each product, to fit each and every need, at a lower cost - thus increasing my customers' profit margins?" Puchalski said. "That's why we feel so very fortunate to have partnered with AB Pro. They might be a new name to some, but they've been in business since 1996, and we at FORE Golf Asia have seen what they can do - for our client clubs here in Vietnam, providing custom golf apparel, caddie uniforms and other tournament necessities to our corporate clients.
"The quality is very high, the prices are low and their fashion sense is innovative, daring even. I can guarantee that AB Pro's new line of reversible shirts and jackets, introduced at this year's PGA Merchandize Show in Orlando, will turn heads. There is nothing like them on the market today."
Most custom apparel vendors serving the golf marketplace are middle-men, who buy their sportswear stock in predetermined fashions and colors from third-party manufacturers. AB Pro Golf eliminates that middle-man and extends wholesale pricing to clients who stock golf retail outlets and supply custom apparel to the corporate tournament market.
"We own and manage our own factories, which allows us to deliver to clients low minimums, quick delivery, market-right fashion, design flexibility and low prices - all of which translates into higher profit margins for our customers," said AB Pro CEO Brad Anger. "We are constantly searching the fashion world for the most compelling designs and colors for our lines. But we add the custom element, and we're happy to execute small orders that most factories will not.
"We also add real innovation to the mix. The reversible shirt is an example of fashion innovation, but here's another: We have the ability to add anti-bacterial agents to our fabrics, thanks to our alliance with a Swiss fabric supplier that has revolutionized sportswear sourcing with this innovation. This alliance allow us to use fabrics that are performance driven across a wide spectrum of sports industries, from golf to triathlons. We want our clients to look good, but our goal is to create golf sportswear that literally outperforms the competition."
In addition to this emphasis on customization, AB Pro does produce complete lines of apparel, issued annually to reflect the latest fashion initiatives. The AB Pro Golf Line for 2011 features six separate men's collections, three women's collections, men's and women's solids polo programs, men's and women's windshirt programs, and a full line of headwear. All told, these collections employ 50 different golf fashions in a dizzying array of colors and styles. AB Pro's windshirt collection alone offers more than 300 selections of style and color.
FORE Golf Asia specializes in club management and course development consulting, but also ranks among Southeast Asia's most accomplished tournament administrators. Its portfolio of client events includes everything from Asian Tour stops and national championships to one-time corporate events. Puchalski also enjoys a reputation outside golf, having served as national chairman of the American Chamber of Commerce in Vietnam from 2004-05.

"FORE Golf Asia is the perfect partner for AB Pro in Asia," Anger said. "We are intent on selling our custom apparel programs to golf clubs, but we're positioned to ably serve corporate clients outside the golf realm. We're also determined to become Asia's one-stop shop for customized tournament support: apparel, flags, caddie bibs, club uniforms, you name it.

"Jeff Puchalski understands the needs of event organizers because he's an experienced tournament organizer himself. He's a PGA professional who has stocked merchandize and managed pro shops at golf clubs on both sides of the Pacific. I'm confident that AB Pro will benefit from his know-how, and the relationships he has cultivated across the region."

Puchalski and Fore Golf Asia can be reached on +848.3911.0185, or via email at jeff@goregolfasia.com.