Former NFL MVP Discusses Favorite Courses in Lake Tahoe Area
By: Joel Zuckerman
It's one of the rarest honors in all of sports - to be "The Man," the single highest achiever on the grandest stage on the unquestioned biggest day of the year.
I refer to the ultra-exclusive club of Super Bowl MVPs, of which there are just 38 members to date. Compare that to Masters' champions, for one example, of which there are 46, or World Series MVPs, of which there are 49. Mark Rypien is one of the elite - he won the MVP award when quarterbacking the Washington Redskins to the Super Bowl title after the 1991 season.

It would be disingenuous to suggest his victory about a year-and-a-half earlier than his Super Bowl zenith in the inaugural Lake Tahoe Celebrity Golf Tournament was even a close second in his personal roster of athletic accomplishments. But Rypien, who played a total of 11 seasons in the National Football League, actually considers that golf championship to have been something of a stepping stone to future gridiron glories.

"Winning that golf event propelled me a little bit, even though the two sports are totally unrelated," said Rypien, who was born in Calgary, grew up in Spokane and attended Washington State University. "I learned that when the pressure is on, and everyone is looking at you, and Johnny Miller is critiquing your swing, and your hands are shaking like a leaf, you can still get it done. I was out of my element on the golf course, at least compared to the football field. But I finished with an even-par round of 72, and won the event by a shot over guys like Steve Bartkowski, Dick Anderson and Jack Wagner, among others. It really helped my confidence, and I think it might have translated in some way to the football field."

In July Rypien will be participating for the 18th time in what is now known as the American Century Celebrity Golf Championship, this year in its 20th incarnation. He'll be attempting to recapture the magic that lead him to that inaugural victory back in 1990. While there were many "lean years" in the interim, out of the top 10, in recent years the 2-handicapper has once again come close to tasting victory, with four top-10 finishes in the past five years.

He always looks forward to the tournament at the dazzling Edgewood Tahoe golf course, and likewise, he enjoys touring many of the other world-class golf venues found in the Reno-Tahoe region. Owing to his long-standing familiarity with the area, Rypien provides the following insights into some of the great golf in this superb but still-under-the-radar golf destination.
"One of the reasons I've been attending the Celebrity Tournament so consistently over the years is because I play what I call "warm-up rounds" on many of the other great courses in the area," continues Rypien, who still makes his home in Spokane. "And even after the event concludes, I will sometimes stick around for a few days and play several other courses. You have so many geographical extremes in a relatively small area, between lakes, streams, rivers, forests, desert and mountains. The scenery is gorgeous, and wildlife abounds. It's not surprising there has been so much growth, golf-wise, in the area over the years. It's really an amazing destination."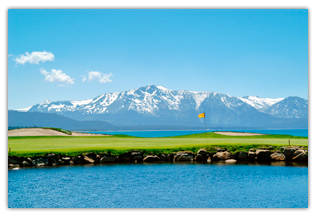 Edgewood No. 18
Photo by: Rod Hanna
Here are a few of the quarterback's favorite tracks:

Edgewood-Tahoe - Lake Tahoe, Nevada

"Despite all the other great courses in the area, the single biggest golf attraction is definitely Edgewood-Tahoe, a course I've been fortunate to play many, many times over the years. You get up in the morning and the odds of seeing even a single cloud in the sky are remote. In all the years I've been there I can probably count the cloudy days I've seen on two hands. The setting next to the lake, the exceptional routing, the transition from great par-3s to wonderful par-4s and even better par-5s make it one of the best golf courses I've ever experienced. It's a scorer's course, but the difficulty comes on putting efficiently on the poa annua greens. They can be difficult, especially late in the day. But the lakeside stretch, the par-5 16th heading towards the water, the 17th running parallel to the lake, and the risk-reward par-5 finisher, make this one of the most exciting and enjoyable courses in the West, and one of the finest courses available to the public anywhere."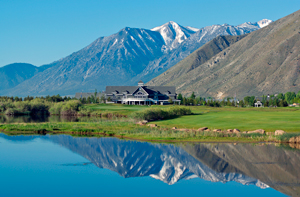 Genoa Lakes No. 18
Photo by: Rod Hanna
Genoa Lakes - Genoa, Nevada

"I've played here in advance of the celebrity event on several occasions, but I haven't had the opportunity to get back in quite awhile now. There are actually two courses there; the Lakes is a John Harbottle-Peter Jacobsen design, and a few miles down the road, the Resort Course is a Harbottle-Johnny Miller design. I think it's a great test of golf, with some awesome views. Like Dayton Valley, this is another course on the valley floor and, when the wind gets going, watch out for good or for bad. You can hit a drive 350 downwind and downhill, but play into the teeth of the wind and it's hard to get the tee ball out much farther than 200 or 220 yards."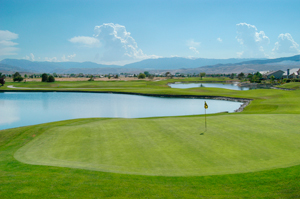 Dayton Valley No. 9
Photo by: Rod Hanna
Dayton Valley - Dayton, Nevada

"I've been here about half-a-dozen times over the years. This is a golf course that can really be challenging when the wind blows, sitting as it does on the valley floor. There's water on more than a dozen different holes, so if you're not striking the ball well, and the wind is up, it's easy to go through a bunch of ammo. You can put up some big numbers. It's located in a very scenic spot, and is one of the few Arnold Palmer-designed courses in the area. It also has excellent greens. I love heading back there, it has a great atmosphere and a cool little clubhouse."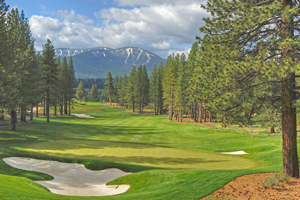 Old Greenwood No. 18
Photo by: Rod Hanna
Old Greenwood - Truckee, California

"I'm a big Jack Nicklaus fan anyway, and this course is spectacular. It's a great layout, with ample room off the tee, but once you get near those firm, hard-to-hold greens you better start playing some golf. Jack was a great chipper and putter, and those skills are definitely needed to post good scores at Old Greenwood. It's a gorgeous property, meandering through thick forests, with wonderful mountain views in the backdrop. There are lots of choices in and around that entire region, but Old Greenwood is on the very short list of 'must-play' destinations, there's no doubt in my mind."
Joel Zuckerman, called "One of the Southeast's most respected and sought-after golf writers" by Golfer's Guide Magazine, is an award-winning travel writer based in Savannah, Ga., and Park City, Utah. He has written five books, including the epic "Pete Dye Golf Courses" in 2008. Joel's course reviews, player profiles, essays and features have appeared in more that 100 publications internationally, including Sports Illustrated, Golf, Continental Magazine, Travel & Leisure Golf, Sky Magazine, Golf Connoisseur, Golfweek, Estates West, Millionaire and Golf International. For more of Joel, visit www.vagabondgolfer.com.