Forsgate to Host Creamer, McCord & Feherty in October
By: Jay Flemma
Continuing its longstanding tradition of giving back to golf, Forsgate Country Club's charity event on October 6 and 7 will feature Paula Creamer and Gary McCord in a "Battle of the Sexes" hosted by the "Clown Prince of Golf," David Feherty.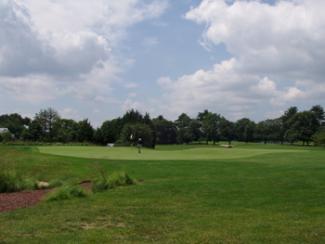 The Swale in Forsgate's 100-Yard-Deep 17th Green
"We need the community more than they need us, so we do whatever we can to use golf to give back to others," said Forsgate owner Chris Schiavone, whose Forsgate Foundation has given over a $300,000 to local charities in the last decade. "Golf does so much good in our lives; it's incumbent upon us to return the favor to others, pay the goodwill forward. What better way to do that than with the game we love and that brings so much happiness to our lives."

Located in Monroe Township, N.J., Forsgate has hosted A-list celebrity charity events through its foundation since 2003. This year's event will benefit the Make-A-Wish Foundation. On the evening of the 6th, the club will host a cocktail reception and silent auction of sports memorabilia, travel packages and other prized golf-related assets. On the 7th, registrants will play 18 holes on the Banks course with photo ops and a chance to play a hole with the celebrities.
After a 2 p.m. skills demonstration, McCord and Creamer will do battle for nine holes while Feherty wisecracks all the way around.

"I didn't even realize he [McCord] played golf!" Creamer confided puckishly. Indeed, that sentiment may be widespread as early national polling has Creamer, golf's "Pink Panther" and America's Golf Sweetheart, favored by a 4-1 margin. She has won 11 times on the professional circuit including her U.S. Open victory at mighty Oakmont in 2010. Creamer has been installed as a 3-2 favorite over McCord, who spots her 38 years and has nine fewer professional victories.

"[Mom] always told me to play nice with girls . . . I never listen to mom. Beating Paula will be fun," replied the plucky McCord, who is relishing his role as the bad guy. "It will be another win in my already memorable career."
Meanwhile, no one makes us laugh like Feherty, whose self-effacing humor may be funniest of all. "A cute girl told me she loved me today," he quipped. "I told her she must like gerbils, have low standards, or both."

The Banks course (built 1930) is the last design in the architectural bloodline of Charles Blair Macdonald, Seth Raynor and Charles "Steamshovel" Banks. McCord and Creamer will play hole Nos. 1 and 2, then cros sover to the back nine and finish at 12-18. Along the way they will play the famous template holes "Narrows," "Short," "Double Plateau," "Chocolate Drop" and, of course, one of the greatest "Biarritz" holes in America, a 272-yard behemoth of a par-3 with a 10-foot-wide and six-foot-deep swale in the 100-yard-long green.

For more information on registration, call 732/656-8911 or visit www.forsgatecc.com or www.forsgatefoundation.org.