Four Aces Beat Odds For Golfers On New Zealand Cruise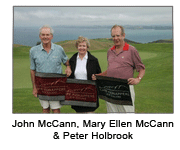 John and Mary Ellen McCann figured the chances making a hole-in-one on their Kalos Golf cruise to New Zealand were about a million to one. Actually, their feat turned out to be 2.3 million to one, after they and two others in the tour group each made an ace.

The McCanns, who have homes in Rumson, N.J., and Vero Beach, Fla., each made a hole-in-one Jan. 11 playing in the same foursome at the Cape Kidnappers Golf Course, a Tom Doak design ranked among the top 40 golf courses in the world. Mary Ellen made hers on the 119-yard eighth hole and, five holes later, John made an ace on the 120-yard 13th hole, the shortest hole on the course which is easy to reach but hard to stay on.

Peter Holbrook, of San Francisco, also aced the eighth hole, from 148 yards, while the day before, Bob Dayton, of Wayzata, Minn., holed out on the 140-yard fifth hole at Paraparaumu Beach Golf Club.
According to US Hole In One, a leading provider of hole-in-one insurance for golf outings and tournaments, the odds of four golfers making a hole-in-one from a group of 90 playing together over two days is 1 in 2,328,000.
"We had the champagne flowing," said Jim Lamont, owner and operator of Kalos Golf, which also was celebrating its 100th cruise since launching in 1994. "It was so exciting, and to do it in such a spectacular setting was unbelievable. In fact, when at first when we heard John made the third one, right after Mary Ellen made one, we thought, 'This can't be true.' "
Obviously a highlight of the 14-day cruise that included eight rounds of golf, the four aces were made in calm, 70-degree weather. It was the first career hole-in-one for Dayton, who like Holbrook was taking his third Kalos Golf cruise.
And while Kalos Golf does not guarantee its guests will make a hole-in-one, it prides itself on first-class golf and travel experiences for the seasoned traveler who appreciates the best in service and accommodations. Each cruise is based on a uniquely designed itinerary and offers the highest level of comfort and style for the ultimate golf vacation. In addition, every cruise features an on-board golf director whose sole job is to organize each day's golf activities to ensure maximum enjoyment for Kalos' clients.
For more information about Kalos Golf itineraries, call 919/942-3464 or visit www.KalosGolf.com.