Four Times the Fun at Garland Resort
By: Steve Habel
Northern Michigan's renewed Garland Lodge & Resort isn't into circumstance or pretense. As the most remote - and perhaps most satisfying - resort in a state full of famous and fine golf destinations, Garland doesn't have one of the Great Lakes lining its fairways or even a big-name, world-renowned designer on which to hang its hat.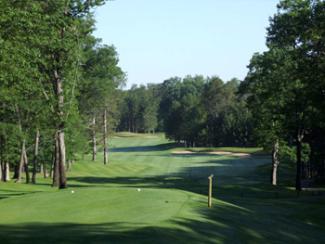 Garland Resort
Instead, Garland is a lot of fun thanks to a quartet of player-friendly but challenging courses and a homey lodge that's also the largest log cabin east of the Mississippi River. The entire property, located in Lewiston about 200 miles north of Detroit and a two-hour drive east from Traverse City, spreads across 3,000 acres and contains numerous ponds, streams and lakes set within forests of mature hardwoods and pines.

The Garland Resort was founded in 1951 by the Otto family, and its four courses - Monarchs, Fountains, Swampfire and Reflections - were all designed by Ron Otto, son of family patriarch, Herman Otto. Garland is a classic four-seasons retreat, transforming in the summer from a winter wonderland of skiing, snowmobiling and alpine pursuits to an all-inclusive golf and outdoor destination in late spring through early fall.

Ron Otto, who died in 2011, ran the resort until 2009. Starting in 1987, Otto plowed under the resort's existing 36 holes and, over the next decade, routed and designed the resort's four current courses.

"You don't have to be a big-name golf course architect to appreciate the game," Otto said in 2002. "I can visualize how the course layout should follow the natural contours of the land. I used to play a lot of golf before I got into the golf course business, and I know what I like. I make it a point to always try and save the big trees, which can add so much to the eye appeal of a course. Creativity was always my forte. Golf course design is way overrated."

He also rebuilt Garland's lodge, which had been destroyed by a natural gas explosion on Labor Day 1985, expanding it from 27 rooms to a structure that now has several wings, three restaurants and a spa all within the largest log-frame structure you're ever likely to see. The building contains soaring cathedral ceilings, huge fireplaces, stained-glass windows and intricate hand-carved wooden statues as well as animal mounts from all over North America. It's like a hunting lodge on steroids; and that's a good thing.

The Otto family sold Garland to New Frontier Capital in August 2009. Despite the new management, the resort still prides itself on being all-inclusive and the kind of place where golf and relaxation are at the forefront. There's a new putting course and amenities have been expanded to now include fly-fishing outings on the nearby Au Sable River.

More than $6 million has been pumped into the courses, accommodations and other facilities; renovations have been made to the interior of the lodge and restaurants. Everything from the landscaping, pro shop, cart paths and sand traps has been upgraded.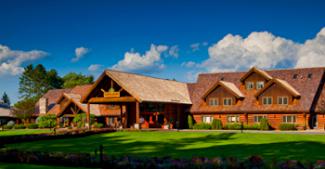 Garland Resort's Main Lodge
Garland's Golf has Quantity, Quality & Variety

Several resorts in northern Michigan have four golf courses, but none can boast all four playing out of the same clubhouse. Garland's layout is like nirvana to golf junkies, and it's fun to can see how many holes you can play. If you get up early enough, it's possible during the long Michigan summers to tour all 72 holes in a single day.

My trip to Michigan in fall 2011 was the first time I'd ever heard of Garland Resort and its underrated courses. In an era when facilities with courses fashioned by "A-list" designers must flaunt their pedigrees to get players to put a tee in the ground, Garland's layouts - as I discovered - are simply enjoyable. They're just not as frequently lauded as some of their contemporaries.

Each of the tracks has its own personality, and all were built across and through terrain that is gently rolling and heavily forested. Garland's quartet is secluded and scenic, not flashy, but each is a strong test. There are dazzling views at every turn and drama aplenty to keep players engaged in what's otherwise a relaxed and well-balanced round.

Garland opened three new courses in a span of four years. First, in 1987, came Swampfire, a stout routing with numerous forced carries, narrow doglegs and water on 16 holes. Monarch (the resort's stiffest test for low-handicappers) and Reflections (a shorter, narrower course and the yin to Monarch's yang) followed in 1990. The final piece was Fountains, which opened in 1995 and has a cool, 6-6-6 layout of par-3s, -4s and -5s and is likely the best overall track here.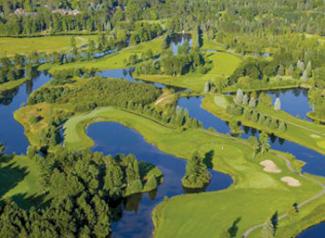 Aerial View of Swampfire at Garland Resort
Swampfire

Thanks to trees, bunkers, undulating terrain and water hazards, this is a true shot-maker's venue. The course, with its bentgrass fairways and greens and gently rolling site, fits naturally into the environment. With five par-3s and five par-5s and a par of 72, Swampfire stretches 6,854 yards from the tips, where it carries a rating of 73.4 and 141 Slope.

Swampfire's fairways lead to large, mildly wavy and mostly raised greens. This layout demands distance and accuracy off the tee. All six of the one-shot holes at Swampfire involve a water carry. Even at that, the course's toughest holes are three lengthy par-4s: the 439-yard fourth; the 443-yard 12th; and the 442-yard 18th.

No. 4's tee shot involves a short carry over water with lakes bordering the fairway both sides. But the approach makes it tough; be sure to stay to the right, aiming towards the bunkers on that side on the approach. To the left and before the green is a water hazard that is not immediately visible. Anything short, center or left of the green is in big trouble.

Swampfire's inward half is a bit longer than the front. It's highlighted by the 380-yard par-4 16th. A good drive will land between 80-120 yards from the green, leaving a wedge over a water hazard to a putting surface protected in front by a huge trap.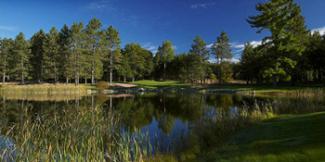 Green at the Garland Resort
Monarch

At 7,166 yards, this is the longest of Garland's four courses. The par-72 layout sports a whopping rating of 75.3 and 143 Slope from its back set of four tees. The inward nine is considered by many to be among the most picturesque and difficult sets of holes in northern Michigan.

The course's name comes from the towering white pines lining its fairways. Despite its difficulty, players are will find wide and generous landing areas to bang the ball off the tee; it's the approaches and greens surrounds that give Monarch its teeth.

Monarch is routed along fairly flat terrain with a nice mix of open and tight tree-lined fairways sculpted out of pine forests. Like Garland's other three courses, Monarch features outstanding tee-to-green conditioning along with wonderful vistas. Wildlife abounds; a family of eagles nests in a tree along the left of the 11th fairway near the 200-yard mark.

Golfers can bump-and-run approaches on many holes as the green fronts are generally quite open. Miss either side, however, and high arcing lobs and pitches will be necessary for up-and-downs as bunkers pinch the putting surfaces.

Monarch hits you in the mouth right at the start as its two hardest holes - the 451-yard opener and 413-yard second (both par-4s) - demand the golfer's best game at the get-go. Two other par-4s, the 447-yard seventh (with a pair of huge bunkers narrowing the fairway just past the 200-yard mark and an approach to a raised, well-bunkered green) and the 451-yard 11th (a dogleg-left that ends at a beautifully landscaped complex, with a cascading stream to the right that also crosses the fairway about 115 yards from the green) also grab your attention.

The stretch from Nos. 11-14 is perhaps the most beautiful, with lakes, ponds and streams housing a considerable amount of wildlife.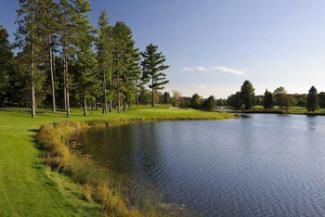 No. 6 Green at Reflections Course at Garland Resort
Reflections

Playing at just 6,373 yards from its back set of three tees, this course proves that excessive length isn't necessary to be challenging. The track, a unique combination of six par-5s, -4s and -3s, has a rolling setting where pines, lakes, streams, flowers and creatures thrive. Par-72 Reflections has a rating of 71.3 and Slope of 132.

Course management is critical here as the longest par-4 is the 383-yard opener, and its par-5s are among the best holes at Garland. The 555-yard fifth has water that must be carried on both the drive and approach (the landing area is almost an island fairway), and both the 487-yard second and 497-yard eighth can be reached in two.

Perhaps the top hole is the uphill, 183-yard par-3 11th, which features layered bunkers and a natural area between the green and forward tees. Unconventional to the end, a round at Reflections concludes at the 222-yard 18th, a pretty one-shotter with ample room for error greenside that provides an opportunity to finish the round with a good score.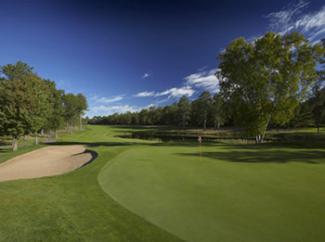 No. 1 at Fountains Course at Garland Resort
Fountains

The newest of Garland's courses incorporates some of the property's original nine holes, and is another example of Otto's quest to harmonize land and golf. Playing to a par 72 and reaching 6,760 yards, it also offers six-packs of par-3s, par-4s and par-5s, resulting in a rating of 72.7 and a 129 Slope, making it, on paper anyway, the easiest of Garland's four courses.

But the Fountains' large and often multi-tiered greens are the most difficult to negotiate at Garland. The surface at the par-3 11th is 52 yards deep and demands a look from about every angle.

The drive from the first green to the second tee at Fountains takes golfers across the longest single-span log bridge in the world (you'll cross it again later to play Nos. 14-18). The course features bentgrass fairways, tees and greens, all kept in fine shape.

The 419-yard par-4 fourth is the toughest hole at Fountains, but there's room left of the fairway bunker for shots that miss on the starboard side. The hole plays long and uphill all the way to the green.

Nos. 14 and 15, a 412-yard par-4 and a 485-yard par-5, respectively, feature two of the property's toughest shots: a 140-yard approach over a cat-tailed marsh on the 14th, and a tiny peninsula green on the 15th that's a tough proposition whether you go for it in two or hit a wedge on the third.

No. 17 - at 456 yards - is the longest par-4 at Garland but presents an ample fairway that narrows closer to the green. Fountains finishes with a 196-yard par-3 that is nearly all carry over a pond, with some room right of the large green.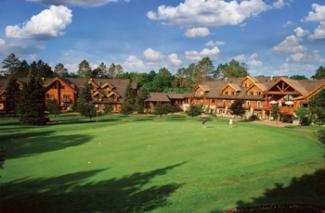 Garland Putting Green & Back of Lodge
None of the four courses are excessively punitive, which is another reason why Garland is a favorite for corporate retreats and buddy trips. Neither are the tracks packed with so-called signature holes, but the consistency of the golf makes this an excellent place to play, enjoy the game and some removal from civilization.

They take their golf pretty seriously here, too. Golf is not Garland's only business, it's the resort's main business. While the majority of northern Michigan's resorts added golf to supplement skiing in the off-season, Garland took the opposite tack; it added cross-country skiing in winter to augment the golf.

Once at Garland, you can stay awhile. The resort offers just about everything you'll need and the courses are mere steps from your lodging. Add in the attention to detail and outstanding service, and it's easy to see why great memories are easily made in these isolated wooded acres.

For more info, go to www.garlandusa.com.
Steve Habel is one of Cybergolf's world correspondents, contributing news stories, features, equipment and book reviews and personality profiles from his base in Central Texas. He is also works as a contributing editor for Horns Illustrated magazine, a publication focusing on University of Texas sports, covers the Longhorns for CBS Sports, is regional editor for Texas Golfer magazine and files stories for Golf Oklahoma magazine, Texas Links magazines and Golfers Guide. Habel's main blog (www.shotoverthegreen.blogspot.com) features news on golf and the Longhorns, and another (www.checkinginandplayingthrough.blogspot.com)chronicles his many travels, on which he has played more than 350 golf courses since 2009. Habel is a member of the Golf Writers Association of America and the Texas Golf Writers Association.