Four Years in 'Minors' Finally Pays Off for British Columbia's Richdale
Samantha Richdale
Samantha Richdale of Kelowna, B.C., locked up her full 2010 LPGA playing card with a playoff victory this morning in the Duramed Futures Tour's event in Harrisburg, Pa. The win in the Turkey Hill Classic was her second victory this season and third in her career. It earned her $15,400 and a guarantee of a top-five finish on the money list, giving her automatic entry into the LPGA for next season.
The 25-year-old is in her fourth season on the Futures Tour, a stretch of time when young women pros start evaluating their future in the game and whether they'll ever make it to the "big tour." This week Richdale answered that question with a resounding "Yes!" and next year will begin her first full season at the highest level in women's professional golf.
Richdale played golf at Illinois State University and turned pro in 2006 after graduating. During her stint on the Futures Tour she steadily lowered her strokes-per-round average and moved up the money list. Her current scoring average is 71.72. She finished T-25 in the LPGA Q School last December to earn low priority LPGA status for this season, and only got into one LPGA event, the SBS Open in Hawaii, where she missed the cut.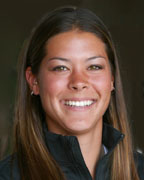 There are three others who have a spot on the LPGA in 2010. They are Mina Harigae of Monterey, Calif.; Jean Reynolds of Newnan, Ga.; and Misun Cho of South Korea. Whitney Wade of Glasgow, Ky., is now in fifth. There are nine players with a chance of catching Wade in the final Futures Tour event of the season in Albany, N.Y, the ILoveNY Championship over Labor Day weekend.
The sixth- to 10th-place finishers on the season money list will earn very low playing status on the LPGA next year, qualifying them for only a few events at best. The sixth through 15th finishers, however, earn automatic entry into the LPGA Q School finals in December in Daytona Beach, Fla., the other route for players to qualify.
Richdale won't have to worry about Q School this year and can begin working on her game for the LPGA's first event in February. In the meantime, she's received an exemption to play this week's Safeway Classic at Pumpkin Ridge Golf Club just west of Portland, Ore., a couple of hundred miles south of her home in B.C.

And in two weeks in Albany, she'll be standing on the stage receiving her LPGA card. Four years of hard work have finally paid off for the Canadian golfer.
Dave Andrews is a Harvard-educated former television news reporter. He's also an avid golfer who has become a fan of the Duramed Futures Tour. His home course in Concord, N.H., is annually the site of one of the tour's events. The inspiration for Dave's 2007 novel, "Pops and Sunshine," came from meeting many of the young aspiring women golfers on that tour. Each of them has a passion, dedication and determination that he finds remarkable. His novel is a fictionalization of the dream that these young women share. To order Dave's book, visit http://popsandsunshine.com.