Fredericksburg, Va. - Great Golf Merges with Civil War History
They say that history is written by the winners, and the American Civil War of 1861-1865 is no exception. There is some disagreement among historians as to what exactly caused the conflict between the Northern and Southern states. Many say it was simply because the North opposed slavery and the South did not. A closer look reveals that, yes, the South did practice slavery, but its objection was based more on the Jeffersonian concept of states rights.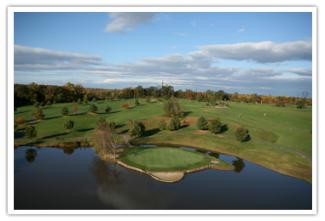 Meadows Farms' Island Green
Many history students will recall that the United States was founded on the clear concept of disdain for centralized power and, in the mid-1800s, when the Union was barely 75 years old, the federal government had not attained the far-reaching powers it has today. Many Southerners felt the federal government was overstepping its legal entitlement, to say nothing of the economic benefit of having free labor.

Regardless of the various views, the Civil War was the bloodiest military conflict in which this country has ever been involved. An astounding 620,000 soldiers died along with an unknown number of civilians. By contrast, the Vietnam War, which tore this country apart politically and socially, recorded 58,159 U.S. military casualties. (World War II had 416,800 military deaths.)
The Civil War took place long before the many modern weapons of war; there were no air strikes, no naval battles to speak of, and no Agent Orange. All this carnage came from primitive muskets, cannons and knives and hand-to-hand combat, where soldiers looked into the eyes of their enemies while engaged in mortal battle.

Fredericksburg, Va., was the scene of two very important military battles of the Civil War. The first may have been General Robert E. Lee's greatest victory, while the second may have been the beginning of the end for the Confederate forces. Here's a peak at them, and some of the wonderful golf courses around this historic city.

The Battle of Fredericksburg, the principal battle of the Fredericksburg Campaign, was fought December 11-15, 1862, in and around Fredericksburg. It involved General Robert E. Lee's Confederate Army of Northern Virginia and the Union Army of the Potomac, commanded by Maj. Gen. Ambrose E. Burnside. The military tactics employed by both commanders are still studied by strategists. In it the Confederate forces, outnumbered 72,000 to 114,000, first saw the Union Army cross the Rappahannock River into downtown Fredericksburg where they pillaged the area, infuriating the Rebel forces, many of whom were from Virginia. Lee's Army then engaged in a furious beat-down that had Lee exclaiming, "It is well that war is so terrible, or we should grow too fond of it."

By the 15th of December, Burnside asked Lee for a truce in order to attend to his dead and wounded soldiers still lying on the battlefields. In a gesture that would never happen today, Lee graciously granted the request and Burnside retreated.

The other notable skirmish was the Battle of Chancellorsville, just down the road from the Battle of Fredericksburg. Even though the Confederates won that, too, they lost Stonewall Jackson to friendly fire, Lee's next in command. The loss of Stonewall was a huge blow to the Gray.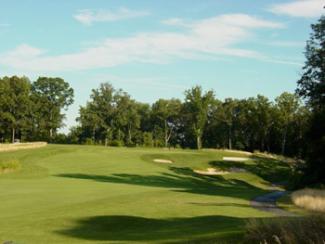 The 5th Hole at Cannon Ridge (courtesy of Drew Matera)
Here's a tribute to the epic Battle of Fredericksburg by the rock group The Band, which hit the radio airwaves a century later in 1968:

Virgil Caine is the name, and I served on the Danville train, 'til Stoneman's cavalry came and tore up the tracks again.
In the winter of '65, We were hungry, just barely alive.
by May the tenth, Richmond had fell, it's a time I remember, oh so well,

The Night They Drove Old Dixie Down, and the bells were ringing,
The Night They Drove Old Dixie Down, and the people were singin'. They
went La, La, La, La, La, La, La, La, La, La, La, La, La, La,

Back with my wife in Tennessee, When one day she called to me,
"Virgil, quick, come see, there goes Robert E. Lee!"

Now I don't mind choppin' wood, and I don't care if the money's no good.
Ya take what ya need and ya leave the rest,
But they should never have taken the very best. (Chorus)

Like my father before me, I will work the land,
Like my brother above me, who took a rebel stand.
He was just eighteen, proud and brave, But a Yankee laid him in his grave,
I swear by the mud below my feet,

You can't raise a Caine back up when he's in defeat.

The Fredericksburg of today is not reliving the Civil War. It's a beautiful, cultured and welcoming place that offers visitors the history and allows them to do with it as they may. Downtown is a riverfront mix of eclectic shops and restaurants housed in a varied blend of architectural styles, with proprietors greeting guests with Southern style and grace.
Golf in Fredericksburg

The local golf courses are as stimulating as the Civil War connection. Cannon Ridge Golf Club, which opened in 2003, is a design collaboration of former PGA Tour Commissioner Deane Beman and Bobby Weed, the tour's former in-house course architect during Beman's reign. Cannon Ridge is a strong par-71 layout that plays over rolling hilltop terrain. Much of the site was involved in maneuvers of Civil War armies and there are plaques on nearly every hole describing what occurred.

A little down the road in Stafford is Augustine Golf Club, a 1995 Rick Jacobsen-designed layout that was his first solo effort after leaving Jack Nicklaus Design. Jacobsen learned well from the Golden Bear because Augustine (named after George Washington's father, who once owned the property) is one very good golf course. Right from the beginning you know you're in for something different when the first hole has a split fairway with a stream running down the middle and a couple of large trees to contend with. From there on out, each hole is quite memorable and a challenge exists on every shot. The look and feel of Augustine, dare I say it, it quite Augusta-esque. Check it out in the springtime when the dogwoods and azaleas are in full bloom.

Back toward Fredericksburg is Lee's Hill Golf Club, site of General Lee's winter camp in 1862. Lee's Hill is gentler than Cannon Ridge and Augustine, thus a bit more appropriate for mid- to higher handicap golfers. That said, it is a nice challenge and visually appealing club with a very friendly and accommodating staff.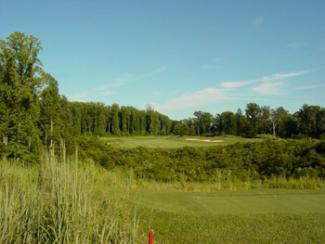 The 13th Hole at Cannon Ridge (courtesy of Drew Matera)
If you are up for a truly different golf experience you have to visit Meadows Farms Golf Course in Locust Grove. Meadows Farms is the brainchild of "Farmer" Bill Meadows. To say that "Farmer" is a bit eccentric is like saying Shaquille O'Neal is kinda big. Meadows' life started in a West Virginia coal-camp shack with no plumbing, and eventually led to a college education and a school-teacher job. Farmer Bill had a bright idea to make some money during his summer vacations by dressing up with a straw hat and coveralls and setting up a roadside stand selling tomatoes with a hand-painted sign called "Farmer Bill's." All the people driving by fell for the ruse, thinking they were buying direct from the farmer, but all Farmer Bill was growing was a bounty crop of cash. Eventually he was making more doing than a teacher's salary, so he expanded into landscaping centers and now has a net worth north of $120 million, drives a Rolls Royce, and lives in the house once owned by former Washington Redskins' coach, Joe Gibbs.

In 1993 Farmer Bill decided he wanted to build a golf course and, true to his eccentricity, he had some wild ideas. Several architects passed on the job until Bill Ward, Jr. said yes. The result is a 27-hole course with such unique features as the nation's longest golf hole, an 841-yard par-6; a par-3 designed like a baseball diamond replete with an infield with bases and an outfield fence; a par-3 over water where the green is fronted by a stone wall that hides the cart path and plays into the back yard of Widow Willis's broken-down Civil War hospital house. There are actually a lot of conventional golf holes here, and the greens fee is very reasonable. To say this place is populated with characters would be an understatement.
Back to History

The Civil War history tour should start at the Fredericksburg Battlefield and Visitors Center on Sunken Road. There is a six-block, 30-minute guided tour that will be a great starting point for touring the Fredericksburg-Spotsylvania National Military Park. Another must see is the Chancellorsville Battlefield Visitor Center, site of another rout by Confederate forces that cost them the life of Lt. General Thomas "Stonewall" Jackson. The artifacts contained in the museum section are amazing and disturbing.
Dining Options

For dining options in downtown Fredericksburg, try the Capitol Ale House, an upscale bistro offering 62 craft and import beers on tap and 300 bottled beers. Try the Creole crab cakes; the crab is harvested from the nearby Chesapeake River. For something really special for you and your significant other, stop in at La Petite Auberge , a chef-owned French eatery noted for its seasonal and regional produce. The atmosphere, service and cuisine can't be beat.

Travelers often pass by Fredericksburg on the way to someplace else. Do yourself a favor and make it your destination the next time. The area measures up to just about anywhere else in the quality of golf, American history, atmosphere and hospitality.
Contacts

Cannon Ridge Golf Club - www.golfcannonridge.com
Augustine Golf Club - www.augustinegolf.com
Lee's Hill Golf Club - www.leeshillgc.com
Meadows Farms Golf Course - www.meadowsfarms.com/v.php?pg=5
Fredericksburg Battlefield and Visitors Center - www.nps.gov
Fredericksburg-Spotsylvania National Military Park - www.nps.gov/frsp
Chancellorsville Battlefield Visitor Center - www.nps.gov/frsp/chanville.htm
The Capitol Ale House - www.capitalalehouse.com
La Petite Auberge - http://www.lapetiteaubergefredericksburg.com
Wayne Mills is a New England-based freelance writer who has been producing golf stories for over 20 years. He has written for national publications such as Golf Inc. and superintendent-related, regional golf-lifestyle magazines and websites in the Northeast, Midwest and Southwest and was a golf columnist for two daily newspapers. He has played over 700 golf courses from Canada to the Caribbean and from Cape Cod to California. He carries a single-digit handicap and has scored four holes-in-one.