Fredericksburg's Lady Bird Johnson Golf Course a Revitalized Gem
By: Steve Habel
Sometimes a golf course's challenge is in its length while at other times the test is a track's series of hazards or in its demands on accuracy. The best courses are a combination of those three features, which, taken together, requires the golfer to be both skilled and savvy.

Lady Bird Johnson Golf Course in the small Texas town of Fredericksburg, about an hour and a half from Austin and an hour from San Antonio, brings those course challenges and that required talent level to the forefront. It is rare that you find much variety in a municipal golf course, much less a track nestled in such a serene location in the Texas Hill Country.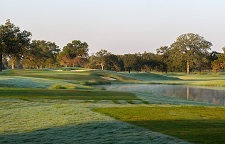 Lady Bird Johnson GC
The surroundings at Lady Bird Johnson GC can, at times, be very distracting. With fairways lined by huge oaks, water in the form of a winding creek through the front nine and three lakes that are played around on the back, the course demands that the golfer hunker down and concentrate to play his or her best game. The routing offers a challenge to all levels of players.

Benefitting from an almost $2 million renovation from Houston-based architect Jeff Blume, as paid for by the city and facilitated by the needs of the nearby Gillespie County Airport, Lady Bird Johnson GC reopened in September 2012 with new Bermuda 419 turf in the contoured fairways, Champions Ultra Dwarf grass on the putting surfaces, a re-routing of holes and a makeover of the clubhouse.

Additional tee boxes were added to offer the superintendent some distance options for the course, which gained 238 yards (from 6,448 to 6,686 yards) but reduced par from 72 to 71 with the redo.

All the outlay and work were part of an initiative to make golf a bigger aspect of the enticement for this Hill Country destination that attracts more than 1.5 million visitors a year.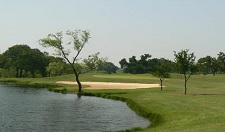 Lakes, Trees & Bunkers Create
Need for Accuracy at Lady Bird GC
Laid out over an undulating, tree-lined 125 acres, dissected by Live Oak Creek, Lady Bird Johnson GC has, in past years, attracted roughly 34,000 rounds per year. The improvements promise to drive even more golfers to the course and the happening, bustling town. Through its 44 years, the course has persisted as an accessible, compact layout for locals and visitors.

Overall, the renovated layout now includes 48 bunkers and water in play on 10 holes. Native areas have been allowed to grow on several plots on the course, now a par 71 stretching more than 6,600 yards from the back tees.

Lady Bird Johnson GC opened as a nine-hole muni in 1969, and an additional nine holes were designed by Jeffrey D. Brauer and added in 1991. With the new renovation by Blume, who formerly worked for Brauer, the course now has 48 bunkers and water comes into play on 10 holes. Most fairways, especially on the back nine, are ample and bordered by a wide, playable rough, and there are no homes to worry about.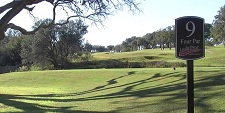 Elevation Changes, Like Here off
the 9th Tee, Add to Challenge at Lady
Bird Golf Course
The front nine (which was the course's original nine) has always been a little claustrophobic because of its hilly terrain and the meandering creek that pinched some of the routing. The renovation opened things up a bit, but there are still several forced carries across natural areas and the creek, some big uphill shots to the putting surfaces, a few tight landing areas and back-to-front sloping greens.

The biggest changes to the track opened up the landing area at the 402-yard par-4 first hole, relocated the green on the par-5 fifth, completely re-routed the par-3 sixth to play to the area that used to contain the green on the fifth hole and opened up and lengthened the still-drivable par-4 seventh.
The back nine is more traditional, much easier and is a more relaxing nine holes. The ground on which it is routed is flatter and more open, with mounding that helps push errant shots back onto the fairways and plenty of swales, grass bunkers and collection areas around some of the green complexes that place a premium on accurate approach shots.

Players will want to take advantage of the 495-yard par-5 10th, with its downhill tee shot to a rolling fairway. The approach will be over a lake at front-left but birdie is in the offing from two, or even three well-struck shots.

The 308-yard par-4 12th is another excellent risk-reward opportunity as long as the golfer can fly a shot over a stand of trees and miss a bunker to shorten the hole. The massive 611-yard 14th is defined by four bunkers that guard the layup area; from there the hole moves right and uphill toward a green protected by swales and mounds and huge drop-off on the right.
Another short par-3 that demands a dead-eye effort is the new 16th, which has been shortened and changed from a par-4. Here a lake on the right side comes into play even when golfers land their shots on the right edge of the putting surface.

The 450-yard closer has always been tough and remains so, requiring two well-struck uphill shots to reach the green, which sits in the shadow of the clubhouse.

Players familiar with Lady Bird Johnson GC's former layout have been wowed at the way the course, which used to offer totally differing experiences on its two nines, now work together to feel virtually seamless.

Lady Bird Johnson GC has always been a great place to play and is even more so now. The fun factor in Fredericksburg is very high and is only enhanced by a round at the course, so make sure a trip to the Texas Hill Country includes a stop at the track.
For more info, see www.golffredericksburg.com.
Steve Habel is a freelance writer contributing Cybergolf news stories, features, equipment and book reviews and personality profiles from his base in Central Texas. He also works as a contributing editor for Horns Illustrated magazine, a publication focusing on University of Texas sports, and is a contributing writer for Golfers' Guide and Golf Oklahoma magazine, Texas Links magazines and Golfers Guide. Habel's main blog (www.shotoverthegreen.blogspot.com) features news on golf and the Longhorns, and another (www.checkinginandplayingthrough.blogspot.com) chronicles his many travels, including playing more than 600 golf courses since 2008. Habel is a member of the Golf Writers Association of America and the Texas Golf Writers Association.