Fripp & Dataw Islands - Two Getaways in Carolina Lowcountry
By: Joel Zuckerman
For two decompressing weeks in mid-April, the pro golf world detours to the Carolina Lowcountry and the nearby coastal empire of Georgia. Post-Masters, the PGA Tour descends on Hilton Head Island for the Verizon Heritage (this year's champion: Brian Gay) and the following week, the Champions Tour visits Savannah, for the Liberty Mutual Legends of Golf (the 2009 winners were Bernhard Langer and Tom Lehman).
Far from the Tour-centric madness lies a pair of lesser-known, but eminently worthwhile golf havens-Fripp, and Dataw Islands. The former is a resort, the latter a golf-real estate community, but one that welcomes visitors on "Discovery Weekends." Each is a 36-hole facility, with noted course designers and full amenity packages. Independently they are each worthy of a visit. But taken in tandem, these two destinations just 20 minutes apart, with courses conceived by Tom Fazio, Davis Love III, Arthur Hills and George Cobb, make for one of the best-kept secrets on the Southeast Atlantic coast.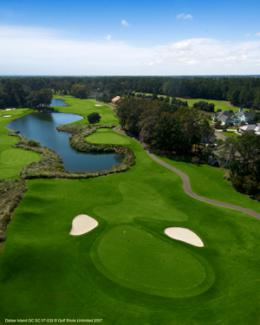 Fripp Island

Directions to Fripp Island: Leave Beaufort, S.C., and head east. Travel interminably, to the end of the earth. Then turn right at the guard gate.

In actuality, it's only about 22 miles from Beaufort (and little more than 50 miles from Savannah and Hilton Head) to the inner part of Fripp (i.e., to the golf courses). It just seems longer on a lonely road. Need proof? Once you pass a sports bar called "The Boondocks," you're within about 10 minutes of the sprawling resort, featuring three-and-a-half miles of beautiful beachfront.
Speaking of the boondocks, I met Dave Mathews (not the rock star, he was quick to inform me) and his wife, Dale, on the first tee of the Davis Love III-designed Ocean Creek course at Fripp Island. I was amazed to learn that this couple from the wilds of western New York State, practically on the banks of Lake Erie, was enjoying a Fripp Island vacation with their six children, teenagers to toddlers, in tow.

When I expressed amazement that they found time to steal away for a round of golf, Dave, a tree surgeon by profession, began laughing. "We don't just play one day," he exclaimed. "Dale and I play every day!" He explained that two of their grade-school kids are enrolled at Camp Fripp, which offers all sorts of activities like arts and crafts, dolphin watches and nature hikes. Their 15-year-old watches the one-year-old, and is helped out by a pre-teen sibling, and generally it all works out to the point where mom and dad hit the links daily.
"It's quiet, it's relaxing, the beach is beautiful," offers Dale Mathews. "We tried vacationing on Hilton Head, but it was too busy and confusing. We were here on Fripp last year, and we'll probably come again next year. It's worth the effort, even though it's a 13-hour car ride with all the kids!"

As for the golf, it remains to see if Davis Love III will end up a big-time player-turned-designer, like a Nicklaus, Crenshaw or Weiskopf, or a lesser light in the field - like Mark McCumber, Gary Player or Tom Watson. Considering that Fripp Island's Ocean Creek is Love's first-ever design, things look rather promising. Not even 6,600 yards from the tips, this par-71 track features plenty of wetlands, marshlands, tough tee shots, and airborne carries to tricky greens.

The Ocean Point course by George Cobb, also a bantamweight of less than 6,600 yards, is perhaps five miles away. It has more spectacular scenery - a series of holes adjacent to the Atlantic, but the constant saltwater intrusion from the nearby beach compromises the conditioning a bit, and overall the holes on Love's Ocean Creek provide more interest and shot-making challenges.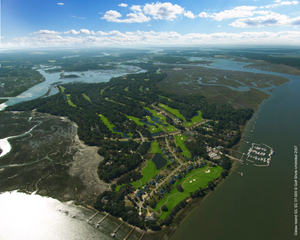 Dataw Island

About 15 minutes back towards civilization is Dataw Island. The island was a little-trafficked hunting ground in the decades following the War Between the States until Alcoa Properties began developing the property for residential purposes in 1983. Now it's nearly 900 acres of tranquility, and in addition to the golf courses, boasts a community and fitness center, eight tennis courts and a full-service marina and yacht club, just three miles from the Intracoastal Waterway and 30 minutes from the Atlantic Ocean. The club's centerpiece is a stylish 25,000-square-foot clubhouse featuring two sweeping spiral staircases.

Though the modern-day community is just a few decades old, the recorded history of Dataw Island stems back to 2,500 B.C., when wandering Native Americans frequented the island in search of game and shellfish. Centuries later, during America's Plantation Age, Dataw flourished as an indigo and cotton field. Preserved ruins of slave quarters behind the second green on the Tom Fazio-designed Cotton Dike course serve as a reminder of the island's past.
Of more immediate concern on Cotton Dike is the presence of Jenkins Creek, which offers fabulous views and necessitates careful shot-making on nearly half the 18 holes. Morgan Creek, designed by Arthur Hills, is a narrower golf course than its counterpart, a bucolic parkland experience peppered with live oaks. Though there are some slight similarities between the two offerings, it's a wonderful tandem.

Though both Fripp and Dataw islands are only about an hour's drive to Hilton Head Island, a bit further to Savannah, perhaps 90 minutes to historic Charleston, they feel a world away. Both islands are self-contained, with a mellow, understated feel; peopled with like-minded, outdoor-oriented visitors (Fripp) or residents (Dataw). They are a perfect reflection of the lush landscape and timeless charm of the golf-centric Carolina Lowcountry.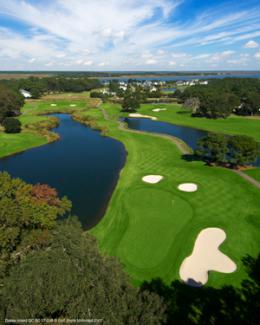 For more information on these two destinations, visit www.frippislandresort.com and www.dataw.org.

This story originally appeared in Cybergolf on May 9, 2009.
Joel Zuckerman, called "One of the Southeast's most respected and sought-after golf writers" by Golfer's Guide Magazine, is an award-winning travel writer based in Savannah, Ga., and Park City, Utah. He has written five books, including the epic "Pete Dye Golf Courses" in 2008. Joel's course reviews, player profiles, essays and features have appeared in more that 100 publications internationally, including Sports Illustrated, Golf, Continental Magazine, Travel & Leisure Golf, Sky Magazine, Golf Connoisseur, Golfweek, Estates West, Millionaire and Golf International. For more of Joel, visit www.vagabondgolfer.com.