From Crazy to Luxury - The Extremes We Go for Golf
By: Elisa Gaudet
There's no doubt that golf has its fanatics that will go to great lengths and spare no expense to partake in the game they love. Extremes go both ways and range from crazy to luxury.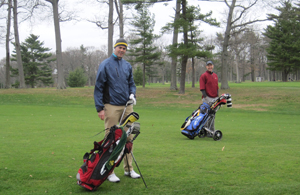 Dave & Greg at Bethpage
Crazy is playing in extreme conditions or going to excessive extents to play golf. Living in NYC can be tough for the avid golfer as seen when a group of friends wanted to play Bethpage. At 6:30 a.m. I took a cab from the Upper East Side to Penn Station with clubs in tow. I met Greg and Dave there and we took a train to Bethpage, where we then got a cab to the golf course.

As we walked out of the pro shop Greg handed me two hand-warmer packets and said to keep them in my pockets as they would help. These hand-warmers are the ones used when skiing. This was the only other time I'd seen these things and I looked at them in disbelief. After playing nine holes in what felt like sub-arctic temperatures and very windy conditions (I was wearing three cashmere sweaters and a windbreaker) someone finally said "Hey let's stop this is not so fun." I can see where the thrill of being one of the few crazy enough to golf in these conditions can be exciting, but at some point it just becomes crazy.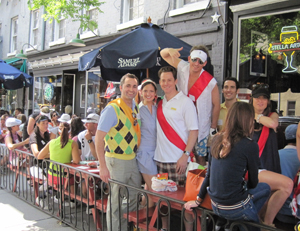 Golf Pub Crawl
The same two guys played 17 out of 18 holes in the rain at Richter Park in Danbury, Conn., a week earlier. Apparently, on the back nine they were the only ones on the course. Greg said, "We kept playing because it was not raining hard enough that you couldn't play, however it was raining hard enough that no one else was playing."

Another semi-crazy extreme is Pub Golf, a golf version of a pub crawl and its popularity has grown considerably in a number of American cities. A "commissioner" maps out a nine-hole course - consisting of nine different bars in close proximity. People go in foursomes and each team has a scorecard. Each bar has special drinks. Usually the higher the alcohol content the lower your score. So while a beer might be par, a tequila shot could get you a birdie or eagle. The most entertaining is perhaps the seamless execution of the event, given the assistance of the dedicated "marshals" and the outrageous golf outfits.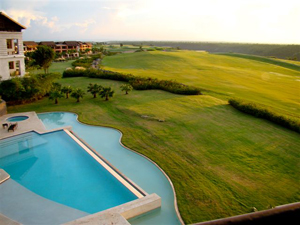 Los Altos
Unlike the crazy extremes that I am inclined to try on occasion, luxury extremes I never get tired of experiencing. I consider the Dominican Republic to be one of the most beautiful golf locations in the world. Casa de Campo is always a favorite among national leaders, Hollywood types, business moguls and traveling golfers. You never tire of the scenic views and raw nature found at every twist and turn of the three distinct Pete Dye-designed courses here.

"Playing golf at Casa de Campo is like playing on three different planets," said Gilles Gagnon, the resort's director of golf for the past 23 years. "Each course, Teeth of the Dog, The Links and Dye Fore, are entirely different, breathtakingly beautiful - and each singularly, redefines the word challenge."
Horseback Riding in the DR
On a recent trip to the DR I had the opportunity to add a twist to my golf experience by horseback riding along the Dye Fore course and enjoying the luxury accommodations at "Los Altos." This lush complex has over 100 residences strategically situated on the 18th hole of Dye Fore. Here you are surrounded by views of the course, the Chavon River and Altos de Chavon - a recreation of a 16th Century Mediterranean village conceived from the imagination of Roberto Copa, a former Paramount Studios set designer, and Charles Bluhdorn.

The Casa de Campo experience is really one where you may have to stop and pinch yourself because you get the feeling of being at heaven on earth. Whether you are playing golf or riding horseback you realize how lucky you are to experience this beautiful location.
Los Altos at Casa de Campo is a world-class destination offering five-star amenities and so much more. For more information visit, visit www.LosAltosCasaDeCampo.com, or contact Alexia Bermello at abermello@bapdevelopment.com.
Elisa Gaudet brings a wealth of entertainment and golf experience to Cybergolf. Elisa has spent the past several years in the golf industry in the U.S., Latin America and Spain. She worked for the PGA Tour and the Tour de las Americas before founding Executive Golf International, a golf marketing company that works with clients to develop strategies using golf as the medium. Often referred to as the Maria Bartiromo (a business analyst for CNBC) of golf, Elisa says: "Golf, as a marketing tool, has been around for years. It's amazing how many new ways companies can align their brand with the golf market to reach their target audience. Our goal is to create alliances and establish cross-border relations." Elisa also worked in the entertainment industry for over 10 years, including five in Los Angeles as a model and actress. She can be seen at many celebrity golf events and often gets the inside scoop from PGA Tour players. For more information about Elisa, visit her websites at www.onthelip.com or Executive Golf International www.execgolfintl.com.