Frontier, Fazio Reopen River Course on Kiawah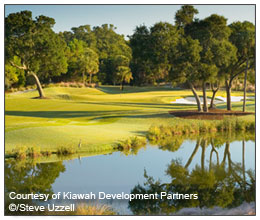 The River Course at the exclusive Kiawah Island Club has reopened for member play following an extensive renovation effort directed by Frontier Golf, in collaboration with golf course superintendent Jim Musci, Fazio Golf Course Designers and Champion Turf.

The River Course project, completed over Labor Day Weekend 2006, was notable both for its time frame and agronomic innovation. Frontier re-grassed all 18 greens with Champion ultra dwarf Bermuda and completely rebuilt four putting surfaces – this entire process was completed in 25 days last June. Once the greens work was finished, Frontier directed the re-grassing of all 18 fairways, collars and tees with Emerald, a new greens-grade dwarf Bermuda from Champion Turf. Emerald had never before been used on fairways and collars.

For good measure, Frontier rebuilt all the bunkers at the River Course and re-grassed their faces with Empire zoysiagrass. Frontier also worked closely with Fazio's Andy Banfield to author significant strategic changes to the course.
"We closed down the course after the season-ending member-guest on May 22, and we reopened for the season-opening member-guest on October 1," said superintendent Musci, who's been in charge at the Tom Fazio-designed River Course since the day it opened, in 1995. "We were on a tight time frame but Frontier delivered. They met every deadline we had to meet: 3.5 acres of greens in 25 days; planted all the fairways in 10 days, then took on the tees and bunkers.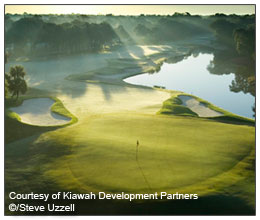 "It was just about the perfect project. We had rain when we needed it, but not too much. No washouts. And with all the changes we made, Frontier just made every deadline."

The River Course is only 10 years old but turf encroachment and mutations (the result of overseeding) had begun to take their toll on definition and playability, Musci explained, especially in the transition and collar areas. Several putting greens had shrunk from their original size and shade had, in certain areas, adversely affected turf health.

"The grass had started developing off-types and getting splotchy. It was time," Musci said, adding that The River Course was also preparing to host to the 2009 Mid-Amateur Championship, the first USGA championship ever to be held on Kiawah Island. "The members love the Emerald. The lower cutting height means better roll and if you hit it off the fairway it stops dead: more incentive to be accurate. It's a grass you can mow from 3/8 to 1/8 [of an inch], down to putting quality. It's got deeper roots, it's not thatching up as bad, better recovery from divots and not as much TLC is required: topdressing, grooming and such."
In conjunction with the major agronomic changes, the designers at Fazio were brought back in to author several strategic changes. Senior designer Andy Banfield, lead architect on the River Course project back in 1995, directed the renovation.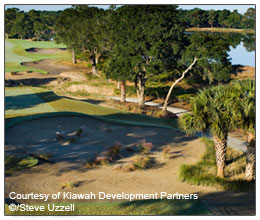 Frontier dedicated a special crew to shadow Banfield and associate designer Bryan Bowers as they tackled the major redesign issues: repositioning No. 1 green closer to the lagoon; expansion of No. 4 green to create a new, back pin location (which brought an existing bunker more into play); replacement of the double greens with a single green complex at No. 5, increasing the risk/reward values on this driveable par-4; elevation of tee boxes on 7, to provide a better view of the hole; expanding No. 8 green to the right, bringing Bass Pond more into play and replacing a portion of the waste area fronting the green with a formal bunker; restoration of the green at 11 to its original size, expanding it back left and center, while replacing the waste area that had wrapped around the front of the green with a single pot bunker.
While Frontier Golf is based out of Jones Mills, Pa., The River Course project was handled by Frontier's Southeast Division, based in Camden, S.C., and headed by Rich Abbott.

"On the putting green reconstructions," Abbott explained, "we cored the greens, literally built the greens up with native material so Andy Banfield could see what it looked like at finished grade, then we cored it all out again and rebuilt them.

"It's a pleasure to work with Kiawah and Fazio. Their priority was 'show me how we're going to get it done.' And this job couldn't have been done without superior planning. We met several times six months prior – simply to work on the logistics. So we had time to explain it all and get all our ducks in a row. By noon the first day of that project, we had three greens excavated out."

Frontier had 60 men working at the River Course, but Abbott singled out shaper Rusty Lee and project superintendent Brett Bagwell for their stellar performances during their four months on Kiawah Island. "And Jim Musci did a superb job; my hat's off to him," Abbott added. "He was there every minute of the entire project. You never had to look for an answer to a question with Jim or with the Fazio folks. They were there at all times striving, like we were, for perfection."

In addition to the River Course, Frontier Golf recently finished up an 18-hole renovation at Keowee Key Golf & Country Club in Salem, S.C., with architect Richard Mandell, and a comprehensive drainage-installation project on the Ocean Winds course at The Club at Seabrook Island in Johns Island, S.C. Frontier is currently at work at Edgewater, a new 18-hole project in Lancaster County, S.C., and in Pennsylvania, directing a meticulous renovation of the Donald Ross-designed course at the Bedford Springs Resort.

Frontier Golf, formed in 1994, is one of the golf's leading course construction and renovation firms. While Frontier routinely handles new construction projects like Royal St. Kitts GC (with architect Tom McBroom), the firm has established itself as one of the most trusted course renovators in golf, handling classic renovations at the CC of New Canaan (Conn.), with architect Ron Forse; at the Pittsburgh Field Club, with Craig Schreiner; and at Laurel Valley CC in Ligonier, Pa., site of the recent Senior PGA Championship.

For more information, contact Frontier Golf at 724/593-7491 or visit www.frontiergolf.com. To reach Frontier Golf's Southeast Division, contact Rich Abbott at 803-518-7314, email: r.abbott@frontiergolf.com.