Frontier Golf Taps Abbott for New Southeast U.S. Division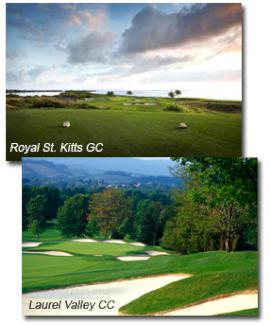 September 26, 2006. Frontier Golf, the course construction company active for 13 years in the Northeast and Caribbean, has expanded its scope by opening a Southeast U.S. Division based in Camden, S.C. Veteran contractor Rich Abbott heads the office and assumes the title of president, Frontier Golf Southeast Division.

Abbott and Frontier have hit the ground running with several projects already underway, including a major renovation at The River Course, the Tom Fazio-designed members' course at Kiawah Island Golf Resort; direction of architect Richard Mandell's 18-hole renovation at Keowee Key Golf & Country Club in Salem, S.C.; and a comprehensive drainage-installation project on the Ocean Winds course at The Club at Seabrook Island in Johns Island, S.C.

Frontier Golf announced formation of its Southeast Division this month, but Abbott has actually been on the job for some time. Indeed, this past winter Abbott and Frontier Southeast completed a bunker refurbishment project on the Harbour Course at Wild Dunes Resort in Charleston, S.C., and a renovation of Eaglewood Resort & Spa in Itasca, Ill., following the master plan of architect Lee Schmidt.
Frontier Golf's Southeast Division can be reached at 803/432-5755, r.abbott@frontiergolf.com.
"The course renovation market in the Southeastern United States is a strong one, but we felt we couldn't commit resources to that region until we found the right person to run it – in Rich Abbott, we've found the perfect person," said Nick Scigliano, president of Jones Mills, Pa.-based Frontier Golf. "Rich brings a wealth of experience to Frontier and an obsession with quality, not to mention the regional contacts we need to be successful that in that part of the country."
"It's tough to make inroads here in the Southeast if you're not a good ole boy. That's where I come in," Abbott added. "Nick's philosophy on construction and my philosophy on construction are one and the same: It's all about quality. We don't want to do it all; we just want to do it right. I think the temptation is there to staff up and go to work anywhere - but you don't want to subject your reputation to that. We're turning work away right now because we don't want to lose control of the quality we're committed to produce."
Frontier Golf was formed in 1994 and has turned out that quality work all over the Northeast and Caribbean, on new builds like Royal St. Kitts GC, (with architect Tom McBroom) and the Ted Robinson-designed La Iguana Course at the Los Suenos Marriott Ocean & Golf Resort in Costa Rica. Frontier has also established itself as one of the most trusted course renovators in golf, handling classic renovations at the CC of New Canaan (Conn.) with architect Ron Forse, at the Pittsburgh Field Club with architect Craig Schreiner, and at Laurel Valley CC in Ligonier, Pa., where Frontier prepared the course for last year's Senior PGA Championship.
"We've worked quite a bit in Florida," Scigliano said, noting that Frontier built the Nicklaus-designed Tradition Course at Ibis Golf & Country Club, in Palm Beach Gardens, and executed Forse's meticulous renovation of William Flynn's revered Indian Creek Country Club. "But the Southeast region as a whole has proved a tough nut for us to crack. With Rich Abbott in place, we can already feel the tide turning in that part of the country."
A 1988 graduate of Lake City (Fla.) Community College, Abbott started his construction career in 1994 with Course Doctors out of Hendersonville, N.C., where, as operations manager, he handled original construction of Eagle Point Golf Club in Wilmington, N.C., and renovations at Raintree CC in Charlotte, and Thornblade CC in Greenville, S.C. He started his own company, Camden, S.C.-based Phase One Development, in 1998. Phase One built Fazio's renowned Forest Creek CC in Pinehurst, and handled dozens of renovation projects across the Southeast, including Tara GC in McCormick S.C., with architect Tom Clark; Sapphire Lakes CC in Sapphire, N.C., with architect John LaFoy; and Bald Mountain in Lake Lure, N.C. with Mandell.
In 2002, he joined Malphrus Golf out of Hilton Head. As Southeast project manager, he directed new-build construction of Sanctuary Cove, a Fred Couples/Davis Love III design in Brunswick, Ga., and handled the careful renovation of two Donald Ross designs: Monroe (N.C.) CC and Raleigh CC. His work at Lexington (N.C.) Golf Club, with architect Michael Gleason, earned runner-up honors in Golf Inc. magazine's Renovation of the Year competition for 2004.

"The most gratifying thing about joining forces with Frontier is that we agree on what quality is – in course construction, you don't know what that is until you've achieved it," Abbott said. "Our project this winter at Eaglewood, in Chicago, is a good example. We did that job, believe or not, right through the winter – in Chicago! Lots of plywood and lots of clothing. Many mornings we were shoveling the snow off in order to get things done. A real challenge, but it was fun for a Southern boy like me."