Fun Outweighs Difficulty at TimberStone
By: Steve Habel
Situated in the town of Iron Mountain near the banks of the Menominee River, which divides Michigan's Upper Peninsula from Wisconsin, Pine Mountain Resort is an all-season tourist draw known for its winter and warm-weather activities. At the entrance is its famous ski jump, a 176-foot-tall structure for daredevils who'd rather fly over than glide over the nearby snowy slopes in winter.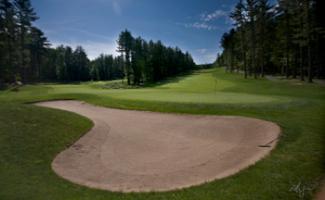 The Dual Green at TimberStone's 9th and 18th
Near the base of the ski jump is the modest clubhouse for the resort's TimberStone Golf Course, a track with chills and spills all of its own. Bordered by towering pines and routed across a rocky hillside, the layout has a reputation as one of the Wolverine State's most demanding.

But the Jerry Matthews-designed venue, which carries a 75.0 rating and a Slope of 148 from its back set of four tees, balances fun and challenge more than those numbers indicate. TimberStone is quite tight in many places, but plays mostly downhill, several times in dramatic fashion. Only twice during a round does Matthews, one of Michigan's most prolific and successful modern-day golf course architects, make the player hit uphill, pretty impressive for a site with 310 feet of vertical rise.

"It is very beautiful land, but with a site as hilly as what we had at TimberStone, the imagination has to work harder," Matthews said. "I enjoyed the challenge of TimberStone from a design standpoint - I think it all worked out very well."

When TimberStone opened in 1997 it earned Golf Digest honors as the No. 3 Best New Upscale Public Course in North America. It's been recognized by Golf Digest two other times, receiving a five-star rating as a "Top Place to Play" in 2008. The course was named one of the top-100 resort venues in the United States for 2012 by Golfweek, and one of the nation's most fun courses in a new Golf Digest ranking.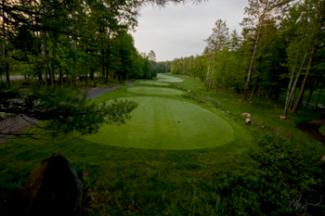 TimberStone Golf Course at Pine Mountain
Elevation Change Aplenty

The routing by Matthews, with assistance from former associate Paul Albanese - who's now out on his own and recently unveiled another Michigan course in Harris, Sweetgrass, stretches 6,937 yards from the tips. The par-72 venue doesn't overwhelm with length, instead requiring accuracy and some guts to pull off the necessary shots.

Involving a mixture of evergreens and deciduous trees, aptly-named TimberStone is more visually intimidating than it really is. Two man-made lakes, bunkers, water hazards and natural creek beds make course management important, so you might be leaving the driver in the bag on some holes. Some greens are very large and, with assorted pin locations, put good iron play at a premium.
There are only two par-4s of 430 yards or more, but three of TimberStone's four par-3s play stretch at least 197 from the tips. Three of the four par-5s can be reached in two, but the 501-yard fifth may be the toughest of the lot because of a lake left and a Norway pine that pinches the right-side entry to the green.

The 434-yard par-4 second is best attacked by playing over small bunkers left of the landing area. The green is guarded on the right by bunkers and left by what's called the "Bentgrass Bowl" - a hollow that collects wayward shots.

No. 6, a 413-yard par-4, requires two carries over water. The fairway is on a thumb that juts into a lake which runs along the left side, with a bailout area to the right filled with bunkers and trees. The approach is to an hourglass-shaped putting surface that slopes to the front and back. Golf Digest awarded this hole an honorable mention in its "America's Best 18, The New Generation."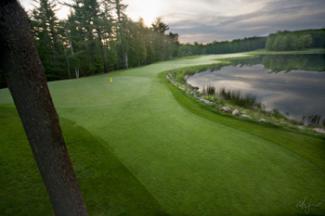 The 5th Green TimberStone
The 471-yard ninth is the longest two-shotter here, but the approach is downhill and not as long as the yardage. The green is long, narrow and guarded right by bunkers and left by a lateral hazard.

The 215-yard par-3 17th is TimberStone's signature hole. It's set atop a tall hill and plays to a smallish, well-protected green 110 feet below in a small dell. Its teeing grounds provide some of the most expansive views from a golf course on Michigan's U.P.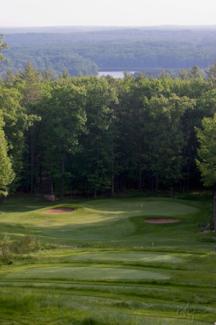 No. 17 at TimberStone
The par-5 625-yard finisher - called "Double Black Diamond" in reference to its difficulty as a ski run in the winter - starts with a blind tee shot down a fairway that descends 220 feet. Two rock tiers provide a natural hazard before the hole ends at a double-green shared with the ninth; the surface is very wide (42 yards) but not particularly deep.

TimberStone is a decidedly woodsy experience. With multiple tees, it accommodates golfers of various skills while still providing a challenge for all, the mark of a well-designed golf course. TimberStone is one of the Upper Peninsula's best tests and one of the most fun courses you'l ever play.

For more information, see http://www.pinemountainresort.com.
Steve Habel is one of Cybergolf's world correspondents, contributing news stories, features, equipment and book reviews and personality profiles from his base in Central Texas. He is also works as a contributing editor for Horns Illustrated magazine, a publication focusing on University of Texas sports, covers the Longhorns for CBS Sports, is regional editor for Texas Golfer magazine and files stories for Golf Oklahoma magazine, Texas Links magazines and Golfers Guide. Habel's main blog (www.shotoverthegreen.blogspot.com) features news on golf and the Longhorns, and another (www.checkinginandplayingthrough.blogspot.com)chronicles his many travels, on which he has played more than 350 golf courses since 2009. Habel is a member of the Golf Writers Association of America and the Texas Golf Writers Association.