Gamble Sands - Almost Perfect
By: Blaine Newnham
They all talk about it, a course that costs less to build and is easier to maintain, a course that is truly user-friendly, built not to mute the talents of Tiger Woods or sell real estate but one to enjoy. But who actually builds such a place?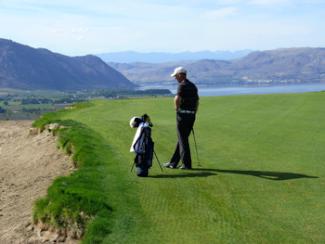 David McLay Kidd on the 2nd Hole at Gamble Sands
Finally, gloriously, there has been a genuine attempt to bring the game back home, to its roots, and at the highest level.

The course is called Gamble Sands. It sits 600 feet above the Columbia River in the north-central reaches of Washington State - 80 miles from the Canadian border - and is the work of David McLay Kidd.

"I'm so excited about this course," said Kidd, "mainly because it is much more in line with the ethos I had at Bandon Dunes. This course invites aggressive, attacking golf without the fear of catastrophe. You might make a snowman, but you'll do it with the same ball."

The Scottish-born architect did such a wonderful job on the original Bandon Dunes course that four more layouts followed there, with more planned after that. However, in the interest of riding almost instant fame that came with his work at the resort along Oregon's southern Pacific coast, Kidd proceeded to build more difficult courses, beasts like the Castle Course at St. Andrews in Scotland and Tetherow in Bend, Ore., where he now lives and works.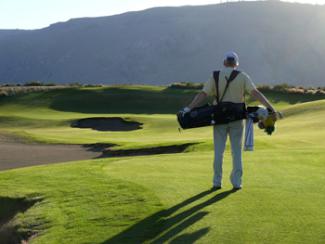 A Golfer Looks at the Challenge Ahead at Gamble Sands
Those courses were aesthetically stunning, but left the average player overwhelmed if not beat up. "I got sucked into all the talk about a resistance to par," said Kidd. "I was guilty of taking the fun out of the game. I wanted to put it back in, where the average player sees possibilities and the good player sees opportunity."

Gamble Sands is the brainchild of the Gebbers family, owners of Gebbers Farms, one of the world's largest producers of apples and cherries. Way back when, John Gebbers married Martha Gamble, thus the name Gamble Sands.

In an effort to diversify while producing local jobs and pride, the Gebbers - who are Southern Baptists and don't drink - steered clear of wine-making and opted for golf. Their first go at it came with Perry Dye as designer of a course in the rocky outcroppings above Brewster, Wash. After three holes were built and $1.5 million spent, the project, in the midst of the recession, was shelved.

The next attempt came east of the Columbia River, a few miles north of Brewster, where Kidd had acres of deep sand on a plateau overlooking the river. Sand, of course, is a key, improving drainage and promoting healthier, lower-maintenance turf. The nearly 300 acres had natural undulation and there was no need to bring in massive ground-moving equipment.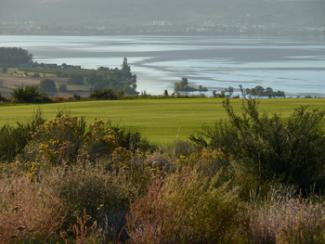 The Columbia River Provides Background for
the 17th Hole at Gamble Sands
Kidd worked with what was there, which was plenty. He concluded the only reason for him not building the kind of course he grew up on would be him. The property was right, the ownership was right, Gamble Sands should be right.

In the process, he said the course was built for $2 million, certainly at the low end of golf course construction costs.

Gamble Sands is fast and firm with large fairways and helpful slopes. It is a lovely walk, looks more difficult than it is, and if the U.S. Open is never played there, so what. There was no need for notoriety here. "In America, I'm afraid," said Kidd, "golf is a sport and not a game. In Scotland it is more part of the social fabric. It is to be treasured and enjoyed."

Joining a group of golf writers for a preview last fall was PGA Tour player Kevin Chappell. "He liked it so much," said Kidd, "that he went out the day and played it again. He asked me if he could bring his buddies up the next weekend for his bachelor party."
Gamble Sands won't open until August 2 of this year because of work being done to build the clubhouse and improve a road through the miles of orchards to the course. There are no cart paths to mar Kidd's handiwork, and while walking is encouraged - and easy - golf carts will be available.

With the firm surfaces and absence of forced carries, the course is delightful for women and seniors. "But those firm surfaces also mean the very best players will have trouble stopping even a well-hit shot. This is a different game," explained Kidd, "a game where imagination is key."

The only thing that keeps it from being perfect - other than its three-hour drive from Seattle - is the price of golf: a rack rate of $130 walking and $150 riding during the peak summer season. Rates will be lower for locals and other times of the year.

"We don't want this to be PGA West, where you play it once and tell everyone you'll never go back. We want this to be fun," said Kidd.

It was for me.
Blaine Newnham has covered golf for 50 years. He still cherishes the memory of following Ben Hogan for 18 holes during the first round of the 1966 U.S. Open at the Olympic Club in San Francisco. He worked then for the Oakland Tribune, where he covered the Oakland Raiders during the first three seasons of head coach John Madden. Blaine moved on to Eugene, Ore., in 1971 as sports editor and columnist, covering the 1972 Olympic Games in Munich. He covered five Olympics all together - Mexico City, Munich, Los Angeles, Seoul, and Athens - before retiring in early 2005 from the Seattle Times. He covered his first Masters in 1987 when Larry Mize chipped in to beat Greg Norman, and his last in 2005 when Tiger Woods chip dramatically teetered on the lip at No. 16 and rolled in. He saw Woods' four straight major wins in 2000 and 2001, and Payne Stewart's par putt to win the U.S. Open at Pinehurst. In 2005, Blaine received the Northwest Golf Media Association's Distinguished Service Award. He and his wife, Joanna, live in Indianola, Wash., where the Dungeness crabs outnumber the people.