Gamble Sands Debuts for Northwest Writers
On September 19 and 20, 18 members of the Northwest Golf Media Association were treated to what designer David McLay Kidd called a "pre-preview" of Gamble Sands outside Brewster, Wash., in Okanogan County. The NWGMA was the first to see the course, and the first to play it. It is not scheduled to open until August 1, 2014.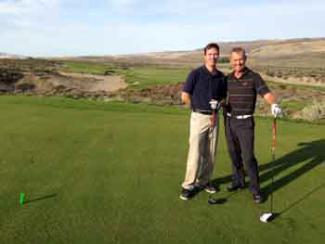 Tony Dear & David Kidd on the 14th tee
Along with NWGMA members, others in attendance were Kidd and his design associates, Nick Schaan and Casey Krahenbuhl; Orrin Vincent, the chairman of OB Sports, which is serving as the course's management company; O.D. Vincent, the son of Orrin, who played golf for the University of Washington, then went on to coach the UW men's golf team and the UCLA men's golf team before going to work in UW sports administration. O.D. recently took the job of tournament director of the PGA Tour's Northern Trust L.A. Open.

Others in attendance included PGA Tour player Kevin Chappell; Ladies European Tour (LET) player Tara Dayer-Smith, a guest of Kidd; and Cass Gebbers, president and CEO of Gebbers Farms, along with several members of the large Gebbers family, which owns the golf course.

It was a memorable trip to a venue that appears destined to put Brewster on the golf map when it opens next summer. Gamble Sands is designed by Scottish native Kidd, whose resume' includes Bandon Dunes, Huntsman Springs in Idaho, Tetherow in Oregon and the Castle Course in St. Andrews, Scotland.
"This is unadulterated golf from beginning to end," said Kidd of his latest project. Built on property owned by the Gebbers family, the course's name (suggested to Kidd by NWGMA member Tony Dear, a longtime Cybergolf contributor) honors the first settlers (the Gambles) of land that eventually became owned by the Gebbers family.

The Gebbers, now in their fifth generation, have roots in Okanogan County that date back to the 1880s. The family owns more than 100,000 acres, and is among the world's largest growers of apples and cherries.

The Gebbers view golf courses as a way to bring more tourism, employment and diversity to this north-central part of Washington State. Cass Gebbers told NWGMA members at a post-round dinner Thursday, "It was a bit emotional to see you guys tee it up, after so many years of planning and building this."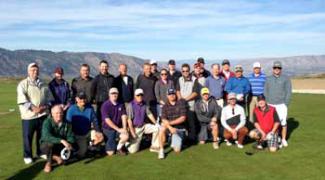 NWGMA Group at Gamble Sands
A major figure in the project is Orrin Vincent. It was Vincent who told Cass, "I know a guy (Kidd) who can build you guys a course."

The family began construction of a Perry Dye course at a site on a hill overlooking Brewster before the recession hit in 2008. Three holes were finished before work was suspended. The priority now is to open the Gamble Sands course next summer.

The possibility exists that within five years the Dye course will be completed and opened, and there may even be a new hotel next to it.

Vincent envisions Brewster as a golf destination similar to Bandon, Ore., and Sand Hills Golf Club in Mullen, Neb. He mentioned that the Brewster airport has a 5,000-foot runway for fly-in golfers.

Other features of Gamble Sands include: No homes or highway noise; fescue turf; course is built entirely on sand, hence the name; great views of the Columbia River from 12 holes; no trees; player-friendly as it is hard to lose a ball; many of the contours aid scoring; course can play as long as 7,305 yards or as short as 4,920.
The course will be rated by the Washington State Golf Association in October. It will be open to the public (green fees not yet determined) and memberships will be available.

Dayer-Smith played both days with NWGMA members. Chappell played alongside the NWGMA members and could become an official representative of the course.

"My task was to build an awesome golf course," Kidd told the media. Referring to the freedom and quality of the property he had been given by the Gebbers family, he said, "There are no excuses. If it's not a good course, it's all my fault."

At dinner, Kidd seemed to sum things up when he said, "This has the opportunity to be truly world-class."
The above report was written by Craig Smith and appears courtesy of the Northwest Golf Media Association. For more information about the NWGMA, visit www.nwgma.org.