Game - Jet - Love
By: Elisa Gaudet
What does a Maserati race car driver, a hot private jet company and two of tennis's super-studs have in common? Golf, of course.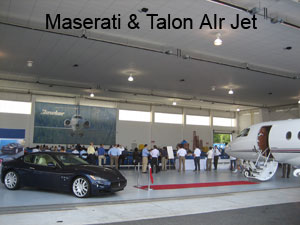 Granted, this was not determined at a golfing event, but at a tennis exhibition between Pete Sampras and Jim Courier in Talon Air's hanger on Long Island, N.Y.
Courier and Sampras, both 4 handicaps in golf, mused over the skills that transcend the Royal & Ancient game and tennis. Each agreed a major point in both sports is the necessity for good hand-eye coordination and the need for a repetitive swing. Courier pointed out that one major difference is in golf the ball is static, where in tennis it's moving. When asked who would win on the golf course, both said it would be a toss-up.
Courier and Sampras said it would be tough to come up with their favorite courses without more clearly defined parameters, like style or geographic region. But the names that immediately arose were the usual suspects: Shinnecock Hills, Pebble Beach and Augusta National.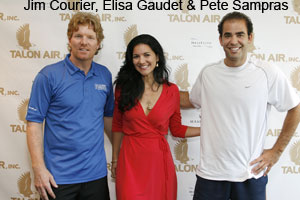 Courierís dream foursome would include his Dad, brother and "lover." Sampras chose Nicklaus, Tiger and Charles Barkley - to keep it funny. Thatís interesting coming from a guy everyone has mistakenly assumed is boring. Friendly, joking, polite, amenable and competitive is how one could describe Sampras and Courier, who were brought together by Talon Air (www.talonairjets.com) for an event that included tennis and test-driving a Maserati on the companyís air strip.
The tournament, which really was a friendly-fire match, gave a taste of what spectators will experience with the Outback Champions Series (www.championsseriestennis.com). Eligible players competing on the tour must have held a top-five singles ranking, been a Grand Slam singles finalist, or played on a Davis Cup team during their ATP Tour careers. All players must be a minimum of 30 years old. The criteria assure fans that there will be a legend competing in each match of every event. The tennis tour can be compared to the Champions Tour, less 20 years.
Courier has felt the competitive juices flow on the golf course with notable rivals Boris Becker, Todd Martin, Ivan Lendl and John McEnroe. All of these players are hooked on golf. Indeed, Lendl's daughter could be playing on the LPGA Tour in the near future.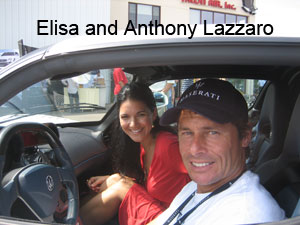 Maserati driver Anthony Lazzaro, winner of five national and three world racing events, admits his entrťe into golf is bit of a role reversal. Lazzaro took up the game to play with his 18-year-old son Cory, who's excelled in the sport such that he helped his high school golf team make it to the state championship this year. Anthony Lazzaro started racing go-karts at 13, and then made the jump to cars. After two years he quit his job and began automobile racing full-time.
He has never pushed Cory to race. When Cory discovered golf, Anthony decided to give it a try as he figured it would be a good way for the two of them to spend time together. The skills Lazzaro feels transcends both sports are focus, hand-eye coordination and vision. "Driving is all about vision, the hands follow the eyes," he said. "As they say in racing, in order to be fast in the car you need to be slow in the cockpit." The most effective drivers and golfers use "controlled aggression. You can not just ílet it ripí in either sport - there needs to be control behind the power and force."

Just as he was encouraged by his parents to follow his dreams, Lazzaro does the same with his son. On the golf course, Anthony does not keep score but, one thing is for sure, heís most comfortable behind the wheel of the golf cart. Maybe the next uber-luxurious "must-have" will be a Maserati (www.maserati.com) golf cart?

I enjoyed this ultimate off-course golf experience - a tennis set, a car thatís a sure bet, and a jet . . . the game ended in love.
Elisa Gaudet brings a wealth of entertainment and golf experience to Cybergolf. Elisa has spent the past several years in the golf industry in the U.S., Latin America and Spain. She worked for the PGA Tour and the Tour de las Americas before founding Executive Golf International, a golf marketing company that works with clients to develop strategies using golf as the medium. Often referred to as the Maria Bartiromo (a business analyst for CNBC) of golf, Elisa says: "Golf, as a marketing tool, has been around for years. It's amazing how many new ways companies can align their brand with the golf market to reach their target audience. Our goal is to create alliances and establish cross-border relations." Elisa also worked in the entertainment industry for over 10 years, including five in Los Angeles as a model and actress. She can be seen at many celebrity golf events and often gets the inside scoop from PGA Tour players. For more information about Elisa, visit her websites at www.onthelip.com or Executive Golf International www.execgolfintl.com.