Game On - New 19th Holes Fuel College Rivalries in North Carolina
By: Dave Droschak
It's not as if the fan bases of the University of North Carolina and North Carolina State ever run out of jabs, digs or insults to hurl each other's way. After all, the heart of another season of ACC basketball is about to heat up. Enough said.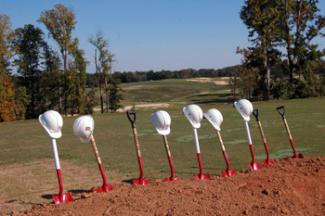 Groundbreaking Shovels with Course in Background
The debate over which athletic program is the cream of the crop often spills over into the multi-million-dollar arms race of facilities. Recently, golf has seemingly been a short chip shot away from that discussion over which school has the better college golf course - UNC Finley, designed by Tom Fazio, or the Arnold Palmer layout known as Lonnie Poole Golf Club.

Both are ranked high nationally. But by the end of 2013 the discussion heads to the 19th hole as UNC has already enhanced its clubhouse, while NC State announced this fall it plans to break ground on what, by all accounts, will not only be one of the best college facilities but one of the Triangle's top after-round hangouts, equipped with a grand view of the downtown Raleigh skyline.

"You can arguably describe this as the single most important day in the history of our golf program," NC State athletic director Debbie Yow said in late October as ceremonial shovels stirred dirt on the site of the proposed Carol Johnson Poole Clubhouse. "In our enterprise, people often say facilities are the silent statement of commitment. When recruits come here and they're trying to decide if they're going to Duke or Carolina, Wake (Forest) or State, when they round the bend and see this place the answer will be in front of them in relationship to our commitment as a university and as an athletic program in terms of men's and women's golf."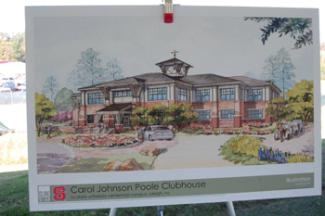 NC State Clubhouse Rendering
Carol Johnson Poole is the wife of Lonnie Poole, who the course is named after. With their generous donations the couple has single-handedly elevated N.C. State's golf programs by helping with major funding for the world-class Palmer layout, and now the proposed 25,000-square-foot clubhouse, which will also double as classrooms for the turfgrass research and professional golf management schools - two of the university's nationally recognized programs.

"Somebody asked me what I want in a clubhouse and I said, 'I don't know I've never had one,' " said longtime NC State men's coach Richard Sykes. "It's going to be special. It kind of completes the project. I will be out here every day looking at it."

While the Wolfpack has produced some notable professional players such as Vance Heafner, Carl Pettersson and Tim Clark, the program has had to play catch-up with rival ACC schools, at times losing top recruits because of a lack of facilities. Even when Lonnie Poole was opened a few years ago, there was no permanent clubhouse with team locker rooms on-site. The lack of various other amenities left Sykes at a recruiting disadvantage.
"The golf course has matured very nicely, but when people drive into the parking lot we feel like we're one down," said Chip Watson, the general manager at Lonnie Poole and the assistant men's coach. "Once the golfer gets out there on the third or fourth hole they say 'Hey, this is a pretty nice place.' Well, now this piece will finish it, and we'll have that 'wow' factor when golfers drive in."

The second floor of the clubhouse will spill out onto the driving range, while an outside veranda will provide an expansive view of the back nine and downtown Raleigh, making it a destination to relax before and after 18 holes.

"This is a beautiful golf course, but it's not finished until we have a 19th hole, a clubhouse and, in this case, a teaching facility and a place for our teams," Lonnie Poole said. "I love doublewides and there is a time and place for everything, but it took me a long time to get over that 'Cow College' thing and all that surrounds us NC State graduates of an earlier vintage, so we don't need a doublewide; it just doesn't fit in with this neighborhood."

Watson said the clubhouse is 80 percent funded, with additional donation options available on the website www.lonniepoolegolfcourse.com by clicking on the "donate" tab.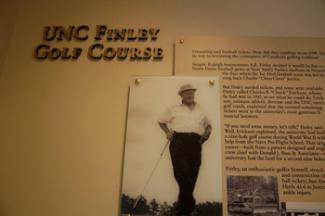 UNC Finley Memorabilia Room
(All Photos in this Story by Dave Droschak)
Meanwhile, 30 miles down Interstate 40 and past thousands of loblolly pines in picturesque Chapel Hill, the school's $4-million clubhouse renovation project was completed this fall, with plenty of Carolina Blue paint and cool Tar Heel fixtures adorning the walls of the 9,500-square-foot facility.

One of the highlights is the A.E. Finley Memorabilia Room, which is dedicated to Finley, who was instrumental in funding the original golf course and clubhouse construction. The gallery commemorates the history and involvement of Finley over the years of the Fazio-designed course, from its inception to its current status as one of the best university courses in the nation.

"We wanted Mr. Finley's memorabilia room to be the main entrance that when people walked in there was definitely a 'wow' factor . . . and there is," said UNC Finley director of golf Johnny Cake. "Golfers sort of browse coming in but they read going out."

The former clubhouse was distressed on many levels, according to Cake, requiring numerous repairs that led to the new digs, which have been more than doubled in size.
"It was a situation where we wanted to have this building be (the) equal to all the other great university buildings we have," Cake said. "We have a great golf course, a great maintenance facility and we needed to do something here."

The new clubhouse features a conference room, Wi-Fi and the Naismith Grill, which has outside seating with TVs and a fireplace.

"There is still a 'wow' factor when we walk in for me and the staff," Cake said. "The environment is so much better. We all basically knew it was going to be nice, but I think we're all a little overwhelmed at now nice it really is."

So now when alumni of each school debates which twosome - Davis Love and Mark Wilson vs. Tim Clark and Carl Pettersson - would dust the other in a best-ball match, they'll likely be doing it in 19th-hole style.
David Droschak has covered golf in the Carolinas for three decades, mostly with The Associated Press, where he worked for 20 years as AP sports editor in North Carolina prior to launching Droschak Communications, a full-service marketing and PR firm based in Apex, N.C. Dave, 51, has covered numerous major golf tournaments, including the 1999 and 2005 U.S. Opens at Pinehurst Resort, and is a longtime member of the Golf Writers Association of America.

Dave was honored with the Sports Writer of the Year award in North Carolina in 2005, and is currently editor of Triangle Golf Today (www.trianglegolf.com), a print and online publication regarded as the "No. 1 Source for Golf News in North Carolina." He is golf editor for Pinehurst Magazine, an award-winning glossy publication, and was instrumental in helping launch Triangle Golf Deals powered by Twongo (www.trianglegolfdeals.com) in the fall of 2011.

Dave also is the co-founder of www.HurricanesBeat.com, a website devoted to coverage of the Carolina Hurricanes, an NHL franchise he has covered since the team moved to North Carolina from Hartford in 1998.

Dave grew up in Penn Hills, Pa., about five minutes from the famed Oakmont Country Club and was introduced to the game of golf as a caddie at Green Oaks Country Club in nearby Verona, Pa.

Dave was the co-captain of the 1978 Penn Hills state championship baseball team, was a pitcher for the 1982 Atlantic Coast Conference champion University of North Carolina Tar Heels, and pitched professionally for two years in the St. Louis Cardinals organization. He is a member of the Penn Hills High School Sports Hall of Fame, which also includes NBA coach George Karl and former four-time Pro Bowl offensive lineman Bill Fralic.