Gaylord CC & Black Bear Highlight Golf in Michigan's Northern Lower Peninsula
By: Steve Habel
There are some golfers that say the series of courses comprising the Gaylord Golf Mecca (GGM) in Michigan's Northern Lower Peninsula rival better-known groupings, such as the Audubon Trail in Louisiana and the Robert Trent Jones Golf Trail in Alabama.

Gaylord Country Club
Given a little encouragement (it really didn't take much), I headed north from Texas to see if all the kudos reaped on the GGM were true. I took a jet to Minneapolis and then to Traverse City and jumped in a rental car for a leisurely drive to the alpine village of Gaylord, the epicenter of the five resorts and a total of 21 courses within a 45-minute drive that make up the golf destination.

I found courses among rolling hills lined by rustic woods and a smattering of lakes, creeks and ponds. According to the GGM's website (www.gaylordgolfmecca.com), the group of courses hosted more than 260,000 rounds from mid-April through mid-October in 2010, a four percent increase from the previous year.

"Consumers are looking for great value when taking golf trips and our courses have been offering great value," said Paul Beachnau, the Gaylord Area Convention and Tourism Bureau's executive director. "We are optimistic that the uptick in rounds is a positive sign that the Michigan economy and consumer confidence is improving."

With high-quality public courses, superb resort or hotel lodging and fine dining in sophisticated yet casual restaurants and inns, the GGM offers something for everyone.

The first two tracks I played - the semiprivate Gaylord Country Club in the eponymous town and Black Bear Golf Club in nearby Vanderbilt - were good introductions to the GGM's courses and the six other tracks I would tee it up on during my stay.

Gaylord CC Enables Fast Play
Don't be Lulled by Gaylord CC's Brevity

Playing at just 6,473 yards from its back set of four tees, Gaylord Country Club seems ready to be overpowered by the modern player and his equipment. But thanks to a routing that winds through hills and hardwoods, strategic bunkering, and undulating and quick greens, the course throws even the most skilled golfer a curve or two, making concentration and execution vital.

Gaylord Country Club was founded in 1924 and is one of northern Michigan's oldest golf clubs. The club moved to its current location just west of Gaylord in 1975 where a new course was fashioned by Robert W. Bills and Donald L. Childs, who also designed nearby Michaywe Pines GC. The facility boasts private club conditioning and a classic parkland design reminiscent of the early 20th century.
Bills and Childs's design at Gaylord CC features a variety of open and tight tree-lined holes. Some sport flat landing areas while others roll up and down over wavy terrain. There are numerous doglegs that bend in both directions along with water hazards and bunkers that make golfers think before selecting a club. There's ample opportunity to utilize the driver, but lay-ups to proper landing zones are also necessary on some holes.

Water enters play on a half-dozen holes and there are 30 sand bunkers located along the landing zones of the ryegrass fairways or situated greenside near the medium-sized and tough-to-navigate putting surfaces. The design also features plenty of beautiful flora and offers players panoramic views. Par-72 Gaylord CC carries a rating of 71.3 and a slope of 129.

There are no par-4s longer than 405, and only three of the two-shotters stretch more than 400. All three of the par-5s are less than 513 yards and the longest par-3 is just 183 yards

The course's teeth derive from the precision required off the tee and on approaches. That's evident at the 469-yard par-5 fifth, which rightward around a pond and ends at a green protected front-right by two huge bunkers.

The downhill 398-yard par-4 eighth is an accident waiting to happen, thanks to a narrowing fairway, a pond on the right flank and a huge bunker on the green's right.
The back side begins with a 370-yard par-4 10th, where fairway bunkers and a well-protected and tough-to-read putting surface can turn pars into bogeys. No. 17 is a par-5 of just 505 yards, but its green slopes away from the fairway, making attacking a front-pin location tenuous at best.

One of Gaylord Country Club's real assets it that it's a short distance from each green to the next tee, making the course appealing to walkers and those looking for an enjoyable round in four hours or less. It's also one of the few private clubs in northern Michigan that allow public play anytime, affordable and fun.

For more information, visit www.gaylordcountryclub.com.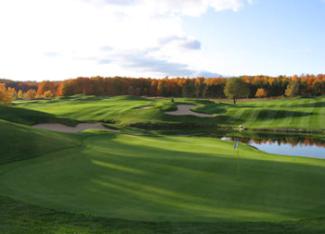 Elevation, Water & sand Define Black Bear GC
Extras Make Black Bear Special

Located just 10 miles north of Gaylord directly off I-75, Black Bear Golf Club offers some of the most diversified golfing terrain in the Great Lakes State. One of its unique features takes place before even teeing off as Black Bear allow players to warm up on a 159-yard "19th hole" before No. 1.

You'll need the extra practice to tame this bear. Designed by Mark Sauger and opened in 1996, the par-72 track plays 6,504 yards (6,663 if you include the 19th hole) where it carries a rating of 71.5 and a healthy slope of 138.

Black Bear has a number of blind tee shots to contend with, and few of the par-4 and -5 holes can be seen from tee to green. That makes it even sweeter when you're able to negotiate the difficult approaches and find its large but lightning-fast and highly contoured greens.

The course's opening nine works through Northern Michigan forestry, though there's a links feel to some of the holes that are guarded by mounds instead of trees, especially on the back nine.

This is a very scenic venue with some rolling hills and substantial landing areas, a dearth of forced carries and expansive tees and greens. Many of the holes have open approaches to the putting surfaces.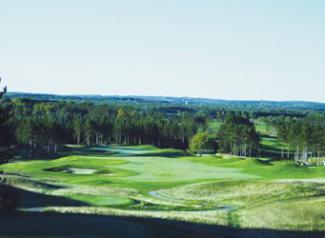 Black Bear Golf Club
The environment at Black Bear GC is stunning at times as the layout was designed to fit the natural lay of the land. The course's most impressive and most challenging are the numerous undulations and elevation changes encountered tee to green. If you lose your way - and believe me, it's easy to do, tall poles in the fairways serve as directional guides on several holes.

A prime example of the tests at Black Bear GC is the extremely raised putting surface on the 140-yard par-3 sixth and a swale fronting the green on the 517-yard par-5 seventh.

No. 2 (a par-3 that can be stretched to 237 yards but is carded at 208) will strike fear in any player as a full carry to the green is required. But the putting surface and its surrounds are neatly snuggled into a hillside with tall pines serving as a picturesque backdrop.

The 349-yard, par-4 eighth starts at an elevated tee and then descends into an ample landing area. The approach is to a slightly elevated green that tends to redirect inaccurate shots off or over the green.

The 378-yard par-4 17th hole is another real challenge. It begins with a terrific view of the course and winds down alongside the 8th fairway. Because of its declivity the hole plays shorter than the yardage.

Black Bear was named to Golf Digest's Best Places to Play in 2008-09, and has earned mention as a People's Choice Award Winner as well as a 4-star rating from Golf Digest.

With his work here Sauger did an excellent job in designing a course for both high and low handicappers. Good shots played on the correct line will be generally rewarded, while poor ones are still recoverable.

For more information, visit www.golfblackbear.net.
Steve Habel is one of Cybergolf's national correspondents, contributing news stories, features, equipment and book reviews and personality profiles from his base in Central Texas. He is also the managing editor for Texas CEO Magazine and works as a contributing editor for Horns Illustrated magazine, a publication focusing on University of Texas sports. He also writes a blog (www.shotoverthegreen.blogspot.com), which features news on golf and the Longhorns, and another (www.checkinginandplayingthrough.blogspot.com) on his many travels, which took him across the nation and to 105 different golf course in 2009. Habel is a member of the Golf Writers Association of America and the Texas Golf Writers Association.