Getting the Full Pete Dye Experience at Oak Tree Country Club
By: Steve Habel
Sometimes little brothers are overwhelmed by older siblings. Yet there are just as many instances when the younger relation learns from the experiences of the older, benefiting from lessons learned and excelling in ways the older never could.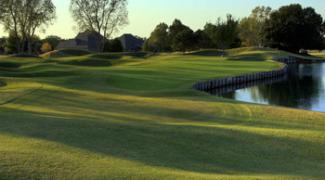 The West Course at Oak Tree CC
Such is the case with some sister golf courses. Even with courses sharing the same terrain and challenges - and having the same architect and overall design - the younger (or newer) one finds ways to shine and stand out.

A prime example is Oak Tree Country Club, set in the northern Oklahoma City suburb of Edmond and across Kelly Avenue from its older sibling, the renowned Oak Tree National. Both facilities were designed by the peerless Pete Dye, separated from birth by five years and built to address different goals. But the two clubs' three courses (Oak Tree Country Club has a pair of 18-holers - the East and West) are cut from the same cloth and have a similar swagger.

When Oak Tree Golf Club (now called Oak Tree National) was in its planning phase its owners asked Dye to build the hardest course he could, with the aim of having it gather enough attention to host USGA championships.

On the other hand, the goal of Oak Tree Country Club was to allow Dye to fashion a pair of courses that were demanding but infinitely playable for better golfers. Oak Tree CC's routings wind gently through the Oklahoma landscape and between shimmering lakes, preserving the character of the land while offering something surprising around every bend.

Members are offered a remarkable value, as Oak Tree CC is the only private club in the Oklahoma City metro area with 36 holes. Both courses are quite good too, having earned spots on the Golf Digest's Top 10 "Best in State" rankings in 2013.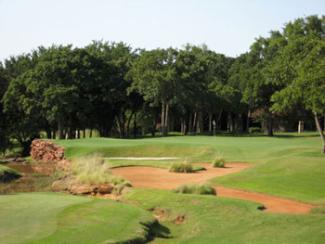 Oak Tree CC's East Course
A Little Bit of This & That

The East and West courses are similar in design. Dye crafted both as places that members can play every day without the target-golf difficulty of its more famous brother. That doesn't mean either East or West course is easy, as illustrated by the fact that East annually hosts the prestigious Oklahoma Open, one of the top tournaments in the Sooner State.

"The East course is as tough a test of golf as you'll find anywhere," said Mark Hayes, a former PGA Tour tournament winner from Oklahoma who's become a golf course architect. "The most demanding holes on the East are as demanding as the hardest holes at the National. Even during the Oklahoma Open, they almost never play the course from the back tees because it would just be too hard."

The two layouts opened in 1981. Both play to a par-70 and have only one par-5 on each nine-hole side. East and West occupy rolling terrain, and each has a quintet of ponds and that compound play. The West features more sand than water and is slightly less punishing.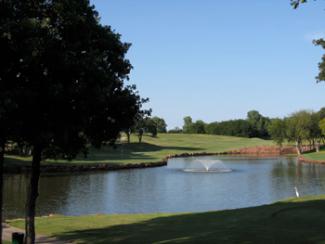 Water is a Major Factor at Oak Tree's East Course
The East, carded at 7,107 from its back tees, carries a rating of 76.3 and a Slope of 139; the second set, at 6,436 yards, is still more than most players can handle as rated at 72.7 and 133.

A round here is made or lost by playing the par-4s well, with eight two-shotters on East stretching 431 yards or more, including the 458-yard second, 467-yard ninth and 455-yard 16th, which contains two ponds along the left that are a feature of the final stretch.

There are also two testy par-3s coming home - the 236-yard 14th is all carry over water (it's the course's No. 4 handicap hole), while the 207-yard 17th is an all-or-nothing play over a pond. Rounds on East are often made or lost on with the two swings on these holes.

The West course, though a little more forgiving in places, still asks for great golf at 6,752 yards from the tips, where it carries a 72.9 rating and Slope of 129.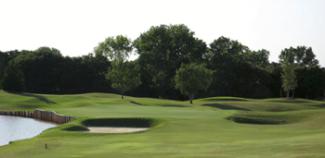 Oak Tree CC's East Course Shows its Detail & Difficulty
Dye built mounds to add difficulty at West, and its greens complexes are almost as mind-boggling as those across the street at Oak Tree National, which is saying a lot. Imprecise approach shots will create tough, if not impossible, up-and-downs.

The third shot on the 576-yard par-5 seventh brings sand into over in its final 50 yards, while it's water that must be dealt with on the tee ball at the 174-yard par-3 14th. Four par-4s on West extend 456 yards or more, including two on the back side - the 469-yard 15th and the 456-yard closer, which is all uphill to an elevated and segmented putting surface.

In addition to two fine 18-hole courses, Oak Tree CC features a dramatic wood-and-stone, 65,000-square-foot clubhouse with three dining areas - the casual, family-friendly Trophy Lounge; the adult-atmosphere 21 Club; and the Formal Dining Room - along with separate men's and women's locker rooms and grills, and the golf pro shop.

In addition, the club boasts a 75,000-square-foot sports facility that contains six indoor tennis courts, six outdoor tennis courts, an indoor jogging track, fitness center, aerobics studio, racquetball and basketball courts and additional locker rooms with saunas and whirlpools. Oak Tree also has an Olympic-size swimming pool and children's wading pool.
ClubCorp Takes Charge

In May 2013, Dallas-based conglomerate ClubCorp announced the acquisition of Oak Tree CC and soon began a multimillion-dollar capital improvement project at the facility. Planned are extensive renovations and upgrades to the clubhouse - including expanding casual dining and the addition of an outdoor dining area - and improvements to the golf, tennis, pool and fitness areas.

The improvements will only enhance the experience at Oak Tree CC. While the golf is great, the people at the club - and their pride in the facility - are what make this place special.
For more information, visit www.clubcorp.com/Clubs/Oak-Tree-Country-Club.
Steve Habel is a freelance writer contributing Cybergolf news stories, features, equipment and book reviews and personality profiles from his base in Central Texas. He also works as a contributing editor for Horns Illustrated magazine, a publication focusing on University of Texas sports, and is a contributing writer for Golfers' Guide and Golf Oklahoma magazine, Texas Links magazines and Golfers Guide. Habel's main blog (www.shotoverthegreen.blogspot.com) features news on golf and the Longhorns, and another (www.checkinginandplayingthrough.blogspot.com) chronicles his many travels, including playing more than 600 golf courses since 2008. Habel is a member of the Golf Writers Association of America and the Texas Golf Writers Association.