Ginn Hammock Beach Resort Features Courses by Nicklaus & Watson
By: Joel Zuckerman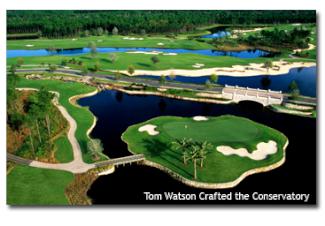 The PGA Tour is finally bidding adieu to Florida after a solid month of tournament dates. The "traveling circus" of the game's best has gone from Palm Beach Gardens to Miami (the Honda Classic and CA Championship, respectively) from Tampa to Orlando (Transitions Championship and Arnold Palmer Invitational).
It will be another six weeks before these stick-and-ball magicians reappear in Florida, headquarters of the Tour itself and the home address of a disproportionate number of touring professionals. The Players Championship is on tap for early May at the infamous TPC Sawgrass-Stadium Course in Ponte Vedra, south of Jacksonville. When the tournament concludes on May 10th, the Florida golf season, at least from the PGA Tour perspective, will be complete.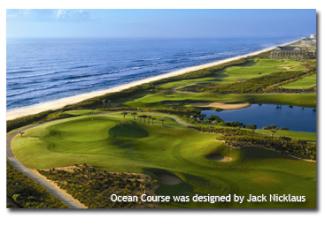 The Tour was supposed to make a return trip to Palm Coast, Fla., in the fall, for the second iteration of the Ginn sur Mer Classic at the lovely Ginn Hammock Beach Resort, but the November tournament was canceled this past January due to the tough economic climate. While it's unfortunate the pros won't be making a return engagement, attempting to chase down the oversized cardboard check won by Ryan Palmer last year, the rest of us are still welcome at this handsome, seaside resort.
Considering it's unique "surf appeal," the Hammock Beach property on Florida's northeast coast is remarkably convenient to population centers like Jacksonville and Orlando-each a little more than an hour away. The resort, with some 300 different rooms and suites of varying sizes, is less than 10 minutes from Interstate 95. But despite the proximity to places like Daytona Beach and historic St. Augustine, the Ginn Hammock Beach Resort is entirely self-contained-there's no need to leave the property, other than to visit the exceptional Tom Watson-designed Conservatory Golf Course, about 15 minutes away (more on that in a few paragraphs). All the dining, imbibing, swimming, lounging and beaching options are close by, not to mention the comprehensive workout facility, spa, and meeting spaces. So is the Jack Nicklaus-designed Ocean Course, one of north Florida's lesser-known but truly enjoyable resort golf experiences.
Some of the game's finest venues have the word "ocean" in their name. Kiawah Island's Ocean Course, the Ocean Course at Cabo del Sol in Cabo San Lucas, Mexico, and Bermuda's Mid-Ocean Club are a trio that come to mind. While Ginn's Palm Coast Ocean Course is a couple of rungs below those, it's still well worth a visit. As the only true oceanfront course to open in Florida in more than 70 years, this Nicklaus Signature design features six holes with views of the Atlantic, including a stellar par-4 finisher, nearly 470 yards long paralleling the beach.
Lakes, dunes and forests pepper the layout, which tempts longer hitters with a mix of reachable yet hazard-laden par-5s. Fairways are generous, and rightly so, as whipping winds off the nearby Atlantic can cause tee shots to drift well offline. "Though we are nearly 10 years old, there's still a bit of a surprise factor here," offers head professional Shane Olsen, a native Nebraskan. "Even though we've hosted the Champions Tour here on two occasions, to many visitors we are something of an unknown quantity. I think that's partially because we are in a relatively unknown part of the state, in northeast Florida."
Olsen points out that on the occasion of the first Ginn Championship, the Champions Tour event which debuted here in 2007, virtually none of the participants had previously visited the Palm Coast area. The field, a virtual "Who's Who" of the over-50 set, including top-10 finishers over the tournament's two-year run like Hale Irwin, Fred Funk, Mark O'Meara, Gil Morgan, Bernhard Langer, Ray Floyd and Tom Watson, were duly impressed. There were no arguments regarding the accolades the Ocean Course has received, including "Top 100 Courses You Can Play" as bequeathed by Golf Magazine and a Silver Medal by Golf.
Speaking of Tom Watson, the five-time British Open champion is the architect of the resort's second golf course, the Conservatory, located some 10 miles off-site from the main resort property. This is the single longest of the thousand-plus golf courses in the Sunshine State, stretching nearly 7,800 yards from the tips. This is an atypical Florida course, despite the 75-plus acres of manmade lakes and the onsite waterfall that serves as a natural water-treatment system.
Befitting a player-turned-architect who found so much success on links golf courses, the Conservatory features massive and extremely undulating greens. It's a very capacious 560 acre property, and though there is room for 340 homes, only a few have been built to date. (Perhaps this partially explains why both the Champions Tour and PGA Tour events have been suspended.)

Around 140 bunkers dot the landscape, and millions of dollars were poured into lush landscaping, which includes 450 trees that were re-planted on the course. Live oaks, stone pines, cypress, crepe myrtle, magnolia, elm, holly, gum and maples abound, giving the course an indigenous feel, which is amplified greatly by the dearth of housing on the property.

The lately-departed Travel & Leisure Golf, which just recently ceased publishing, was among the most articulate of the mainstream golf magazines. It described the Conservatory thusly: "Tom Watson . . . dug up buckets of sand and piled them high into mountainous dunes. The deep holes become lakes and the shallow ones become bunkers that swoop this way and that, like whitecaps on the sea. It's all counterintuitive enough as to feel almost natural."

What also might be counterintuitive, at least to the uninitiated, is the concept of a full-service, first-class, ocean-side resort complex in what many folks might consider the "no-man's land" area south of Jacksonville and north of Daytona Beach. But the Ginn Hammock Beach Resort, featuring a pair of top-notch courses designed by two of the game's all-time greats, most definitely fits the bill.
Joel Zuckerman, called "One of the Southeast's most respected and sought-after golf writers" by Golfer's Guide Magazine, is an award-winning travel writer based in Savannah, Ga., and Park City, Utah. He has written five books, including the epic "Pete Dye Golf Courses" in 2008. Joel's course reviews, player profiles, essays and features have appeared in more that 100 publications internationally, including Sports Illustrated, Golf, Continental Magazine, Travel & Leisure Golf, Sky Magazine, Golf Connoisseur, Golfweek, Estates West, Millionaire and Golf International. For more of Joel, visit www.vagabondgolfer.com.