Girl Talk
By: Nancy Berkley
The average women golfer is over the age of 50, but women's golf didn't look that old during the weekend of the U.S. Women's Open. I could not take my eyes off amateur golfers Morgan Pressel, age 17, and 15-year-old Michelle Wie as they competed in the championship.
I have a soft spot for Morgan because she plays golf at the same club I do in Florida. She has a sweet, soft-spoken manner and is not very tall. On the other hand, Wie is over 6 feet yet still sounds like any other "gee-whiz" teenager. In addition to fabulous golfing ability and competitive spirit, they both have style. I am definitely going to buy some of the dangling earrings they wore during the Open in my next golf match.
My primary message here is the importance of introducing girls to golf. Whether it's your daughter, niece, god-child or just a good friend's daughter, take her to the course. And, do it during the week of July 11-17.
For the sixth summer, the National Golf Course Owners Association is the major sponsor for the Annual Take Your Daughter (or your favorite girl) to the Course Week. Over 1,000 clubs throughout the U.S. will be participating in the event and offering special clinics for girls at special rates. With reduced prices, it is a perfect opportunity to take that favorite girl out for a few holes on the course. Both women and men may bring girls to the course and enjoy special events. Finish off the outing with a soda or juice, and I guarantee she'll never forget that day.
Kudos to the NGCOA for promoting the event and congratulations to the 100,000 girls who have participated in past years.

To find out if a nearby course is participating in the Take Your Daughter to the Course Week, visit www.getlinkedplaygolf.com.

If your course is not participating, talk to the golf professional or manager. The facility does not have to be a member of the NGCOA. In fact, offer to get the materials for them. There is still time for a course to register and receive promotional materials.

Here's me and my granddaughter a year ago. You can be sure that in our next picture, I will be wearing longer earrings! Click on my name at the top of this article and send me your thoughts and experiences on how to help make golf positive and memorable for girls.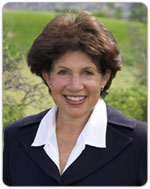 Nancy Berkley is an expert on women's golf. Her book, "Women Welcome Here! A Guide to Growing Women's Golf," published in 2003 by the National Golf Foundation, is the industry reference on how-to attract and retain women golfers. She updates her research and best practices on her website www.nancyberkley.com.

Nancy consults with facilities on how they can increase participation and revenues from women golfers and is a frequent speaker at industry events. Nancy also reviews courses for "The Golf Insider," an international golf and travel newsletter, and "Ladies Golf Journey," a golf publication for women. She's contributed articles to "Golf For Women" magazine and is the author of the 2004 PGA Magazine cover story about women golfers.

A respected resource in the golf industry, Nancy participates in Golf 20/20, the annual strategic invitation-only conference sponsored by the PGA Tour, the PGA, the LPGA, and the World Golf Foundation. At the November 2004 Conference, she moderated the panel discussions on player development with a focus on women golfers. She has addressed the National Golf Course Owner's Association at their National Conference as well as at numerous marketing seminars for the PGA and LPGA professionals. Nancy serves as a consultant to the Golden Links Advisory Board of Corporate Meetings & Incentives, a PRIMEDIA Business Publication. Nancy is an experienced golfer and has competed on the Metropolitan Women's Golf Association (N.J., N.Y., Conn.) interclub matches. She's served on the Board and Golf Committees of her golf clubs in Florida and New Jersey.

In 1998, Nancy founded Berkley Consulting and The Woman's Only Guide® to Golf to share her long-time passion for golf and to help grow the game. Prior to working in the golf industry, Nancy was an attorney for a Wall Street firm and then held a number of senior executive positions with Prudential Financial, including Assistant General Counsel and Vice President of Corporate Marketing & Business Integration. Nancy began her professional career as a high school teacher.

Nancy holds a bachelor's degree in political science from the University of Minnesota; a master's degree in teaching from Harvard University Graduate School of Education; and a law degree from Rutgers University School of Law, where she was a member of the Law Review. She is a graduate of the Program for Management Development at Harvard Business School.

Nancy describes herself as a bogey golfer and plays on her home courses in Florida and New Jersey. To contact her, write, call or email Nancy at: Nancy Berkley, Berkley Consulting, 242 Eagleton Estates Blvd, Palm Beach Gardens, FL 561-776-7243 or at info@nancyberkley.com.