Give Tucson its Just Deserts
By: Tony Dear
It will never outshine its neighbor to the north (how could it take on Phoenix/Scottsdale's 200-plus courses?), but the Tucson golf scene has definitely been making more noise than its bigger, fatter, richer, rival these last few years. Not only does it boast a World Golf Championship event - the Accenture Matchplay, it's also home to the Sonoran Desert's two newest courses - the Ritz Carlton GC at Dove Mountain, which opened in 2008 and stages said WGC tournament, and Sewailo GC, which opened last week.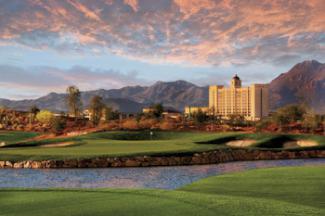 3rd Hole at Sewailo
Sewailo Has Bright Future

Designed by four-time PGA Tour winner and now Golf Channel analyst Notah Begay and associate Ty Butler with whom Begay collaborated at Sequoyah National GC in Whittier, N.C., in 2008-09, Sewailo is owned by the Pascua Yaqui tribe, which debuted the adjacent 215-room Casino del Sol resort in November 2011. Though part of the same wild, rocky, and arid, wilderness on which Phoenix, Scottsdale, and Fountain Hills's distinctive courses are built, Sewailo bears little resemblance to most of them having been created on mostly flat, featureless terrain immediately to the south of the hotel, about 15 miles southwest of downtown.

Butler, a native of the Midwest who spent 20 years with Robert Trent Jones Jr.'s design firm before moving to JMP Golf Design Group, concedes that while eager to renew his partnership with Begay and that he was excited by the challenge the ground presented, he did need to work awfully hard and move an awful lot of earth - about 1.2 million cubic yards - to create the "desert oasis" the tribal leadership envisioned.

"We really had to create everything from nothing," he adds. "But then, we weren't encumbered with existing conditions that might have dictated the routing or placement of features. Actually, it was really a perfect combination. We were able to devise a routing without many restrictions and were able to transform a featureless site into a beautiful and dynamic golf course."

It doesn't sound like the minimalist's motto that maintains the shape and contours of golf holes should absolutely be dictated by nature and that courses should lie on the land as much as possible. But, it has to be said, without a good deal of human intervention Sewailo would have turned out rather dull, and no one would have been in any great hurry to play it.

While the site may not have had much in the way of elaborate landforms, it did offer magnificent views of the Tucson Mountains to the west, plus a lot of interesting native vegetation. As well as designing and building the course's many water features, landscape expert Ken Alperstein of Palm Desert Calif.-based Pinnacle Design Company, which has worked on over 115 courses throughout the world alongside architects such as Jack Nicklaus, Tom Doak, Trent Jones and Tom Fazio, was hired to harvest thousands of plants, putting them back in the ground once construction was complete.
"The biggest challenge was that the entire site was graded to create interest, which meant the plants had to be removed then replaced," says Alperstein. "The tribe wanted to name the course Sewailo, which translates to 'flower world,' so the desert flowers, which survive an annual temperature range of almost 100 degrees, were a very important element of the course."

Alperstein decided on a shift in plant type from the flowers that characterize the opening holes to trees, shrub and cacti in the middle, then back to a crescendo of water and flowers toward the end. "It was fun to craft a story," he says, "and create these transitions as the course progresses."

Butler says the only complication he and the team faced during construction was an interior parcel of land that didn't belong to the tribe and which they were unable to secure. About three-quarters of the way through the job, it became clear they would not have access to this land in the northwest section of the property, so the routing would have to be adjusted and one entirely new hole built.

"To cut a long story short," says Butler, "the 17th hole, originally planned for the inaccessible plot, was moved and we built a new 15th hole. The 14th green was relocated."

A network of retention basins and dry washes throughout the property helps manage runoff during the monsoon season, but it couldn't be finished because this network needed to run through land that was off-limits. "So we installed concrete roadway barriers beside the cart path between the 17th green and 18th tee. They prevent water and silt running into the irrigation lake on 18."

When the tribe does eventually gain control of the parcel, the washes will be completed and new back tees for the 18th will allow it to play the distance Butler always wanted it to. He certainly wasn't too unhappy with the final result though. "In the end, everyone on the team felt the new holes and the new routing were better than what was previously designed," he says.
"We're hopeful the Pascua Yaqui will acquire the extra land soon and we can finish off a few details making the course even better than it already is."

Butler nominates the stretch from the fourth to the sixth as his favorite part of the course and says the par-5 10th is also a great hole. Begay is fond of the 10th, too, saying players can't simply stand on the tee and indiscriminately smash a driver as far as they can. "You really have to play a shot on that hole," he says. "You have to think about your ideal landing spot and execute."

Being Native American - half-Navajo, a quarter-San Felipe and a quarter-Isleta, Begay has developed a strong connection with both the course and the Pascua Yaqui. The Stanford grad who shot a 59 at a Nike Tour event in 1998, says he saw his role as a facilitator, bringing a game to a people that had very little experience of it. "The vast majority of the tribe has never played golf," he told AZ Golf Insider last month. "They don't really know the game. So I wanted to help them form their ideas, and give them a course so good it would be profitable."

The greens at Sewailo, large and relatively flat but certainly not without some pitch, were seeded with T-1 Bentgrass, a creeping bent developed by the Jacklin Seed Company and first introduced in October 2004. Even though it performs better than other bent turf cultivars in many categories, it is still a cool-season grass better suited to northern latitudes. "We did plenty of research in the local market and found a few courses that have bentgrass," says Butler. "So we knew it could work in this environment, and will do especially well during the winter and Tucson's high season."

The course's superintendent, Jonathan Williams, says his job is easy in the winter when the temperature averages somewhere in the high-60s and low-70s, but says he will need to work from sunup to sundown during the summer to combat temperatures of 110 degrees or more. "It will be extremely demanding," he adds. "But the positives far outweigh the negatives. We can get the green speeds pretty quick, the surfaces will be nicely receptive, and it looks good."

Sewailo is off to a fast start. Fifteen tournaments were booked before the course even opened, the University of Arizona Wildcats will call the course home, and the media response so far has been universally positive. Green fees range from $129 to $149, and Troon Golf Management was chosen to operate the course, meaning conditions on the day of your visit will likely be near-perfect and the customer service similarly reliable.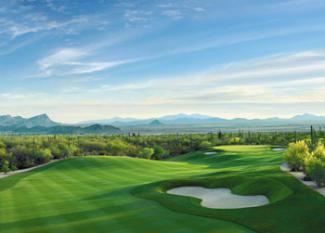 6th Hole at Gallery South
The Gallery

Sewailo isn't Troon's only course in the Tucson area. Ten miles north of downtown and set in the foothills of the Catalina Mountains is the Westin La Paloma Resort with 27 holes designed by Jack Nicklaus in 1984, and renovated by the Golden Bear five years ago.

The company also manages the Gallery Golf Club near the town of Marana, 25 miles north of downtown Tucson and 32 miles north of Sewailo. The Gallery possesses two John Fought-designed courses - the North, and the South, which hosted the WGC Accenture Matchplay in 2007 (Henrik Stenson) and 2008 (Tiger Woods) before it moved up the road to the Ritz-Carlton.

Fought, the 1977 U.S. Amateur champion, has built a very impressive portfolio since starting out with Bob Cupp at Pumpkin Ridge in Oregon in 1991-92 and going solo in the mid-1990s. Among his credits are Washington National in Auburn, Wash., the Player's Course at Indian Wells Golf Resort in the Palm Springs area, Sand Hollow in Hurricane, Utah, and the two courses at the Gallery that he describes as one of the most enjoyable projects of his career.

"I enjoyed working at every course I've designed," says Fought, "but I'd say Gallery was my favorite project because the owner (John MacMillan, whose family owns agricultural commodities' giant Cargill Incorporated) is a good friend, and was great to work with. And the staff is great too - lifelong friends."
The site for the North Course, which opened first, in 1998, was completely native when Fought first arrived. The virgin land was so rugged he had to hike in because no roads went that far. "I loved the beautiful vegetation," he says. "In fact, I moved to Arizona partly because of my experience working on the North course. The rocky hills and canyons were fascinating and so different from anything I had ever worked with before. I loved the opportunity to learn about desert."

Fought's design partner for the North Course was Tom Lehman, who had won the Open Championship at Royal Lytham and St. Annes in 1996. "I think we worked well together," says Fought. "He was playing his best golf during this period so wasn't around too much. But it definitely was a good experience."

The South Course opened on much flatter ground five years later. "There was a big difference in the sites," says Fought. "The North had much more elevation change and more character, so we tried something a little different with the South. Because John (MacMillan) is a member at a Donald Ross course and because I was spending a lot of time in Pinehurst researching the restoration of Ross's Pine Needles, we decided a Ross-like design would work well."

It was a wise move. As Fought says, because restrictions in Arizona are placed on how much of a golf course can be irrigated - 90 acres, there is a tendency for courses to end up looking quite similar to each other. The design features of the South Course - grass-faced bunkers (one of many Ross bunker styles), and green surrounds that throw up a variety of what Ross called "nasty short shots" - separated it from so many other desert courses.

The Gallery, like La Paloma, is a private club (guests of the Westin La Paloma can play it) but non-members can play both courses, along with Sewailo, for just $299 plus tax from January 1st to April 15th. The price of Troon Golf's three-round Tucson Golf Swing drops to $199 for the rest of April and May, then drops still further - to an incredible $139 in June, July and August. That means you can play Sewailo, La Paloma, and either the North or South Course at Gallery for slightly more than $46 each. You'll need two gallons of ice water, a pint of sunscreen, and a fairly wide-brimmed hat to survive the heat, but the chances are you'll forget how hot it is when you think of all the cash you're saving.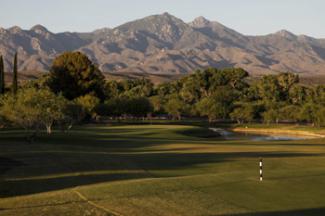 Tubac Golf Resort
Tubac & Other Tucson Stops

Tucson has a lot more to offer than Troon's trio of venues, of course. Loews Ventana Canyon, Vistoso, Starr Pass, Omni Tucson National, Arizona National, and even the two excellent municipal courses at Randolph Park - Randolph and Dell Urich - would all be highlights of a trip to the Old Pueblo, while your favorite round in the area may actually be found 50 miles south on I-19 at the wonderful Tubac Golf Resort.

A member of Historic Hotels of America, Tubac Golf Resort, best known for appearing in the film "Tin Cup," when Kevin Costner's character challenged Craig Stadler to find the par-5 fourth green on the Rancho nine in two (he failed), is set on the 500-acre Otero Ranch in the Santa Cruz River Valley, offering views of the Tumacacori and Santa Rita mountain peaks.

The original 18 holes - now the Otero and Rancho nines - were designed by Red Lawrence in 1959 and look nothing like those at Desert Forest, Lawrence's best-known course, which opened in Carefree, Ariz., three years later. Tubac has a far gentler, more bucolic feel without all those demanding targets. Mind you, the final hole on the Anza nine, which Arizona's own Ken Kavanaugh added in 2006, features golf's ultimate target - an island green surrounded by water.

Fifty-two Spanish Colonial Hacienda suites, 16 casitas and 29 Posada rooms make up the hotel's 98 luxurious accommodations at Tubac Golf Resort - a fine place to start or finish a trip to Tucson which, when you've grown weary of Scottsdale, exhausted by Vegas, and indifferent toward Palm Springs, will fill your void very nicely.
For more information about these courses, visit www.tucsongolfswing.com, www.sewailogolfclub.com, www.tubacgolfresort.com and www.gallerygolf.com.