Giving Fore Charity
By: Elisa Gaudet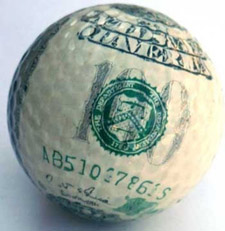 It is estimated that the amount of charitable giving attributed to golf in the U.S. in 2005 was $3.5 billion. This is according to a study done by the National Golf Foundation. To understand this piece of the golf pie it is important to note that the U.S. golf economy accounted for $76 billion worth of goods and services that year. The same report estimated that golf generated a total economic impact of $195 billion in 2005 and created approximately 2 million jobs with a wage income of $61 billion.
We have long known that professional tournaments generate many millions of dollars each year for the charities they support and, to some extent, that has been quantified. The PGA Tour has raised over $1.2 billion for charities since 1938.
A majority of dollars generated each year are done by small and local, one-day fundraising events run by volunteers, with contributions by facility owners and staffs, and supported by local companies and individuals. The impact is significant and the charities range from the SPCA saving animals, to mentally and physically disabled children, to future growth and education for young people, to helping support America's troops.
It is estimated that over 140,000 charitable golf outings are held annually in the United States, with over 15 million total participants. The collective revenue generated for these charities exceeds $2.9 billion.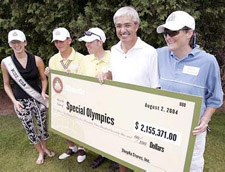 National charitable organizations, such as the American Cancer Society, United Way and Special Olympics regularly use golf to raise money for their respective causes. These events are often large and well attended and typically can raise anywhere from $25,000 per outing to as much as several hundred thousand dollars. But these events don't happen on their own. It takes dedicated individuals, mostly volunteers and board members who are willing to go out and generate interest and sponsors.
One example of a PGA Tour event and the magnitude of its charitable giving is the Wachovia Championship. In its first five years, the Wachovia Championship has donated over $7.5 million to Teach for America and other charities. In 2007 the charity contribution was $1.95 million. Teach for America is the national corps of top college graduates who commit two years to teach in under-resourced public schools and become lifelong leaders in the pursuit of educational equity.
"One of this tournament's goals is to assist Teach for America reach its dream that all children receive a quality education," said Wachovia Tournament Chairman Mac Everett. Today, more than 5,000 Teach for America corps members are reaching nearly 444,000 students in 26 urban and rural regions nationwide, while more than 12,000 alumni are working in education, policy, law, medicine and other professional sectors to effect the broader changes needed to bring about educational equity in our country.
Similarly, other tours like the Nationwide, LPGA and the Champions all raise money for charities. The inaugural Nationwide Children's Hospital Invitational in July 2007 at the Ohio State University Golf Club raised $482,600 for organizations in central Ohio. The total marked the largest charitable donation raised by a first-year Nationwide Tour event in the Tour's 18-year history.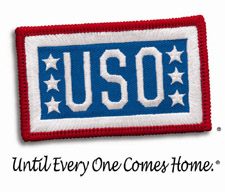 One of the reasons golf fundraisers have become so popular is that it allows an individual or a company to multitask. They get to play golf, network with clients and co-workers and support a worthy charity, all at the same time. When asked what has been the relationship between golf and the USO and why they recently decided to hold a tournament this May in Miami Florida this is what Henry D. Wolfgang, the Chief Development Officer at the USO, had to say:

"We've held golf tournaments in the past and have a wonderful relationship with many PGA players through USO's Operation Links, which takes players to visit America's troops deployed overseas. Our objectives are to continue to build strong relationships and generate support throughout South Florida for USO programs, which bring a touch of home to America's men and women in uniform wherever they serve.

"Mr. Leonel R. "Leo" Roche, a member of the USO World Board of Governors, was instrumental in making this tournament a reality. Furthermore, it is the steadfast support and dedication of our board, corporate partners, volunteers and our donors across America that enable the USO to provide our unique and vital programs and services to the nation's troops and their families as we have for the past 67 years. Until every one comes home."

Golf has always been referred to as a gentleman's sport. Gentlemen are known to give, and golf has become a good way to give back to those who need help. No matter who or where they may be, it is always good to walk the green for a worthy cause.

For more information about the USO Celebrity Invitational in Miami Beach, Fla., on May 2nd, contact mailto:elisa@execgolfintl.com or mailto: leo.roche@morganstanley.com     
Elisa Gaudet brings a wealth of entertainment and golf experience to Cybergolf. Elisa has spent the past several years in the golf industry in the U.S., Latin America and Spain. She worked for the PGA Tour and the Tour de las Americas before founding Executive Golf International, a golf marketing company that works with clients to develop strategies using golf as the medium. Often referred to as the Maria Bartiromo (a business analyst for CNBC) of golf, Elisa says: "Golf, as a marketing tool, has been around for years. It's amazing how many new ways companies can align their brand with the golf market to reach their target audience. Our goal is to create alliances and establish cross-border relations." Elisa also worked in the entertainment industry for over 10 years, including five in Los Angeles as a model and actress. She can be seen at many celebrity golf events and often gets the inside scoop from PGA Tour players. For more information about Elisa, visit her websites at www.onthelip.com or Executive Golf International www.execgolfintl.com.