Glen Acres Golf & Country Club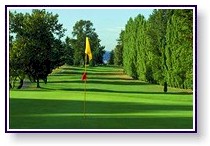 This private nine-hole course lies in south Seattles, quite near another private facility, Rainier Golf & Country Club. The layout, designed by seminal golf architect Arthur Vernon Macan, is one of the city's toughest tests thanks to its small and elevated, rolling and fast greens. Many of these putting surfaces are guarded by tall and deep, upwardly angled bunkers. In addition, a few water hazards enter play.

From some of the higher holes golfers enjoy wonderful, unimpeded vistas of downtown Seattle to the north. In addition to a tricky and difficult test of golf, the club boasts a comfortable clubhouse with full food and beverage service. Also on site is a driving range and practice greens and bunkers.
For membership information, call Glen Acres Golf & Country Club at 206/244-1720. Or, better yet, go online at www.glenacresgolf.com.