Go West to Colorado Golfers!
By: Steve Habel
There's just something about playing golf in the mountains. If you're someone who likes to mimic a sure-footed goat and play at the higher elevations, you know what I am talking about.
With that in mind, the Vail Valley of Colorado is on the top of the short list of places in the world where golf can be played in astounding natural beauty on some of the planet's best courses. Mountain-golf nirvana is just a 100-mile dash west of Denver, an easy two-hour drive through scenic peaks, passes and tunnels.

Golfing at altitude means you're always one well-struck drive away from the longest drive you'll ever hit. In the mountains, elevated greens and rolling fairways work to your advantage, although even low handicappers will find themselves clubbing up from hole to hole as the rugged terrain dictates.

There are 17 golf courses in a 35-mile radius of Vail, and during a recent trip to the region when it was a little warmer - Colorado was blanketed by spring snowstorms in 2009 and snow still lies on many courses - we sampled three of the area's finest semiprivate tracks: the Fazio and Norman Courses at Red Sky Golf Club and the venerable Beaver Creek Golf Club.

Though both of these facilities are considered alpine tracks, they have completely different personalities. Both courses at Red Sky are situated among the peaks in the town of Wolcott at an elevation of 7,650 feet. Beaver Creek rests at 8,100 feet of elevation smack dab in the middle of a famous resort town that shares its name with the surrounding mountains looming over and around the course.

At Red Sky, you feel as if you are on top of the world, while at Beaver Creek you get the sense that the mountains form a huge natural amphitheatre about the course.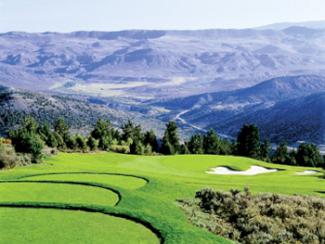 Fazio Course at Red Sky
A Sheep Ranch Becomes a World-class Golf Club

Emerging from sage and aspen groves and weaving across 800 acres of historic Colorado ranchlands, Red Sky Golf Club offers golfers majestic panoramas and exceptional golf in one extraordinary alpine playground that boasts two award-winning golf courses and unsurpassed amenities.

A former sheep ranch, Red Sky's design has been certified as an Audubon Cooperative Sanctuary program member. The two courses are separated by a massive ridge, which serves as a migration corridor for deer and elk. Great care has been taken to preserve the landscape, including transplanting or re-vegetation of more than 25,000 native plants during the construction of the Fazio Course alone. Approximately 80 acres of sod were applied to each course, reducing the amount of fertilizer necessary for seed grow-in while protecting the nearby Eagle River from silt erosion, which is common when hydroseeding.

Red Sky has been winning awards with its two layouts by Fazio (which opened in 2002) and Greg Norman (a year later). The private courses can be challenged by golf tourists staying at Vail Resorts and other select hotels in the region.

The Fazio Course is considered generous from tee box to green, but its massive, undulating greens will test your prowess with the flat stick. The layout - which literally seems to hover above the landscape below - presents a beautiful panorama of Vail's back bowls, with scenes of aspens and junipers, twisted mini-groves of scrub oak, uphill and downhill holes, red-rock outcrops, wildflower meadows and a highland lake, which enters play.

The Fazio Course sports a par of 72 and extends 7,113 yards from its back set of five tees, where the course is rated 72.0 with a slope of 135.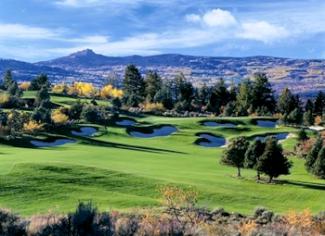 No.4 at Norman Course at Red Sky
Hit it long but straight on the 606-yard fifth hole, a tough par-5, especially if the prevailing wind is blowing in your face. After teeing off over a wetland, golfers must avoid the native grass that creeps in from the left. The green is guarded by several deep bunkers.

The Norman Course rolls out at a brawny 7,580 yards from the tips at a par of 72, but its signature characteristic is the tightly-mown bentgrass greens surrounds. These taunting contours will frustrate you, but at least once during a round that you will hit an "awful" shot that will roll up right next to the pin.

Carrying a rating of 74.2 and a slope of 144, the Norman Course boasts boulder-strewn water features and scrub-oak-filled deep arroyos. The track takes full advantage of the natural terrain and plays through craggy outcroppings, rugged gulches and wildflower-festooned meadows.

Despite its length, birdie is in reach at the beautiful 479-yard par-4 third. From an elevated tee, big hitters may choose a 3-wood as the downward sloping fairway ends in a pond. Golfers are then faced with a challenging long-iron approach shot over water to a raised green with a significant slope from back to front.

The Norman Course is everything a mountain course should be, with drop-dead vistas and plenty of elevation changes and strategy. It is also none of the things a mountain course should not be: with no crazy off-kilter fairways that kick good shots into trouble or extreme rises and drops. Fair is the word at the Norman Course, but be cognizant of the length from the back tees, which will beat you up even in the thin air.

"For years my love of the Rockies, along with the natural beauty of the surrounds, has beckoned me to the Vail Valley," Norman said. "Red Sky Golf Club afforded me the chance to create one of the most natural and aesthetically beautiful golf courses in this region."

Overall, the Norman Course presents more of a challenge tee to green due to longer length, and it's more penalizing if you miss the fairway.

"The Fazio front-nine has a desert feel, while the back is a true alpine experience with aspen-lined fairways," said Jeff Hanson, Red Sky's director of golf. "The Norman 18 has more length than the Fazio, and greens complexes are simpler. Putting is easier since the greens aren't severely sloped. But they have bentgrass approaches that require a lot of short-game skill."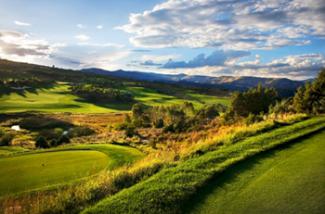 Norman Course at Red Sky
Fairways on both courses are lined with more native trees and grasses than luxury homes. The entire 800 acre property has only 87 housing lots, a fact not lost on golfers who relish the feeling of a secluded, mountainside golf experience.

If alpine sunshine and green grass make you think of golf, then Red Sky Golf Club is a must on your next trip to the Vail Valley. Its 36 holes are so good the PGA Tour commissioner Tim Finchem, who can play and live anywhere, bought a house here.

Red Sky Golf Club's 13,000-square-foot guest clubhouse, located at the Fazio Course, features a restaurant with both indoor and outdoor dining, a full-service pro shop and locker rooms.

Resort guests also have access to the David Leadbetter Golf Academy throughout the golf season, from May to September. Instructors are certified, and Leadbetter, best known for his work with Nick Faldo and many touring pros, is planning more than one onsite visit this summer. One- to three-day clinics and retreats, as well as individual hour-long sessions, are available.

Academy programs feature classroom and practice area instruction, including a 350-yard-deep, double-ended practice facility and a short-game area with three specialized greens.

The only distractions at Red Sky Golf Club are the Vail Valley's dramatic, panoramic vistas. Each of the courses was on Golfweek's 2009 "Best Resort Courses" list: Fazio ranked No. 32 nationwide and the Norman course was No. 40.

For additional information or a tee time, visit www.redskygolfclub.com.  

Beaver Creek No.15
Let's go Bowling at Beaver Creek

Surrounded by the peaks and grassed runs of one of the most famous ski resorts in the world, Beaver Creek Golf Club makes you feel like you are in a bowl and on display as the boundaries of the course and the community rest in the lower spaces.

Beaver Creek Golf Club, nestled against the slopes of Beaver Creek Mountain, is one of the longest established golf courses in the Vail Valley. Opened in 1982, the track was designed by noted course architect Robert Trent Jones, Jr., and is known for its long, narrow, challenging fairways and stunning scenery.

The 6,784-yard track, which plays to a par of 70 (its layout is 36-34 with three par-3s and just one par-5 on the back side), carries a 71.0 rating and a 140 slope from the tips. It, too, is a Certified Audubon Cooperative Sanctuary. Beaver Creek ranks among Golf Digest magazine's "Top 75 Golf Resorts in North America."

The course was one of former President Gerald Ford's favorites, and during one of President Ford's most noteworthy rounds, he played with both Bill Clinton and Jack Nicklaus. It was during this game that Clinton got the reputation for being a bit too lenient with his Mulligans.

Beaver Creek is a true links layout - holes eight and nine are at the far end of the course across the street from the other 16. The first four holes of the layout are unreal - all plunging downhill like stair steps and the adjoining ski runs that wiggle just off the No. 1 tee. Aspen groves and babbling brooks are found in the upper reaches of the property. Holes 5-13 open up some to give you a breather, but the ride home is a rocky one. The finisher is one of the toughest on the course, with your approach on the 457-yard par-4 over a stream to a putting surface with steep edges on the front and back.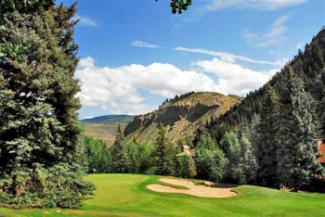 Beaver Creek No. 3
The track has 500 feet in elevation change, and the Beaver Creek flows throughout, affecting shots on several holes. There are great views from every hole.

Over the past four years - between golf seasons - Beaver Creek Golf Club has been enhanced with a $6 million upgrade to the clubhouse, irrigation system, bunkers and cart paths.

Beaver Creek Golf Club will be open from May 16 through October 11, 2009. Part of the Vail Resorts family, the environmentally-friendly facility is 100 percent wind-powered. Limited public play is offered in the early season and resort play is available from mid-June to mid-October for guests staying in Beaver Creek, Bachelor Gulch and Arrowhead.

For more information, visit http://beavercreek.snow.com/info/summer/golf.bc.asp.  
Steve Habel is one of Cybergolf's national correspondents, contributing news stories, features, equipment and book reviews and personality profiles from his base in Central Texas. He is also the media coordinator for Bechtol Golf Design, the managing editor for Business District magazine in Austin and works as a contributing editor for Horns Illustrated magazine, a publication focusing on University of Texas sports. He also writes a blog (www.shotoverthegreen.blogspot.com) which features news on golf and the Longhorns.