Gold Mountain's 36 Holes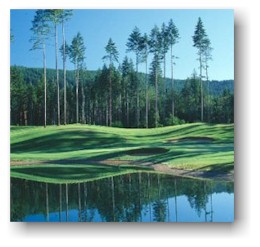 The Gold Mountain Golf Complex near Bremerton, Washington includes two outstanding 18-hole championship golf courses. Owned by the city of Bremerton, the ever-expanding facility, one of the Northwest's most popular, is operated by head pro, Scott Alexander. Construction is underway on a long-awaited clubhouse at Gold Mountain. The 10,000-square-foot structure should be open in August 2001.

Gold Mountain's original Ken Tyson-designed layout, now called Cascade, opened in 1972. Cascade occupies well-treed terrain that ranges from flat to moderately rolling. Golfers here are challenged by a tidy 100-acre track imperiled by over 30 bunkers, two ponds and some large, slick greens.
The most recent course at this outpost west of Seattle is the acclaimed Olympic, which opened in 1996. Designed by John Harbottle III, Olympic has earned numerous awards, including it being recognized in Golf Magazine's 1997 list of the "Top Ten Layouts You Can Play" for courses opened in 1996. Other credits include Olympic being rated #1 in the state in 2000 through the "The People's Choice" awards given out by the Seattle Post-Intelligencer. Golf Digest has ranked Olympic the third-best course in the state of Washington.
The reasons for Olympic's high regard are myriad, including its affordable green fees. Extending over 7,000 yards from the tips, where it has a 73.1 rating and a 128 slope, the layout crosses well-draining soil with some steep declivities and ascents. Prevailing westerlies sweep across the wooded course, which is festooned with sundry water hazards and six dozen bunkers. Paved cart paths, excellent signage (including yardages on sprinkler heads), and superior conditioning are other Olympic hallmarks.
For more information about Gold Mountain, go online at www.goldmt.com. For a tee time, call 360/415-5432, 206/464-1175 from Seattle, or 253/627-8904 from Tacoma.