Golden Age Flair for Two Tulsa Courses
Imagine living in northeastern Oklahoma in the Roaring '20s as golf took a foothold in this part of America. In Tulsa alone two of golf's "Golden Age" architects roamed the area's rolling hills, ready to leave their distinctive marks with courses that have stood the test of time, if not the demands of progress.
Here, over a span of 30 years, A.W. Tillinghast and Perry Maxwell each designed two courses. Tillinghast routed the fantastic Tulsa Country Club in 1908 and worked his magic again in 1923 at the underappreciated Oaks Country Club eight miles from downtown Tulsa. Maxwell fashioned Indian Hills Golf Club (now called Cherokee Hills GC) in nearby Catoosa in 1924 before returning a dozen years later to create the sublime Southern Hills Country Club.

And while Tulsa CC and Southern Hills are always placed on the short list of recognized work by those two great architects, Oaks CC and Cherokee Hills also have considerable merit. We affirmed that during a steamy trip to Tulsa last summer.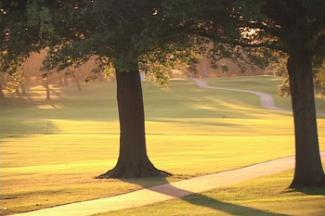 Oaks Country Club
Oaks CC Adheres to Tilly's Trademarks

Conceived in 1920 as "the Golfer's Country Club," Oaks CC is considered the second oldest golf course in Tulsa. A special site selection committee spent weeks looking at property in the area before choosing a site "out in the country" on the highest hill southwest of town. In June of 1921, work began on clearing the property of more than 2,000 oak trees and the name of the club was changed to Oakhurst Country Club. In 1947, the name was altered again, this time to Oaks Country Club when it was sold to the members.

Tillinghast, designer of upwards of 265 courses including famed Winged Foot and Baltusrol, enjoyed Tulsa and what Mother Nature presented him on the site of Oaks CC. He had a strong belief in utilizing the natural contours of the land and routed Oaks' holes around huge trees, up and down hills, and past and across water both endemic and constructed by man as retention ponds.

Over the years the course and clubhouse (an Old English inn motif) have undergone changes and improvements while holding fast to their original flavor. The putting surfaces at Oaks, originally sand, were changed to Bermuda in 1924 and, in 1930, resurfaced with bentgrass. In 1992, the greens were completely rebuilt but still retained Tillinghast's subtle contours.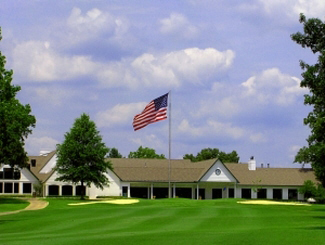 The Oaks Clubhouse
Playing to a par of 71 and 6,802 yards from its back set of five tees, Oaks is not long by today's standards. It carries a rating of 71.5 and a slope of 119 from the tips, so you know it's not a difficult course. But looks can be deceiving, especially around these greens.

Tight fairways and small putting surfaces will challenge the most adroit golfers. Oaks CC has many Tillinghast trademarks, including a start of three relative easy holes and a conclusion with three difficult offerings. The meat of the challenge comes in the two-shot holes, including the tougher-than-it-looks, 385-yard fourth, and four par-4s longer than 430 yards.

Among the better tests presented by Tillinghast are the 211-yard par-3 ninth and the final three-hole stretch that includes the 634-yard par-5 16th and two stout par-4s at the 431-yard 17th and the 469-yard closer.

Along the way are chances to score, most notably at the 330-yard par-4 second, the 134-yard par-3 sixth and the 481-yard par-5 seventh.

Oaks CC is respected for its mature and wonderfully maintained course, one of the finest clubhouses in this part of the country and a fun, friendly, family-oriented membership. After almost 88 years of tradition and charm, the club and its course are truly the best-kept golf secret in Tulsa, and Tillinghast must be looking down and smiling at the scene.

For more information, visit http://www.oakscountryclub.com/.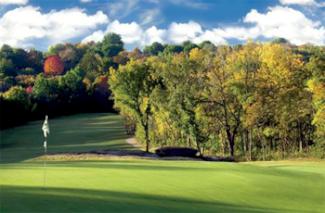 4th Hole at Cherokee Hills
Davis Keeps Maxwell's Focus at Cherokee Hills

Considered one of Maxwell's best designs, Cherokee Hills Golf Club is rich in Oklahoma history. But when the Cherokee Nation bought the course and surrounding land with a notion to build a new casino and hotel on the property, there were parts of the course that had to be rerouted and were lost to the project.

Enter golf architect Tripp Davis, who played golf at the University of Oklahoma and mastered the game on another Maxwell gem, the Jimmie Austin OU Golf Club in Norman. "Playing the course at OU gave me a great appreciation for what Maxwell put into a golf course," Davis said.

Davis and his team were hired to modify the existing layout, creating new holes that would pay "tribute" to Maxwell hallmarks while accommodating the new development. The renovated course includes Maxwell's trademark bunkering style and rolling greens, as well as his knack for "finding" holes and moving very little earth; less than 50,000 cubic yards were moved to build the revised course, while numerous natural rock outcroppings and waterfalls were incorporated into the design.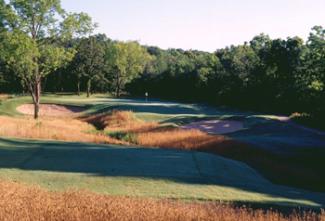 13th Hole at Cherokee Hills
Davis was able to keep four of the best original Maxwell holes, tweaked four others and carefully routed the new holes as he thought Maxwell would. "Our objective was to end up with 18 holes that look and feel like Perry Maxwell," Davis said. "This course was one of Mr. Maxwell's hidden gems, and it was a great experience to have the opportunity to build the new holes in the Maxwell style and approach."

Cherokee Hills is a true challenge for accomplished players yet affords weekenders an enjoyable experience via four teeing areas. Golfers of all skill levels will enjoy the traverse across tree-lined fairways, dramatic elevation changes, demanding greens and babbling brooks. The views are nice too, as from the higher tees you can see the Tulsa skyline.

Carded at 6,635 yards from the tips, where it's rated at 72.7 with a 127 slope, par-70 Cherokee Hills plays longer thanks to a lot of elevated greens. Fairways are wide for the most part with some trees that hinder second shots if they've drifted off-course. The "native vegetation" is really thick and will easily swallow your ball.

If you can walk off the third green at even-par or better - after running the opening gauntlet of the 435-yard par-4 first, 628-yard par-4 second and 456-yard-par 4 third - you've earned your stripes at Cherokee Hills. No. 5, a 440-yard par-4, goes down and around a bend leftward before rising up to the green. The sixth, a par-5 of just 478 yards, is much more difficult than its length indicates. The back nine is much shorter, featuring three par-3s and the drivable par-4 10th.

Ranked No. 36 on Golfweek's "Top 40 Casino Golf Courses" 2010 list, Cherokee Hills also garnered a position on the magazine's list of "America's Best Public-Access Courses for Oklahoma" for the first time in 2008 (making the list again in '09 and '10).

Though Cherokee Hills is no longer a "true Maxwell," Davis deserves credit for making the best out of a difficult situation as this is a demanding but fun course to play. For more information, visit http://www.hardrockcasinotulsa.com/golf/Pages/default.aspx.
Steve Habel is one of Cybergolf's national correspondents, contributing news stories, features, equipment and book reviews and personality profiles from his base in Central Texas. He is also the managing editor for Texas CEO Magazine and works as a contributing editor for Horns Illustrated magazine, a publication focusing on University of Texas sports. He also writes a blog (www.shotoverthegreen.blogspot.com), which features news on golf and the Longhorns, and another (www.checkinginandplayingthrough.blogspot.com) on his many travels, which took him across the nation and to 105 different golf course in 2009. Habel is a member of the Golf Writers Association of America and the Texas Golf Writers Association.