Golden Mountain Golf Club Opens in China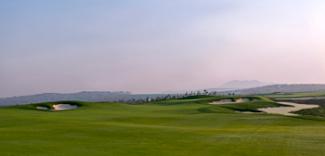 Golden Mountain Golf Club. Photo by Tom Breazeale
Schmidt-Curley Design has announced that Golden Mountain Golf Club in Qingdao, China, has opened for play.
In less than two years, Schmidt-Curley transformed a boggy swamp into a par-72, 7,005-yard layout highlighted by rugged, natural bunkering and elevated, undulating greens. Nearly every hole has a strong angle of play - a tactic favored by Lee Schmidt and Brian Curley mentor Pete Dye - rewarding golfers who take an aggressive line off the tee with a shorter approach into the green.
To make the property suitable for golf, Curley and senior design associate Patrick Burton cut down a nearby hill and transferred more than 2 million cubic meters of dirt to fill and shape the site. Like layers on a cake, the course was then capped with one meter of sand to ensure ideal drainage and permit bentgrass tees, fairways and greens to thrive.
Schmidt-Curley's engineering skill is further evidenced by the long beach bunkers framing many holes. This design element was incorporated to maintain the pace of play, keeping the ball out of ponds and lakes that still dot the property. The bunkers also serve a second, but no less important, purpose: Because the land is still prone to seasonal flooding (it's located two miles from the Yellow Sea), the bunkers may become inundated but the raised fairways and greens will be protected.
Golden Mountain Golf Club. Photo by Tom Breazeale
"We took a very difficult site and created one of our most visually dramatic and exciting designs," says Curley. "Golden Mountain is not overly demanding in terms of length and features wide, inviting fairways, but remains quite challenging - especially if the wind is up."
Schmidt-Curley is deeply entrenched in China's booming golf course construction market. To complement its Scottsdale, Ariz., headquarters, the firm has established fully-staffed satellite offices in Haikou on tropical Hainan Island, and in Kunming in the Himalayan foothills.
Golden Mountain Golf Club is part of a larger resort complex featuring a 10,000 square foot facility with restaurants, conference rooms and 122-room, four-star hotel. A 350-villa residential component is also part of the development. Located a short drive away is JinKou, a rebuilt and restored 500-year-old Chinese fishing village celebrated for its authenticity.