Golf a Constant for Once Flamboyant Derek Sanderson
By: Rob Duca
Derek Sanderson co-authored his first autobiography when he was 24. He published another one at 26. "I was a little bit arrogant," he says, laughing at himself. "It kind of sums up my problem. Who did I think I was at 24 [to be writing an autobiography]?"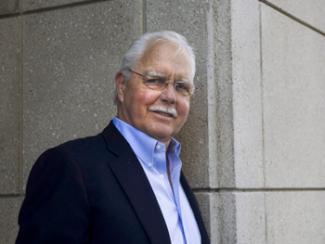 Derek Sanderson Today
His third autobiography came out in October, and it's the first that tells the entire story. "Crossing the Lines: The Outrageous Story of a Hockey Original," chronicles the riches-to-rags journey of the former Boston Bruins center. Later this year, the movie "Turk" (Sanderson's nickname) is scheduled to be released.

"I never had an ending [before]," Sanderson says when asked why he wrote the most recent book. "I needed an answer to what was going on. When you don't have an ending, you can't write a book. This takes you through the rollercoaster ride that's been my life."

Today, Sanderson, 66, is clean and sober. He helps professional athletes invest their money as vice president of Baystate Wealth Management in Boston. Among his clients are former Bruins Bobby Orr and Cam Neely.
His only vice these days is playing too much golf. He's been a member of The Ridge Club in South Sandwich, Mass., since the early 1990s. Back in the '80s, he dreamed of becoming of PGA club professional. A 7-handicap who once played to a 1, Sanderson plays nearly every day during the summer, despite walking with a limp after 10 hip surgeries.

Asked why hockey players are usually good golfers, he says, "It's not foreign for us to hit something at our feet. The timing for a golf shot is the same as for a slap shot. The puck has to be inside your weighted foot and you have to stay behind it when you swing."

The sedate life of an amateur golfer is a long way from when he was spinning out of control with a combination of drugs, alcohol and far too much disposable income. In his book, he writes about mixing cocktails in a salad spinner and consuming four bottles of wine "just to get square." After being traded from the Bruins - with whom he won Stanley Cups in 1970 and 1972 - to the New York Rangers, he partnered with "Broadway" Joe Namath in a bar called "Bachelors III."

On a whim, Sanderson would fly friends and Playboy bunnies to Hawaii, with the provision that that they leave with only the clothes on their back. He paid for it all with his credit card. Unwilling to put up with the aggravation of lugging his golf clubs on vacations, he would purchase a new set, and give them to his caddie as a tip before leaving.
Asked to name a moment that stands out as the craziest, Sanderson says softly, "They were all crazy.

"I liked life. I enjoyed it," he adds. "I thought everybody lived like I did. I didn't think I was special or different. I had a friend tell me once, 'Derek, hanging out with you is like being in a movie. You never do the same thing twice.' "

He took his first drink at 7 when an uncle gave him a beer at Christmas. "I hated the smell, so I held my nose and swallowed it all. I loved the feeling," he said.

He drank at 12 after his girlfriend dumped him, and then at 14, consumed four beers in rapid succession. He was drinking more regularly by age 20.
Still, Sanderson won the Calder Trophy in 1968 as NHL Rookie of the Year, and was a key component in the Bruins' championship teams, making the pass to Orr that set up the famous overtime goal that won the 1970 Cup. Brash, cocky and flamboyant, he dressed in expensive suits, drove a silver Rolls Royce, wore a mink coat and sat on Johnny Carson's couch. Cosmopolitan magazine named him one of America's 10 sexiest men.

But he had no filter. He called NHL commissioner Clarence Campbell "a stuffed shirt," and said of the Montreal Canadiens, "They are full of Frenchmen and I hate Frenchmen."

Those were some of his milder quotes.

When that last comment hit the newspapers, Sanderson was hauled into the office of Bruins coach Harry Sinden. Sanderson insisted he was misquoted. Sinden responded, "How many times have you told me you were misquoted. About three times a week? Just shut up."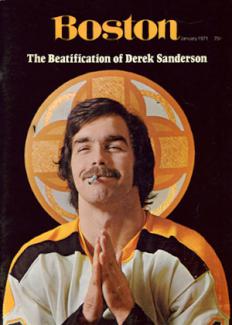 Derek Sanderson in His Wild & Crazy Days
In the summer of 1972 he signed what was then the richest contract in pro-sports history, a one-year, $2.65 million deal to play for the Philadelphia Blazers of the newly formed World Hockey Association. (The Blazers also gave his father a five-year, $250,000 deal as a scout.) But he says he was embarrassed by it and almost turned it down.

"I was making more money than Bobby Orr. That made no sense to me," he says.

With the contract offer in hand, he went to see Bruins owner Weston Adams, Sr. Adams asked why he was there when he had the proverbial offer he couldn't refuse. "I told him he was good to me when I was 15 and I owed him that," he said. "I didn't want to leave Boston. I loved the Bruins and the city. Money meant nothing to me. I just wanted to play hockey."

Sanderson asked the Bruins for an $80,000 contract. Adams, who was going to offer $75,000, said under the circumstances he could go up a little. They agreed to meet the next day. Sanderson had only one request: He didn't want the Bruins lawyer to be in the room. "I didn't want him getting any credit," he said.

Sanderson had pen in hand when the lawyer walked into the room and said, "I still think you're only worth $75,000."
"I got up and left," Sanderson said. "And I signed with the Blazers."

"With your personality you will rue the day you took this money," Adams warned him.

Sanderson played only eight games with the Blazers and was kicked off the team at the end of the season. He returned to the Bruins, but was traded to the Rangers in 1974. By now, his alcoholism and substance abuse was in full bloom. Six years after becoming the highest paid athlete in the world, a broke Sanderson was stealing booze from package stores and sleeping on a New York City park bench.

"[The money] just sped up the process," he says. "The more I had, the more temptations there were, and the less I turned them down."
Orr was among those who helped him get sober and rebound from losing millions in bad investments. He recalls a 1979 incident when he visited Orr. "I thought I looked pretty good and had my act together," he says. "Bobby and I talked for a while, and then when I went to leave I walked straight into the wall. Bobby got right up and said, 'That's it. You're coming with me [into rehab].'

"Bobby will never turn his back on a friend. He would tell me, 'Once you are sober, we'll do things together and you'll always make money.' "

Sanderson now helps athletes avoid the road he took.

"When you're young and making $40 or $50 million, you don't know what to do with it," he says. "I help athletes live within their means. I don't pick the stocks or manage their money. All I do is make sure they're treated properly and educated about what they own."

As for Sanderson, life changed when he met his wife, Nancy, the daughter of legendary Boston sportscaster Don Gillis.

"I have a wonderful wife and two great sons. I had a reason to turn my life around," he says. "Somewhere along the way you meet up with responsibility and it's usually a woman standing there saying this is what we need to do."
Rob Duca is an award-winning sports columnist who wrote for the Cape Cod Times for 25 years, covering golf, the Boston Red Sox, the Boston Celtics and the Boston Bruins. He is now managing editor of Golf & Leisure Cape Cod magazine and has written for a variety of other publications, including Sports Illustrated, the Boston Globe, Yankee magazine and Cape Cod Life.