Golf amid the Grapevines at New Jersey's Renault Course
By: John Torsiello
Ok. Admit it. Have you ever stood on a tee, looked out to the green fairway beyond and tried and figure out a way to safely get your drive over a row of grapevines?
Winery with Golf Course in Background
No, I didn't think so. That is unless you've had the opportunity to play one of the neatest golf courses in New Jersey, the Vineyard Golf Course at the Renault Winery and Resort in Egg Harbor Township, N.J.

The abovementioned scenario hits you as you stride onto the tee box on the layout's par-4 seventh hole, an already tough 435-yard dogleg-left. I must say, the grapevines don't exactly hinder your tee shot unless you top the ball. But it is still a cool feeling looking out over the fruit of the vine as you start the hole.

After me and my buddy, Vin Serella, teed off we hopped into our cart and drove under an arbor loaded with ripe grapes. Vin reached up to grab a few of the nuggets that were destined to become one of the winery's award-winning offerings.

Indeed, the grapes are never far away on this Arthur Hills/Ed Shearon design, a links-style layout that winds its way over subtly rolling hills and past fields of vines and orchards. Stretch it to the tips and Renault plays around 7,213 yards and is a severe challenge for even the best players. We tested it from around 6,300 yards and the distance offered us a pleasing round, although even at its shorter tees the course has bite if you wander off the tee or on your approach shots to the rather small and undulating greens.
The theme at Renault is angles. Hills wanted golfers to make decisions on whether or not to circumvent diagonal hazards or attempt to go over them to gain a better angle to the green. The golf course at Renault is located about a half-hour's drive from Atlantic City's famed boardwalk, glitzy casinos and nightlife. The layout is kept in solid condition.

It's fun to play and user-friendly, which is one of its biggest positives. The course was built to add another amenity to the resort, one that would bring more traffic to the winery, hotel and restaurants while enticing visitors to stay for a day or two. Renault is a unique resort, one that combines golf with a working, historic winery and a hotel that offers amenities such as two outdoor pools, and several dining venues.

The Tuscany House Hotel has the feel of European charm with its Mediterranean interior and overall laid back ambiance. Each of the rooms in the hotel boasts Old World décor and no two rooms are alike. The accommodations also feature a separate sitting area and Internet-ready computer ports. You can sample gourmet meals in the hotel's Joseph's Restaurant. Just across the street for the hotel is the Renault Winery, which offers tours, a gift shop and several dining options.

The winery's eclectic restaurant's main room once was where the famed "New Jersey Champagne" was made. Several of the restaurant's booths are from the room's original 100-year-old oak casks. Stained glass, antique furnishings, a large stone fireplace and a gazebo in the center of the room bear further witness to Renault's rich and varied history.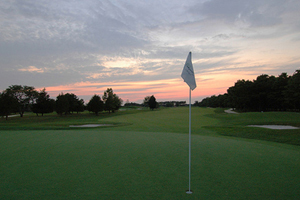 Renault II
A tour of the Renault Winery includes a stroll through an antique glass museum that houses champagne and wine glasses that date back to medieval times. Another room presents the history of the winery and its founder, Louis Nicholas Renault, from the mid-19th-century to present. There's a collection of antique winemaking equipment and a visit to the pressing room that allows one to see how Renault's wines are made. The tour concludes at the wine tasting "emporium" where you can sample wine and champagne. Make sure you linger and taste the real good wines Renault produces. You might want to take the tour after you play golf, if you know what I mean.

Of course, the main reason many people come to Renault is its golf course, which is about a half-dozen years old. It welcomes daily-fee as well as resort play. We drove out to begin our round on one of those perfect late-summer mornings, temperature around 70, some light clouds floating by and a subdued sun keeping things warm.

One of the toughest holes on the layout is the first, a par-4 that plays 473 yards from the tips. You have to steer clear of fairway bunkers on the right in order to set up a long-iron or fairway wood to a slightly elevated green. Number 3 is 162-yard par-3 that plays across a small pond, and the 562-yard par-5 fourth is a great chance to make birdie, providing you stay away from woods to the right and deep rough and shrubbery to the left.
Number 6 is a 598-yard par-5 that demands a tee shot to clear a set of deep bunkers that intimidates on the tee box. The hole is a slight dogleg-left, so you can bite off as much of the bunkers as you feel is safe. But miss and you're hitting out of the nasty bunkers with a mid- or short-iron. We were both pleased when our drives could be seen bouncing on the other side of the bunkers, which left us with an easy lay-up second shot.

The eighth hole is a great, short par-4. It measures just 322 yards from the back markers and is drive-able for big boppers. But hit it a little short and you'll find a huge waste bunker that runs up almost to the putting surface. I drove the ball to the left of the bunker and had a little pitch to the green, which is sloped and can easily kick balls back towards you if you are not accurate. Vin found the waste area and wasn't happy with what transpired afterward.

Numbers 11 and 12 are long par-4s measuring around 450 yards from the tips. The view from the tee box on the 12th is the best on the course and affords a nice sight of the hotel in the distance, the vines and orchards, and the surrounding holes.

The 15th is a reachable-in-two par-5 that is very straightforward until you approach to the green, which is well protected by bunkers. The 17th is another drivable par-4, measuring 330 yards from the championship markers. But the green is raised a bit, which prevents balls from running on from the tee. We both hit good drives and were left with half wedges into the green. The 18th at Renault is a great finisher. It's a beefy 588-yard par-5 that is best attacked in three shots. A strong drive and accurate lay-up that stays away from a pond to the right and wetlands to the left will set up a wedge into a green that slopes dramatically from back to front and left to right.
Renault is an ideal place for a quick visit on the way to or from Atlantic City and the nearby Jersey beaches, a one-night stay, or a week-long vacation to sample not only the golf course at Renault but also the other fine daily-fee layouts the AC area has to offer.

Autumn is a perfect time to check out this interesting course, which is fun and playable for golfers of all abilities, as long as you pick the right set of tees. It's also an aesthetically pleasing outing, what with its location amid a working winery and a routing that makes wise use of the softly rolling terrain.

For more information about the Renault Resort, the Renault Winery, the Tuscany House Hotel and Restaurant or Golf at Renault, visit www.renaultwinery.com or call 609/965-2111.
John Torsiello is an editor/writer living in Connecticut. He has written extensively about all aspects of the golf industry for a number of national and regional publications. He is a regular contributor to "Golf Course Industry," "Lawn and Landscape," "Golfing" and "Fairway Living" magazines as well as various online publications. He has strong, ongoing relationships with industry professionals and has worked closely with course owners, architects, developers, course superintendents and general managers around the country. He has won a number of awards for his writing, including first place from the Turf and Ornamental Communicators Association for a piece that appeared in "Golf Course Industry" magazine.