Golf Architect Bill Love Talks About Getting Olympic Club Ready for the 2012 U.S. Open
By: Jay Flemma
Editor's Note: Cybergolf's Jay Flemma had the chance to sit down and interview architect Bill Love, principal of W.R. Love, Inc., Golf Course Architecture. The Maryland-based firm oversaw the recent renovation of all 45 holes at the Olympic Club in San Francisco. Of particular interest is their work on the Lake Course, site of the 2012 U.S. Open. Here, Bill Love explains the renovations at Lake, which promises to be a true test for the world's best players coming to the Bay Area in mid-June.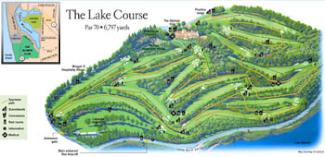 Layout of Olympic Club
(Map Courtesy of USGA)
Jay Flemma: We've heard that the opening stretch of holes at Olympic Club will be the toughest start to a U.S. Open in recent memory, but that there might be some birdies coming home. What look to be the toughest holes at Olympic Club and what look to be the birdie ops?

Bill Love: There are some holes that you'd think would be very difficult, like three. If they play the back tee at 247 yards to a small green for that length, that will be a difficult shot with wind and elevation change. On number two, the fairway has been aligned closer to the left side, and so now the hillside with a really steep slope-off is in play. Miss that fairway too much and you'll have a real issue even trying to find your ball, let alone trying to play it. Four is tough. It plays to a green plateaued on three sides. We lengthened six also and moved the fairway bunker to catch drives. 12 is a strong par-4, and so is 14. And 13 and 15 (the par-3s) have tough greens, so they're no pushover.

Birdies opportunities? That depends on the player. Take a hole like 17, which was a brutal par-4, but is now a par-5. Also the short par-4 seventh may be a scoring opportunity, but there aren't too many easy holes out there.

JF: Winning score? Over or under 280?

BL: I can't answer that, I don't have any idea. We think this will be a strong test of golf, though. These targets are elevated and the addition of the mowed chipping areas around the greens will make it tougher still. Balls will roll quite a ways away from the target, so there's a premium on approach shots. It'll be interesting!
JF: Since the advent of Mike Davis's graded rough, driving accuracy among U.S. Open winners has dropped in importance. From 2000-2005, winners averaged T-9 in driving accuracy. However from 2006-2011, winners averaged T-33 in driving accuracy. With all the trees at Olympic Club and with the reverse camber of the fairways, will we see driving accuracy play a more important role this year?

BL: What Mike Davis's graded rough does is make the penalty incurred equate to how poor the golf shot was. Believe me, there will be some heavy rough to gouge it out of too. But we want to test all types of different recovery shots and let a player use all the shots in his arsenal.

The topography of the golf course is still relevant and important and how well you place the ball off the tee sets up the whole golf course. Now the topography at Olympic Club requires that you consider what will happen to the ball after it hits the fairway and runs along the ground. You must place the tee shots well, or they may run through the fairway or behind a tree, and you won't have an opportunity for birdie.

Mike Davis does a great job with a lot of his ideas - like tee rotation at various holes. At the par-5 16th, they can make it really long if we stretch it to the tips, or over 70 yards shorter if they want. There are also new angles of tee boxes, right and left, so you'll attack the golf course differently on a daily basis.

JF: Will the reverse camber have a limiting effect - a restrictor plate of sorts - on scoring?

BL: Because of the topography, people will be forced to move the ball both ways, which is a good way to not only defend scoring but emphasize skill in a player. As such, Olympic Club is a unique golf course - one of a kind, and very special. It's a unique piece of land and it hasn't been manipulated. There are remarkably diverse holes, and it will be interesting to see the pros play it with so many trees gone. We don't have tree limbs hanging all over the place like before, so it won't have the claustrophobic feel to it that it had in past Opens.

JF: One player once said you could walk down the fairway sideways and feel the tree branches on your chest!

BL: Well, we cut down over 600 trees, so some holes won't feel like you're hitting out of a tunnel. In the past, there were so many trees you got a really narrow view off the tees, and that sort of became part of Olympic's character. We got rid of the dead and diseased trees, again, over 600, and pruned out a few more just to give the healthy pines and cypresses room to grow. Now you don't drive out of chutes so much.

That sometimes limited people's perception of the golf course, and it was a bit unfair because it's such a beautiful, rolling piece of property with lots of fairway undulations. This tournament you'll see a broader panorama of the beautiful fairway surrounds and I also hope people will see not only the beauty, but the new strategies and angles we've put back in now that there are slightly wider fairways. We opened it up so they have longer views across the property, as well as also seeing more elevation change in the property. You're going to see a completely different Olympic Club than in years past. And we did it all without modifying anything from tee to green on the course (with the one exception of lowering the fourth tee to open up visibility a little bit, but it has no impact on play, and adding one fairway bunker on 17). We also lengthened the course by about 350 yards to provide a better test for today's equipment.

JF: Some players and pundits believe the toughest U.S. Open tests are Winged Foot (West), Oakmont, and Oakland Hills (South). Last year, we saw one of the easier venues at Congressional. Where does Olympic Club fall on the list of difficulty?

BL: You'd have to ask the players, but I know the Lake course is rated consistently as a very tough test of golf. I think it could be the equal of Oakmont, Oakland Hills or Winged Foot. I'll be very surprised if the players don't find it a very strong test of golf. And Olympic could prove to have the strongest opening set of holes that the players have faced in a long time.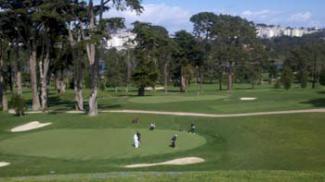 The Olympic Club's Lake Course
JF: How long, do you think?

BL: I don't know exactly, but we know that - having worked on it and watched it come together, the first six holes are very strong. If they get around that stretch at close to par they will be doing really well, I think.

[Author's Note: Mike Davis predicted "2-over" for those six holes would be a good score.]

JF: We saw rather rudimentary golf design principles at Atlanta Athletic Club, which featured ridiculous length and ubiquitous water. Does the reverse camber at Olympic Club show us that there is a better way of defending a course and toughening it up besides just water and length?

BL: The fairway undulations at Olympic Club are one way. The tops of the fairways have a lot of slope, so you must place your shot into the smaller plateau in the fairway and then, again, find the right section of these old-style greens. You'll need iron accuracy and tee-shot accuracy. So as you said before, Greens in Regulation will be a big factor. The defenses at Olympic do put a premium on precision.

JF: Oly lets everyone come to the party. Some strange rangers tend to swing by the winner's circle at Olympic Club to pick up their check and trophy. Why?

BL: I never really thought about it that way, but I guess it could be true. The topography makes it so there's no advantage to hitting it 350. You must have accuracy on your length . . .

JF: You mean distance control?
BL: Yes, so you don't go into the back of a hill or through the knee of a dogleg or into some swale where you get an uneven lie. There are great slopes in these landing areas.

JF: Does a plodder have an advantage?

BL: You need a good tee ball and you need good course management, as well as execution. The new length - we added 300 yards - will make a difference, but it'll be mostly placement in the fairways. I guess it makes sense - get it on the green and put it in the hole is what it's all about.

JF: How did you get into golf architecture?

BL: I went to undergrad school for architecture at Catholic University and then grad school at U. of Maryland. After I graduated I went out and worked in a building architect's office for a while and they had a lot of work they did where they contracted with landscape architects.

I remembered that Frank Lloyd Wright said that building and site are so interconnected that everything is all one big design, so I went back and got a degree in landscape architecture at the University of Virginia. Back then my goal was to design football stadiums and other recreational facilities. But in school we did independent studies and theses. I was always interested in golf design, so I did one and they approved it, and I went out and interviewed architects. It was so fascinating and it combined everything I loved: nature, golf, the outdoors.

JF: So then what happened?

BL: I learned, "this is the ultimate recreational facility to design. This is as cool as it gets!!"(Laughter)

JF: Who did you interview?

BL: It's been a long time. Ed Ault and Buddy Loving were two. Then once I got m grad work done, I went and got a job with Ed Ault for a while, and then I went out on my own. It was great working for Ed, I learned so much from him. He was from the old school of Geoffrey Cornish and George Cobb and Trent Jones, Sr. That's where I learned the philosophies of that period. Then I studied the older architects to see how the craft evolved to get where it was.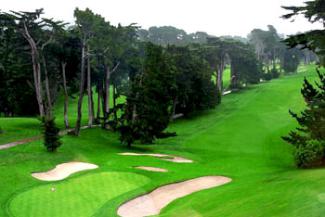 18th Hole at Olympic Club's Lake Course
JF: Who are you older favorite designers?

BL: I'm pretty partial to Mackenzie - I like his philosophy on working with terrain. Plus he got great sites and made the most of them. His greens and his bunkering were something else - not only to look at but to play!

Isn't it fascinating to look back on these architects and the sites they got, and you see how the mark of the great architects is in how they could make the most out of the land they got and make a truly great course out of it. I'm envious when I see how they could discover such interesting features in each course, bring it to fruition and make it seem unique and special. They'd walk the landscape endlessly and connect with the property to understand the spirit of the place and the inherent nature and character of the land. Every property is unique and you have to bring out the best character of every site and enhance it through the design of the golf course. That's the greatest thing about golf - you can go all around the world and play the greatest courses in the world and they all have that "statement of place."

I also like Tillinghast, Seth Raynor and Donald Ross for the same reason. Take Bellport Country Club in the village of Bellport, Long Island, for example. It's an old Seth Raynor course on the south shore. The club dates from 1899 and I think the course was built maybe around 1921. It runs right out to the water, but they had to redo three holes to bring them up out of a marsh and do some shoreline stabilization. So Trent Jones, Sr. built three holes right on the ocean, but they weren't in the flavor of Raynor, they were in Jones's style and they were good holes but they didn't fit with the rest of the course and everyone knew it. So when I did a master plan in 2002 and suggested they redo those holes in the flavor of Raynor so they match the rest of the course, they agreed.

The Jones greens were fine, but we wanted to add Raynor features and strategies, so we redid all the bunkering, not the greens. We loved trying to emulate the bunkering work of Raynor and blending everything the best we could. We added long narrow bunkers with berming on one side, and some geometric bunkers and some rectilinear tees too. The tee boxes needed enlarging.

I remember one great hole, 17, where I'm going around with the super and we get to that green and it's a bowl with a berm in front had chocolate drop mounds in front hiding it, making it blind.

JF: So it's an Alps Hole?

BL: Yeah! So we were duplicating really interesting and bold things like that, or square bunkers, or anything Raynor would have done. We even did some chocolate drops.
But my favorite memory was turning to the super and telling him, "If I ever built this on an original design or suggested it to the membership of some private club that knew nothing about Raynor, they'd fire me!"

Bob Furchert was his name, and he laughed so hard after I said it, because he knew it was true. But it wasn't unusual to him, he's been there a long time. We are so pre-conditioned about maintenance - for the most part, not always, but often - I marvel at and admire his ability to have the members so in tune to what he was doing.

When you get the opportunity to build over the work of a great Golden Age architect: that's one of the most gratifying moments of an architect's life. So you take care to really be true to that architect and make your work look like it's been there since the beginning of the golf course.

I got a wonderful compliment that really made me grateful and happy recently. We added a fairway bunker on 17th hole, where there had never been a bunker there before. Someone that played it said it looked like it had been there for the roughly 100 years of the golf course. Simulating Sam Whiting - that's exactly what I was trying to do, and it sure was fun.

JF: What's next for you?

BL: We're opening a new course in North Carolina called Carolina Colors. It's private, but it's open for public play right now.

JF: Anything public?

BL: Laurel Hill in Lorton, Virginia. It used to be a federal prison 12 miles from D.C. down I-95 corridor in Fairfax County. It will host the 2013 U.S. Publinx.
Since launching his first golf writing website in 2004, http://jayflemma.thegolfspace.com, Jay Flemma 's comparative analysis of golf designs and knowledge of golf course architecture and golf travel have garnered wide industry respect. In researching his book on America's great public golf courses (and whether they're worth the money), Jay, an associate editor of Cybergolf, has played over 420 nationally ranked public golf courses in 40 different states, and covered seven U.S. Opens and six PGA Championships, along with one trip to the Masters. A four-time award-winning sportswriter, Jay was called the best sports poet alive by both Sports Illustrated and NBC Sports writers and broadcasters. Jay has played about 3 million yards of golf - or close to 2,000 miles. His pieces on travel and architecture appear in Golf Observer (www.golfobserver.com), Cybergolf, PGA.com, Golf Magazine and other print magazines. When not researching golf courses for design, value and excitement, Jay is an entertainment, copyright, Internet and trademark lawyer and an Entertainment and Internet Law professor in Manhattan. His clients have been nominated for Grammy and Emmy awards, won a Sundance Film Festival Best Director award, performed on stage and screen, and designed pop art for museums and collectors. Jay lives in Forest Hills, N.Y., and is fiercely loyal to his alma maters, Deerfield Academy in Massachusetts and Trinity College in Connecticut.