Golf Architect Profile: Lester George
By: Joel Zuckerman
January marks my 15th year of chasing the pellet for pay (well - writing about chasing the pellet). If actually tasked with earning the daily bread by the chase exclusively, the daily bread would be more of a bread-line.)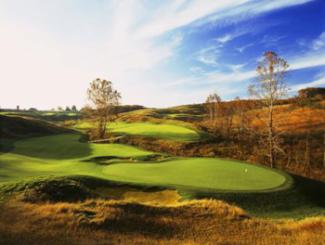 The 8th at Ballyhack
In this decade-and-a-half of far-flung exploration, including depositing innocent golf balls into the unexplored corners of 40-plus states and a dozen countries, wearing out more gloves than a LaGuardia TSA agent during Thanksgiving Week, applying a wading pool's worth of sunscreen, I have been exposed to untold hundreds of courses designed by virtually every modern practitioner of golf course architecture.

There have been dozens and dozens of Dyes (Pete, Perry, P.B., Matt, Cynthia, Roy). Numerous Nicklaus (Jack and Jack Jr.) and at least 50 Fazios (Tom, Tommy, George). There've been a jumbo helping of Jones (Trent, Junior, Rees) and a wide smattering of Doak, Crenshaw & Coore, Weiskopf, Engh, Hanse, Cupp, Hills, etc.

But a recent foray to the Commonwealth of Virginia provided the uncommon experience of learning about a current architect of whom I had no previous knowledge. And after experiencing a trio of totally different courses designed by Lester George, the best summation one can offer is just four simple words: Better late than never.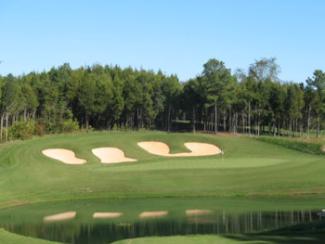 No. 4 at Kanawha
A native Virginian, George has a military background and working in map and terrain analysis was a natural offshoot of his collegiate interest in the sport of orienteering. "I organized the orienteering team at the University of Richmond," he explains. "It's not that well-known in the States, but it's the most popular participation sport in Europe."

After his active duty, George remained in the reserves for 25 years, until 2003. Little-known Algie Pulley was his original architectural mentor, and after apprenticing for four years, George sought work with Ed Seay, Arnold Palmer's long-time design associate, in 1990. Seay encouraged George to hang out his own shingle, but also promised to find him a position in the company should no work be forthcoming within six months. George has managed to remain working on his own ever since.

In the 20-plus years he's been out on his own, George has created or restored more than 80 courses, more of the latter than the former. His most famous restoration work is at Old White, the iconic course at West Virginia's famed Greenbrier Resort, which now serves as host venue for the PGA Tour's Greenbrier Classic. "I've had more than 100 projects come my way, but not everything gets built, not everything actually becomes a golf course when all is said and done. A project can go away in the planning stages, the permitting stages, or anywhere along the line."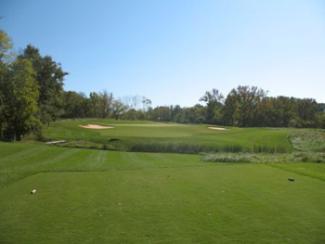 The 8th Hole at Kanawha
Ballyhack is among the most distinctive creations in the George oeuvre. This unique destination club opened in summer of 2009 outside of Roanoke, and is unlike anything else that this correspondent has experienced in the Mid-Atlantic region. It's a difficult course on a difficult site. Ringed by the Blue Ridge Mountains and with several hundred feet of elevation changes, it's not only tough to walk (not that it stopped a handful of my constituents, who are apparently half-golfer, half-mountain goat) owing to some ultra-steep fairway contours, it's even a little tricky to ride.

Examples are the middle of the fourth fairway (a tumbling par-4), the approach to the fortress-like, par-4 fifth (the green perched higher than any single approach shot I can recall offhand east of the Rockies), and the uphill slog to the par-4 11th. Were any of these specific regions snow-covered (not a far cry from some of the intermittent sleet we endured one particularly tough afternoon), one could imagine even an intermediate skier taking his or her sweet time in making the descent.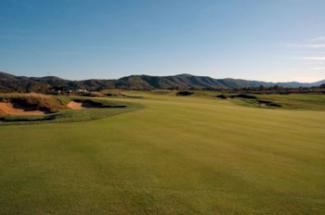 No. 2 at Ballyhack
"It's a unique course on a unique site, a bold piece of terrain, long views, long slopes, a big, wide golf course with large greens, and well-suited for a national club," states the architect. "It was a real departure from the stereotypical country club or resort course. We got the opportunity to fit something into the existing land, and though it's not easily walked, we also didn't have to sacrifice some of the great holes and elevation changes that exist there. We used the best piece of what used to be a dairy farm for the golf course, and moved less than 100,000 yards of dirt to do so, which is very little for a project of this scope."

Although there are no homes at Ballyhack currently, there are home sites available which will ring the course on the perimeter, maintaining the "core golf" concept that has gained a bit of traction in recent years at places like Berkeley Hall, near Hilton Head Island. Core golf means there are no houses on the interior of the course itself, but only on the periphery. Currently, there are several four-bedroom cottages along the 18th fairway, very comfortable accommodations with magnificent beds and bedding, several with fire pits outside to continue the evening revelry once one leaves the clubhouse area, just a few hundred yards away.
No. 9 at Kanawha
Van Renick is the club's sales director. "Because we are a national golf club, eventually our membership will mostly be comprised of people who live outside the Roanoke area. The attraction here is we have one of the top golf courses on one of the most picturesque pieces of property in southwest Virginia. It plays firm and fast, with over-the-top green complexes, and is one of the most memorable golf courses you will ever play. A knowledgeable golfer quickly learns there are several options on each hole, and there's not a single right or wrong way to play it."

While on property and enjoying the miles-long vistas and rolling terrain stretching into the distance, a visitor would be hard-pressed to realize that lively downtown Roanoke, with myriad shops, culture and nightlife, is but a 15-minute drive. "Between the wind, which blows fairly often, the angles and the prevalence of the ground game, to my mind it reminds me of playing in the Scottish Highlands," concludes Renick. "We hope to eventually have 400 members, with more than 300 from outside the area. But we aren't there yet, as there is plenty of room to grow."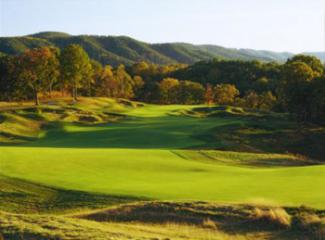 The 10th Hole at Ballyhack
Foul weather (raining hard, 37 degrees) precluded a visit to Kanawha, a nine-hole, par-3 course in Richmond so exclusively posh and little-known it's rumored that fully half of the 50-odd members themselves don't even know they belong. "It's one of the best privately-owned short courses I've ever seen," says George.

"It's on 85 acres, only about five miles from Kinloch, owned by a gentleman who is deeply involved in the First Tee Project of Richmond, named Fred Tattersall. Fred is a 'practice-holic,' loves to hit balls, and wanted a special place with a few select members. The greens are incredibly fast, the place is maintained to a 'tee,' it's just very special. The holes range from 102 to 236 yards, and most members walk and carry their bag. It's a real natural site with creeks and waterfalls. It's very unusual and hard to describe unless you see it. I estimate that at least one-third of the members are women, and it's the 'golfiest' place in Virginia, let's leave it at that."

Those are strong words, considering fabulous Kinloch is just a short distance away. This is one of those special places that exudes class, but without pomposity. The course is the brainchild of one of golf's most accomplished amateurs since Bob Jones won the 'Grand Slam' and hung up his plus-fours back in 1930. Vinny Giles is a seven-time Virginia Amateur champ, twice won the Virginia Open, is a four-time Walker Cup participant, won the U.S. Amateur in 1972, the British Amateur three years later, and put a capstone on his career by winning won the U.S. Senior Amateur in 2009.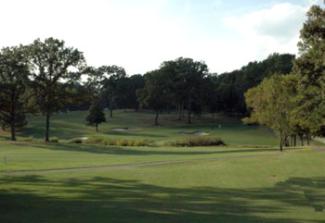 No. 12 at Providence
But for all his success and the rich on-course legacy he leaves behind, Giles' most enduring achievement might be his collaboration with Lester George at Kinloch Golf Club. The course is magnificent. The capacious property seemingly exists for golf, with long, rolling views, a centerpiece lake, and astonishingly good conditioning. The mix of holes long and short, with several potentially drive-able short par-4s, and the par-3 19th hole, an over-water bet-settler, make this one of the neatest and most enjoyable golf facilities on the eastern seaboard.

It's often hard to describe what makes a golf course exceptional, but to paraphrase former Supreme Court Justice Potter Stewart, who in 1964 was asked for a definition of pornography famously replied, "I know it when I see it," is equally applicable to a top-notch golf venue. And Kinloch is, even in foul, stay-inside-and-watch-college-football weather, just that, and more.

An amazing opportunity is how George describes his involvement at Kinloch and the once-in-a-lifetime chance to work closely with a top-flight amateur like Giles. "It's a piece of land with about 60 feet of elevation change all told, but never more than 25 or 30 on any hole. It's a perfect piece of golf terrain. The 70-acre lake was there when I arrived, but the rest of the property was completely wooded," states George.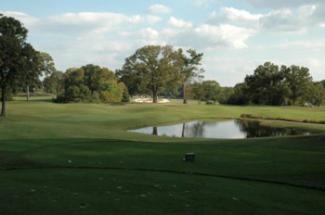 The 17th at Providence
"Once we established where the clubhouse would go the routing just jumped off the paper, it was so clear to us how the golf course would evolve. It just came together very seamlessly. It looks like horse country, and even though there are plenty of horse farms in the region, that particular property never was. The real estate component is totally separate from the golf course, and living in the community doesn't mean a resident will necessarily be welcomed into the club."

Not every Lester George course is so discriminating. Providence Golf Club is one of the most popular daily-fee facilities in Richmond, rolling and tree-lined, compact but not cramped. The course sat fallow for years. Opened in 1966, closed in '86, George brought it back from the dead in 1999. "The fairways were bush-hogged once a year all those years it was closed, so the neighbors would not complain, but it was still rough as a cob.

"Not quite a jungle, but waist-deep in scrub and shrub when we started back. There were 13 acres of wetlands on property when the course closed, and by the time the beavers got done doing what beavers do, the wetlands had expanded to over 40 acres. We had to purchase 90 acres south of Pocoshock Creek to make the golf course viable again when I began the restoration."

Whether he's bringing long-moribund courses back from the dead or creating distinctive courses from conception, Lester George is one of the best golf course architects you've never heard of. Until now.
Joel Zuckerman, called "One of the Southeast's most respected and sought-after golf writers" by Golfer's Guide Magazine, is an award-winning travel writer based in Savannah, Ga. His seventh and latest book, entitled "Pro's Pros – Extraordinary Club Professionals Making Golf Great!" was released in June 2013. This is the first-ever golf book to shine the spotlight on the beating heart of golf – the unsung, yet hard-working club professional. Joel's course reviews, player profiles, essays and features have appeared in 110 publications, including Sports Illustrated, Golf, Continental Magazine and Delta's Sky Magazine. He has played more than 800 courses in 40-plus states and a dozen countries. For more about Joel, or to order this unique new book, visit www.vagabondgolfer.com.