Golf Club at River Oaks in Connecticut One of New England's Best
By: John Torsiello
I can recall the first time I became aware of one of the top new golf courses in Connecticut. I caught a glimpse of the layout in its primitive stages as I was driving along a back road and saw a sign on a tree, done in simple handwriting that said something like, "Golf Course Coming Soon." I said to myself, "Well, isn't that interesting." I really had no idea what was going on behind the tree, but any new golf course is a good thing.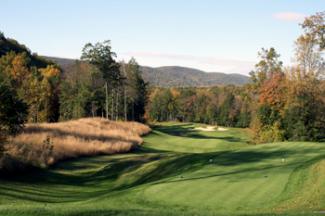 Ninth Hole at River Oaks
And what a good thing the Golf Club at River Oaks has turned out to be. Just like when it began, the course has sort of floated along under the radar, but this is one majestic layout and one of the best playing experiences in New England. Heck, Phil Mickelson raved about the course when he stopped by one day, and "Lefty" knows golf courses.

The Golf Club at River Oaks is located on the Sherman/New Milford town line in western Connecticut. River Oaks has several holes on its back nine that hug the Housatonic River, which is visible through the trees in late autumn or early spring. The look from the tee on the par-4, dogleg-left ninth reminds one of playing golf in northern New England rather than Connecticut.

River Oaks is a private country club and there are some homes (several quite stunning) near the course. Ralph Salito is the head and teaching pro, and fills several other positions. He joined the club after a long and stellar stint at Richter Park Golf Course in Danbury, Conn., which ranks annually as one of the better municipal courses in the United States. Ralph is an accomplished player, having won a number of prestigious tournaments, and can still move the ball around with skill and success.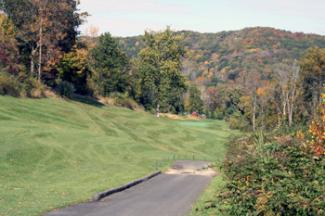 Second Hole at River Oaks
Robert McNeil designed the course, which opened in 2003, emphasizing challenge and fairness. The fairways are rather generous on the par-5s and longer par-4s, and tighter and strewn with fairway bunkers on several of the shorter two-shotters. The greens are fairly large and kept on the fast side. The rough is manageable and the greenside bunkers challenging yet not unfair.

While the course is no push-over, it's eminently playable for 10-handicappers like me, as long as you use the proper set of tees, which for my foursome were the whites, measuring around 6,100 yards. The tips stretch 6,730 yards, where the course rating is 73.8 and Slope 138. The par-70 layout has five par-3s - which cuts into its overall length, so don't be fooled into thinking 6,100 yards is easy.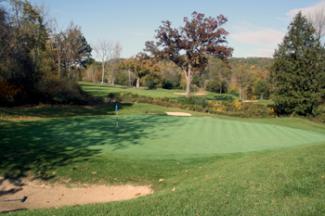 River Oaks' Sixth Hole
Perhaps the best hole on the front side is that 435-yard (back tees) par-4 ninth, which starts from a dramatically elevated tee box and affords a spectacular view of the fairway below and hills in the distance. From its starting block the tee ball must be placed in a landing area - protected by bunkers and woods right and left - at around the 150-yard mark or less because the second shot is across a ravine to a green that snakes along a small hill.

Make par at No. 9 and you're feeling good heading to the 10th, a sweet walk or drive along a path where you may see deer cavorting in the woods or a hawk flying by. That's one of the pleasant aspects of River Oaks; it's a nice marriage of manmade pleasures and the still somewhat-wild northwestern Connecticut woodlands.

The 10th is the first place to see the Housatonic River, which is known as one of the premier trout fisheries in the Northeast. The 11th hole is a great par-4 with the tee shot having to clear a rise, which sets up a downhill approach to a green guarded in front by a large bunker.
Number 12 is a short par-4 that plays about 300 yards. But the drive must be pure to avoid several big fairway bunkers, and the second shot is to a green hidden from sight from the fairway.

The finishing holes at River Oaks are all very good, which adds to the satisfaction of the course. A well-designed layout should always reach a stirring climax and River Oaks does that. After a nice par-3 in the woods at 15 there's a short par-5 (503 yards from the tips) that can be reached in two by big hitters

And then is the signature hole, in my estimation: the 210-yard par-3 17th that plays across a pond to a narrow green. This is a lovely hole, one where you want to linger and drink in the beauty of the course while mulling the task ahead. The 18th is solid: a double-dogleg par-5 that demands a lusty drive, a well-placed lay-up and a short-iron into a sizable green ringed by bunkers.

You can hit the 18th green in two but it is a big risk as you have to take it over trees that guard the left side of the upper fairway. Birdie or double is in the equation, which is a hallmark of a good closing hole that can decide a match, as it did on the day between me and three other golf writers.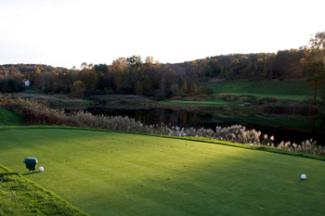 17th Hole at River Oaks
(Photos Courtesy of Mark William Paul)
All in all, River Oaks is as good a golf course as you will find in the Nutmeg State. If ever given the opportunity, do yourself a favor and test out this beauty.

For more information, visit www.clubriveroaks.com.
John Torsiello is an editor/writer living in Connecticut. He has written extensively about all aspects of the golf industry for a number of national and regional publications. He is a regular contributor to "Golf Course Industry," "Lawn and Landscape," "Golfing" and "Fairway Living" magazines as well as various online publications. He has strong, ongoing relationships with industry professionals and has worked closely with course owners, architects, developers, course superintendents and general managers around the country. He has won a number of awards for his writing, including first place from the Turf and Ornamental Communicators Association for a piece that appeared in "Golf Course Industry" magazine.