Golf - Connecting for a Higher Cause
By: Elisa Gaudet
Charity tournaments have long been a huge part of the golf culture in America and internationally. In the U.S., the World Golf Foundation's 2012 "Golf's Charitable Impact" report estimated that 12,000 golf facilities host 140,000 charity golf events annually. Golf continues to be the great connector by not only bringing people together to raise money and support a great cause but enabling the charity to educate and highlight its message. Events range in scope from national, regional and local.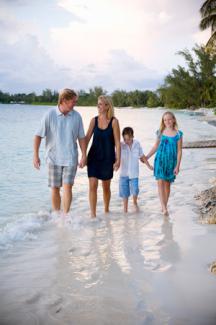 The Els Family in November 2009
April is National Autism Awareness Month and the biggest champion of autism in golf is Ernie Els. In response to their son Ben's autism diagnosis, Ernie and his wife Liesel created what's become a charity-driven, amateur golf tournament that generates funds to support the building of the Center of Excellence for Autism in the Palm Beach (Fla.) area. The facility will launch a global digital-learning platform that will make available the best practices in education and therapy on the autism spectrum to thousands of children worldwide.

The Golf Challenge consists of a series of super-regional events at top-rated courses across the United States and Canada from April through September. Two-person teams compete for a place at the Grand Finale - a two-day extravaganza of golf and entertainment hosted by Els and his friends from the PGA Tour at Summerlin in Las Vegas on October 13th & 14th, 2013. For more information, visit http://www.elsforautism.com/site/PageServer?pagename=golf_challenge.

"Liezl and I are private people, but we are also very much in the public eye and we recognize that this gives us a platform to help raise funds and awareness for the causes of Autism and its possible treatments. It is something that we both feel very passionate about." Ernie Els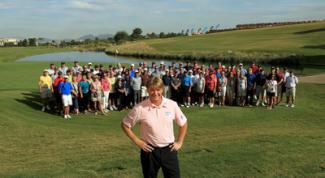 Ernie Els at Summerlin with Teams
You may have seen Els' PSA on autism, which highlights the odds of having a child with the disorder. At age 14, Els won the Junior World Championship and the odds of that were 1 in 16 million; the chances of Els making it to the American and European p;ro tours are 1 in 7 million; the odds of winning the British Open once and U.S. Open twice are 1 in 780 million. The odds of having a child with autism are a mere 1 in 88. For more information, visit http://www.youtube.com/watch?v=ZDc4auio2oQ.

"Years from now people may remember me as a golfer and a major champion. But I'd like also to be remembered as somebody who took the issue of autism and did something with it. The rest of my life, I'll be fighting this thing . . . I hope you'll join with me." Els

On a regional level, one of the most successful organizations is the Jimmy Fund Golf, an outstanding example of the good achieved when hundreds of volunteer tournament organizers and thousands of golfers unite by connecting their love of golf to a higher cause: conquering cancer.
The Jimmy Fund solely supports Boston's Dana-Farber Cancer Institute, raising funds for adult and pediatric cancer care and research to improve the chances of survival for cancer patients worldwide. Jimmy Fund Golf has raised more than $91 million over the past 30 years to support adult and pediatric cancer care and research at Dana-Farber Cancer Institute.

In 2012, Jimmy Fund Golf raised nearly $6.5 million through more than 150 golf events between April and October. All of Jimmy Fund Golf's tournaments are organized by volunteers and committees. Jimmy Fund Golf tournaments are held in 10 states (Maine, New Hampshire, Vermont, Massachusetts, Rhode Island, Connecticut, Florida, Indiana, Colorado and Texas). For more information, visit www.jimmyfundgolf.org.

On a local level, it's touching to see families struck by tragedy creating foundations and events to support others experiencing similar pain in their community. One such family is the Tracys, who started the Miller/Tracy Children's Foundation in 2001. It was formed in memory of Elizabeth "Lizzy" Marie Tracy, her aunt Kimberly Balboni-Miller, and Elizabeth's uncle, Carl "Chip" Miller. In July of 2000, Lizzy, Kim and Chip were returning from Roger Williams Zoo in Providence, R.I., when they were killed in a motor vehicle accident.
The annual golf tournament is its primary fundraiser and has enabled them to assist families with medical bills and provide financial assistance when faced with illness or death. As a result of the Miller/Tracy Foundation and its annual golf tournament, 1,200 children received back-to-school clothes and supplies; 60 graduating seniors received scholarships; and more than 225 families have been given Thanksgiving dinners. The 12th Annual Miller/Tracy Children's Golf Classic is June 7 at the Sandy Burr Country Club in Wayland, Mass. For further details, visit http://millertracychildrensfoundation.com.
Elisa Gaudet brings a wealth of entertainment and golf experience to Cybergolf. Elisa has spent the past several years in the golf industry in the U.S., Latin America and Spain. She worked for the PGA Tour and the Tour de las Americas before founding Executive Golf International, a golf marketing company that works with clients to develop strategies using golf as the medium. Often referred to as the Maria Bartiromo (a business analyst for CNBC) of golf, Elisa says: "Golf, as a marketing tool, has been around for years. It's amazing how many new ways companies can align their brand with the golf market to reach their target audience. Our goal is to create alliances and establish cross-border relations." Elisa also worked in the entertainment industry for over 10 years, including five in Los Angeles as a model and actress. She can be seen at many celebrity golf events and often gets the inside scoop from PGA Tour players. In 2011, Elisa published her first book, "Two Good Rounds" (Skyhorse Publishing). Her story for Cybergolf, "Golf a Romantic Affair at Cabin Bluff," won the top prize in ING's 2012 Travel Writing category, and that same year she won the ING's Outstanding Achievement award for the Op/Ed Writing Category for her Cybergolf article, "I Want to Fall in Love with Tiger Again." For more information about Elisa, visit her websites at www.onthelip.com or Executive Golf International www.execgolfintl.com.