Golf Course Architects - Helping Each Other Through Tough Times
By: Dave Droschak
Rick Robbins has been plying his trade as a golf course architect since the 1970s, at the time working under renowned designer Robert von Hagge, who had a stern message for Robbins about the American Society of Golf Course Architects.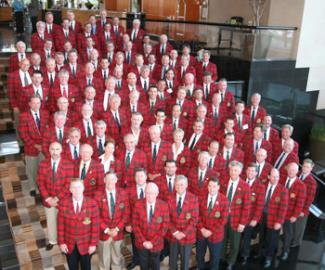 ASGCA Group Photo
"Bob von Hagge was probably the most independent-minded person I ever worked with," Robbins of the late architect who briefly played the "Marlboro Man" in TV commercials. "His comments were: 'You don't want to meet with those guys, they're just going to steal all of your ideas and take your jobs, find out who you're working with.' He just felt like designing golf courses was a competition and he took it seriously. He was like, 'We ain't helping each other.' "

Fast forward to 2014 as Robbins is finishing off his final few months as president of the American Society of Golf Course Architects (ASGCA), having finally joined in the late 1990s as the head of his own firm Robbins & Associates International.

"I was rather late joining, but it has been the most rewarding thing I've ever done in the golf course business," the 63-year-old said. "The people who are outside of the organization looking in can't believe the camaraderie and collegiality of golf course architects, who compete with each other personally quite a bit. I've never missed an annual meeting since I've joined, and as long as I can do it I won't miss one.
"We all play golf with each other for three days, we have business meetings and, in the bar at night, we talk. To me it's like old home week, it's a bunch of guys I've grown up with, that I've known for years and enjoy seeing and trading ideas with, finding out who is doing what," added Robbins.

Golfers may know who designed the course they're playing that day, but few likely know about the ASGCA, or what it stands for. Founded in the mid-1940s, past presidents have included the likes of Donald Ross, Robert Trent Jones and Ellis Maples.

Every ASGCA member must complete a two-year application process and prove they have acquired sound technical training; have no less than eight years of practical experience in golf course architecture; have designed at least five 18-hole golf course equivalents; and is recognized by other ASGCA members as a competent professional golf course architect.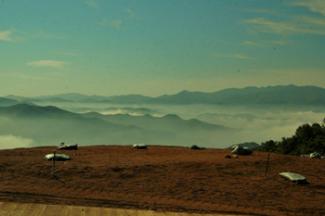 View from 6th Tee at Rick Robbins-Designed
China Maple Course in China
Over the past several years, the ASGCA has published three editions of "An Environmental Approach to Golf Course Development" to help educate permitting boards, town councils, developers, media and the general public about the positive role golf courses can play in preserving the environment. Released in 2008, the current, third edition highlights 18 case studies that showcase success stories dealing with a variety of sensitive natural habitats.

"It started out pretty much as a social organization back in the 1940s and '50s, but it has really grown into quite a thing," said Roger Rulewich, the 1987-88 ASGCA president who learned his trade under Trent Jones. "We've gotten so involved with superintendents and golf course managers - the entire game of golf. When everybody is looking for work it's a great way to make contact with people."

Work . . . the hot-topic button for golf course architects these days. Course construction in the United States virtually dried up during the recent recession and virtual collapse of the new-housing market. During this time, Robbins and others said the ASGCA lost some members, but may have grown in significance within the trade.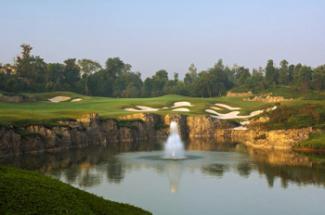 Much Golf Design is Overseas, Like Luxe Hills in China,
Designed by JMP Golf Design Group
"We're all trying to figure out how to help each other get through this," Robbins said. "We are all really concerned as an organization for all of our guys. ASGCA maintains a stature in the industry by having a certain amount of members who practice, and we account for the substantial number of golf courses being built today. If we lose a lot of members to attrition it affects us. We want to do everything we can do as an organization to strengthen education and help our members move forward, and be viewed by the people who want new golf courses to say, 'I need an ASGCA member.' "

"There are a lot of people trying to hang on and get through this," added Bob Moore, a Chapel Hill, N.C.-based architect who is part of the three-architect firm JMP Golf Design Group. "Renovation and reconstruction are hot now because how many new golf courses opened in North Carolina last year? I think it was zero . . . and the year before it was zero. It used to be easily a half-dozen to 10 or 12 a year."

Moore's firm, along with Robbins', has more than a dozen projects in the Pacific Rim, mostly in China, where golf course construction is thriving. Each architect has been working in places like China, Vietnam and Indonesia for decades, getting a head start on others in the ASGCA who balked at the idea for a number of reasons, mostly travel.
So, Robbins has tried to help his fellow ASGCA colleagues gain knowledge and education about the overseas' process, which can be challenging.

"I can tell you in China, except for a few instances with some of the 'name' golf professionals, if you're not a member of ASGCA they don't have any interest in talking to you," Robbins said. "They are very much aware of the fact that ASGCA members are at the top of the class, quite honestly. You look around at the golf courses in the world and look at the names associated with designers and look at the ASGCA roster and we account for a lot of them. I feel like I'm bragging, but it's true."

Environmental considerations and water usage remain top talking points within an organization that is very much proactive in the golf industry. For example, Robbins will have made speeches or attended industry meetings on 18 different occasions before his term expires at the end of May. He is also required by the ASGCA to attend the 2014 Masters and U.S. Open at Pinehurst as the mouthpiece for the group.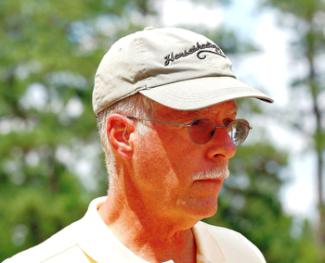 Rick Robbins
That's a busy schedule when Robbins includes his seven trips to China. "We trade a lot of information, try to educate our members to get everybody up to modern standards," he said. "We've had a lot of people practicing for many, many years. We want to make sure what they practiced in the 1960s, '70s and '80s is relevant today.

"And what I like about the ASGCA is that any issue I have I can put it on our discussion board; somebody has had to deal with that before somewhere, and we are very good about sharing that kind of information," added Robbins. "Like, 'How did you handle that situation with owners, or how did you do that bunker?' "

The organization is primarily all about what is relevant in today's game, and trying to assist in golf's growth, which is quite a test these days.
"But we also make sure our perspective within the golf industry on the game is realized, that they understand what we're trying to accomplish and where we're coming from," Moore said. "Over the course of the last couple of decades we have dealt with the environmental aspects of golf and golf's image within the environment because we allowed golf's image to suffer so badly for so many years.

"And turning the attention of the industry to being more environmentally sound and more environmentally friendly. We're also concerned about such items as the golf ball and what we can do about advocating limiting the length and flight so golf courses don't continue to have to be enlarged in order to be relevant."

"We trade stories and tell lies," Rulewich joked. "No seriously, we incorporate other golf associations to bring us up to date with what's going on in the golf world; we hold lots of seminars about golf equipment, golf techniques. It's a good time to see each other, but it's also important to see what's possible, to see what's going on in the world."
David Droschak has covered golf in the Carolinas for three decades, mostly with The Associated Press, where he worked for 20 years as AP sports editor in North Carolina prior to launching Droschak Communications, a full-service marketing and PR firm based in Apex, N.C. Dave, 53, has covered numerous major golf tournaments, including the 1999 and 2005 U.S. Opens at Pinehurst Resort, and is a longtime member of the Golf Writers Association of America. Dave will be hand in 2014 to provide coverage of the historic back-to-back U.S. Men's and Women's Opens in the North Carolina Sandhills.

Dave was honored with the Sports Writer of the Year award in North Carolina in 2005, and is currently editor of Triangle Golf Today (www.trianglegolf.com), a print and online publication regarded as the "No. 1 Source for Golf News in North Carolina." He is also golf editor for Pinehurst Magazine, an award-winning glossy publication.

Dave grew up in Penn Hills, Pa., about five minutes from famed Oakmont Country Club and was introduced to the game of golf as a caddie at Green Oaks Country Club in nearby Verona, Pa. Dave was the co-captain of the 1978 Penn Hills state championship baseball team, was a pitcher for the 1982 Atlantic Coast Conference champion University of North Carolina Tar Heels, and pitched professionally for two years in the St. Louis Cardinals organization. He is a member of the Penn Hills High School Sports Hall of Fame, which also includes NBA coach George Karl and former four-time Pro Bowl offensive lineman Bill Fralic.