Golf Course Communities Need to Join the Club . . . Clubhouse
By: Tom Hoch
Contemplating the future of golf communities in America recalls the famous line from Monty Python's "Holy Grail" during the "Dead Collector Scene." An unfortunate peasant, mistaken for a plague-stricken villager, is carted away by the King's guard.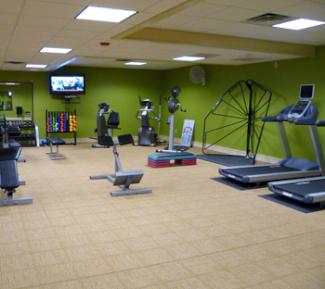 Clubhouse Fitness Room After Renovation
"I'm not dead," proclaims the peasant, quite reasonably.

Mistaking golf course communities for dead has been a perfectly justifiable miscalculation over the past few years. Golf course real estate is intrinsically linked to the real estate market, and we all know how that played out from 2007 to '10.

Fast-forward to 2014, and a little compression has gone a long way in breathing new life into the category. In fact, according to the National Golf Foundation, the supply of private clubs in the U.S. has only decreased by 9 percent since 2008. This is due mainly to clubs converting to semiprivate or daily-fee, not from closure.

Anchoring the center of the majority of America's country clubs, often in monolithic fashion, is the clubhouse. Once a symbol of exclusivity this centerpiece can be the lynchpin for attracting a wide variety of new members.
Golf clubs are reinventing themselves to attract a diverse swath of demographics: dual-income-no-kid couples, young families with kids, and Baby Boomer empty-nesters. This helps clubs of all shapes and sizes create new (and long-term) dues streams.

Cobweb-filled event rooms can morph into full-fledged fitness centers with yoga studios, spas and state-of-the-art equipment. Stuffy or lifeless restaurants can be totally reinvented with open kitchens, expanded indoor/outdoor spaces, wood-fired ovens and farm-to-table menus.

And bottom lines rejoice: the vast majority of clubhouses in the U.S already have more than enough space. If a club is in search of a way to restore its brand, retain members or daily-fee golfers and attract new players, an interior makeover is a cost-effective way to accomplish these goals.

Prospective members these days need to clearly see the value proposition. For example, can a family of four do away with its fitness center membership, tennis or pool memberships, shift dining out to the club two or three times a month, all while engaging with and learning a game of a lifetime?
While the pesky economy still presents challenges for clubs, it's also creating an opportunity. The cost of building supplies and construction materials is near a five-year low, and clubs with a sense of urgency can make major changes for less money than it might cost in a stronger economy.
Tom Hoch is the president of Tom Hoch Design, a leading design-build firm based in Oklahoma City, Okla. Founded in 1963 by his parents Tom Sr. and Joanne Hoch, Tom Hoch Design specializes in club, resort, hotel, restaurant and recreational spaces. The firm utilizes a "revenue-based design" model, a space-planning, sizing and mapping process for retail-driven spaces such as golf shops and food- and-beverage operations. For more information about the firm, visit www.tomhoch.com.