Golf Course Planned for Hills Overlooking the Pyramids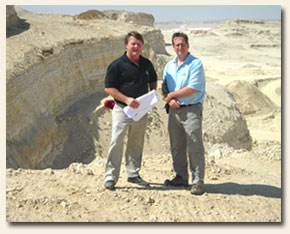 Thomson Perrett & Lobb, an international golf course architecture firm founded by five-time British Open champion Peter Thomson, with partners Ross Perrett and Tim Lobb, has won the contract to design a dramatic desert course perched on hills above Egypt's ancient Pyramids.

New Giza, a massive 600-hectare site just 20km from Cairo, will be a landmark development for Egypt. It will combine luxury residential areas, a five-star hotel, restaurants, shopping, spa, sporting facilities, parks – and a high-end golf course.

Set on jagged desert hills and utilizing a deep cut quarry with sheer cliffs, the course at New Giza may become one of the most spectacular in the Middle East. Thomson, who this year celebrates the 50th anniversary of his Open victory at Royal Liverpool, said, "New Giza is an iconic site to build a golf course. The striking combination of rugged desert, views of the Pyramids and a world class golf course will give it instant recognition."

TPL, which was selected by Egyptian property developer GRID from a shortlist of five international course architecture companies, was also awarded the contract to design the new course at El Ein Bay, the luxury Red Sea resort boasting the closest beach to Cairo.
Design work on both projects has begun and construction will commence in autumn 2006, with New Giza expected to open for play in 2008. Lobb, who will lead the New Giza project, said: "We have a wonderfully dramatic landscape with the Pyramids for a backdrop, so it is a very special site. The movement of the land is fantastic and there will be outstanding views across the desert. There is also a deep quarry with sheer sides which we will restore and make a unique feature – it will be a very exciting course to view and play."
Master planner, architect and course designer Perrett, who will work closely with GRID to integrate the golf course into the overall development plan for New Giza, said: "TPL has worked in countries all over the world, but this is an extraordinary development that will create a landmark for Egypt and the region as a whole. I am particularly impressed with GRID's attention to detail in town planning and landscaping – New Giza is going to be a beautiful place to live and visit, with green areas, trees, parks, lakes and, of course, a world-class golf course."
New Giza is expected to take five years to complete. Meanwhile, the development at El Ein Bay on the Red Sea coast, about an hour's drive from Cairo, is now in its final stages. The luxury residential areas, largely completed and sold out, will benefit from a new 6,100-meter resort-style golf course and practice academy, plus a 120-room hotel, tennis academy and other facilities.
Mahmoud el Gammal, chairman of El Ein Bay developers Galalah, a sister company of GRID, said: "We selected TPL to work with us on the developments at New Giza and El Ein Bay because we were impressed with the quality of the company's previous work and the level of professional cooperation we have received. TPL will not only be designing outstanding golf courses, they will be working alongside our architect to ensure the golf courses fit seamlessly into the master plans for both developments."
For more information about Thomson Perrett & Lobb, call Tim Lobb at +44 (0)1483 270 190; e-mail tlobb@tpl.eu.com, or visit www.tpl.eu.com.