Golf Courses Suffer from Hurricane Sandy, but People Suffering Worse
By: Jay Flemma
Though five weeks have passed since Hurricane Sandy, for some neighborhoods it might as well have been only yesterday. "It was the second 100-year event in the last two years," said Governor Andrew Cuomo, and he was right.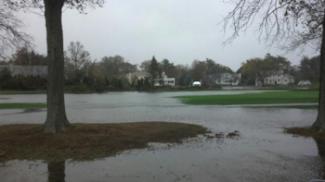 Seawane Underwater (All photos in this
article are courtesy of the Metropolitan Golf Association)
One-hundred and eleven homes in Queens burned to the ground; whole neighborhoods flooded by 30-foot swells; transportation around the region immobilized for weeks; a quarter of New York City without power for week (longer in some outlying areas); shortages of gas, food and emergency supplies; 55 killed and countless more lives disrupted; and a swath of devastation across the entire Eastern seaboard. "The breath of God," some called Hurricane Sandy.

Initial estimates of $50 billion in damages were inadequate. In mid-December the bill for New York City alone exceeded an estimated $60.4 billion, with less than half that amount insured.

With that as a backdrop, the damage to golf courses seems inconsequential.

"While sports do help us heal, it's too soon to be thinking about that," opined Miguel Torres of Middle Village, Queens, whose neighborhood was miraculously spared much of Sandy's fury, but who will journey to Staten Island to help family members who weren't so lucky. "It's like they said in the movie 'Twister' - it missed this house, and that house, and came after our family instead."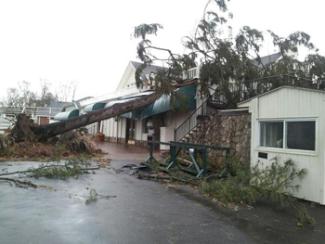 A Tree Crashed into the Clubhouse at Engineers
It's true - rich and poor alike were affected. Disasters care not for race, creed, color, religion, political affiliation or anything else. Everyone agreed: With all the devastation left by Hurricane Sandy sports just weren't that important for a while.

But while golf can't help the people affected, golfers can. Take Golf Digest's Ashley Mayo, a young rising star of a writer and a gifted tri-athlete. "I've got toothpaste and other items and I'm passing them out in S.I.," she posted on Facebook and Twitter. Then she helped flooded homeowners clean the water out of their homes. She'll return to storm-devastated Staten Island next weekend for more relief efforts. "Broken-hearted" was the word she used when she saw the extent of the devastation.

NYC-area golfers Bruce Moulton and Chuck Cordova also helped with relief efforts, trading their Saturday morning tee times for shovels. "I'll have plenty of time for golf later. I'm a life-long New Yorker, and right now, my city needs to recover. I have to do what I can to help," said Cordova, who helped dig out the homes in Breezy Point, which was burned to cinders in a fire caused by Sandy.

Moulton's family lost power for over a week. But they were lucky compared to many in the area, so many of which went without light and heat for a month. "It's shocking to realize how close we all are at any time. Just a little further south of us, people's buildings were flooded three stories above ground," said Moulton. "I'm only too glad to help. Some people's lives will never be the same."
Tallgrass Golf Club's head professional Phil Tita saw that first-hand. "My mom's assisted-living center lost power for three days, and now they have 70 people living in the basement from a nursing home in Long Beach. One other effect the storm had was the lack of gas on L.I. People could not get gas and when they could, they couldn't waste it on golf. A lot of people, including myself, are using gas-powered generators. There were days when I had to decide whether I was going to heat my house or come to work."

The damage and heartbreak cannot be understated. This was no Hurricane Gloria, where college kids went out and sledded down muddy hills laughing at the storm while it raged around them. This is homes chopped into mere twigs. This is whole neighborhoods under water. (Atlantic City looks more like Atlantis.) This is crooks dressing up like power-authority representatives and then looting homes and beating residents within inches of their lives.

In the Rockaways, vigilante groups armed themselves with not just guns, but bows and arrows and machetes to defend against looters. One sign posted outside a home read: "Looters will be crucified, may God have mercy on your souls because we won't." People are threatening to kill each other with baseball bats over little things like cutting the line to get gas. Cops are in short supply and, when night falls, several neighborhoods are left to fighting in the streets, thugs lurking in the dark amid the sounds of women and children cold, hungry and weeping.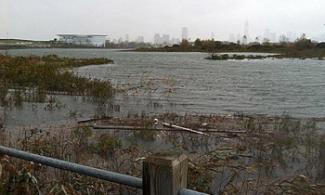 Liberty National
"We've booby-trapped our door and keep a baseball bat beside our bed," said one Rockaways resident in a New York Daily News interview. "We heard gunshots three nights in a row." And then just three days later, a blizzard gripped New York City mercilessly in an icy fist. It was a white-out in the Five Towns area already devastated by floods. Power just restored in sections of Westchester County went out again as well.

Golf can't help these people, but golfers can. We all know the PGA Tour doesn't like to publicize the specifics of its charitable efforts, but it seems that when it comes to Sandy relief efforts golfers and golf writers are pulling together faster and more often than Tour players. Sandy cleanup efforts have been in full swing for six weeks, but all we hear from Tour officials is the tired mantra of, "We're monitoring the situation and encouraging the fans to do all they can."

Instead of cruising Asia for more money to throw onto the pile, why don't the Tour pros come and hand out necessities and staples like Mayo, Cordova, Moulton and the thousands of ordinary New Yorkers who have pulled together to help their neighbors? For too many New Yorkers (and indeed all across the Eastern seaboard), Sandy's aftermath is still a matter of life and death. Show us you're an everyday hero, not just some guy who plays one on TV Sunday afternoons

As for golf courses, yes, Sandy left a swath of destruction that had to be seen to be believed. One-hundred-and-fifty trees were downed at Winged Foot, and trees are big there. Trees were also downed everywhere from Paramount Country Club north of Westchester to Forsgate Country Club, which is halfway between New York and Philadelphia.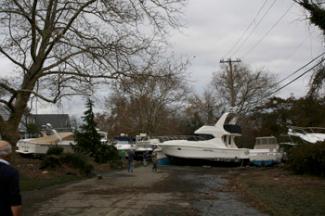 The Entry Road to Rockaway Hunting
Club was Blocked by Boats
"We had to close three holes - 10, 11 and 15 - because downed trees blocked off access to those areas of the course," said Mike Butler of North Shore Country Club. "We also had employees without power, but we all pulled together as a family to help those affected."

The tidal surge was worse. Seawane golf course superintendent Brian Benedict described his course as "devastated."

"Eighty-plus acres of the course are under saltwater with boats and docks washed up on the course. There's ocean debris all over, trees uprooted and down all over the course, water damage to many buildings, and 2 inches of saltwater in my shop," he wrote.

Other Long Island and Westchester courses were equally devastated. Entire holes were swallowed by flooding at Maidstone, Liberty National, Fishers Island and Rockaway. Also at Rockaway, several boats were washed up into fairways and completely across the entrance road. The pro shop at Engineers Club had a tree smash through its roof.
So far, the total bill is racing in excess of $90 billion and, although six weeks have passed since the disaster, the federal government has spent only about $2 billion in the 11 states affected by the storm. While $60.4 billion has been proposed, only $9 billion will be spent over the next nine months. Much more aid is needed, and quickly. Families and businesses are suffering. .

Golf can't save those affected by Sandy, but golfers can. Certainly, golf is a wonderful escape from the rigors of life. But right now golfers can do an even greater good than golf itself can.
Since launching his first golf writing website in 2004, http://jayflemma.thegolfspace.com, Jay Flemma 's comparative analysis of golf designs and knowledge of golf course architecture and golf travel have garnered wide industry respect. In researching his book on America's great public golf courses (and whether they're worth the money), Jay, an associate editor of Cybergolf, has played over 420 nationally ranked public golf courses in 40 different states, and covered seven U.S. Opens and six PGA Championships, along with one trip to the Masters. A four-time award-winning sportswriter, Jay was called the best sports poet alive by both Sports Illustrated and NBC Sports writers and broadcasters. Jay has played about 3 million yards of golf - or close to 2,000 miles. His pieces on travel and architecture appear in Golf Observer (www.golfobserver.com), Cybergolf, PGA.com, Golf Magazine and other print magazines. When not researching golf courses for design, value and excitement, Jay is an entertainment, copyright, Internet and trademark lawyer and an Entertainment and Internet Law professor in Manhattan. His clients have been nominated for Grammy and Emmy awards, won a Sundance Film Festival Best Director award, performed on stage and screen, and designed pop art for museums and collectors. Jay lives in Forest Hills, N.Y., and is fiercely loyal to his alma maters, Deerfield Academy in Massachusetts and Trinity College in Connecticut.