Golf Creations Breaks Ground on Nicklaus Design in Illinois
Course builder Golf Creations has broken ground in Sherrard, Ill., on a new Nicklaus Design that, due to its proximity to Moline, has drawn an extraordinary level of involvement from another name brand, John Deere.
In the meantime, trees are being cleared and grading underway at Fyre Lake National Golf Club & Marina, where Golf Creations Field Operations Manager Kevin Stieneke hopes to rough out nine holes and lay irrigation before the snow flies. Chris Rule, the Nicklaus design architect presiding at Fyre Lake, anticipates a spring 2009 opening for the 18-hole, 6,600-yard, par-70 layout.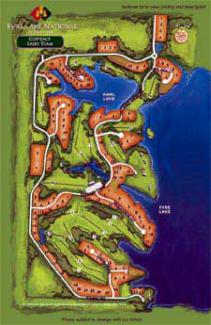 While Golf Creations is the sister construction division of Marengo, Ill-based Lohmann Golf Designs (LGD), Golf Creations routinely builds the designs of other architects. However, this is the first time Golf Creations has built a Nicklaus Design, according to Bob Lohmann, founder and president Golf Creations and LGD.
"It's been a great pleasure to work with the Nicklaus Design organization. To say that everything has been done 'first class' is something of an understatement," said Lohmann, who noted that Paul Latshaw Jr., superintendent at Muirfield Village Golf Club in Dublin, Ohio, was recently on site at Fyre Lake offering agronomic consultation, something he does routinely for Nicklaus Design projects.
"It's just another example of how Nicklaus Design does everything the right way, and that's the way we do it - so we feel it's a fine match. Selfishly, this particular project also helps dispel the idea that Golf Creations works only on Lohmann Golf Designs projects. We're proud of the LGD projects that Golf Creations has built, on the design-build model, but we relish the opportunity to work with all the top architects - we just finished another job, a renovation, with Arthur Hills at Westmoreland Country Club in Chicago. These projects show that we are trusted in the marketplace to do any construction job exactly right."
The project site in Sherrard will be a challenge to contractor and architect. Some of the topographical changes are dramatic, and Rule explained that a some 500,000 cubic yards of dirt will be moved to place the holes and residential units comfortably on the terrain.
"So far so good, but it's going to take quite a bit of earthwork to make the course and residential elements work together," Rule said. "It's important to blend them properly, and this is where we've enjoyed working with Bob [Lohmann] and Kevin Stieneke. They know what they're doing . . . Right now the course is only about 6,600 yards, maybe a bit less. But the layout is still evolving. Before it's 100 percent completed, we'll try to get a little more length out of it."
Lohmann, past president of the American Society of Golf Course Architects, noted that Fyre Lake will be "plenty of golf course" at whatever yardage. "Chris is right to squeeze all the length he can out of this routing, but this was never going to be a 7,400-yard monster of a course," he said. "Let the PGA Tour worry about building the next 8,000-yard course that no one but the world's best players can handle - besides, all those extra yards cost money!
"With the vegetation here and the elevated views down to the lake, this is going to be a beautiful golf course. And with all the topography and the bunkering, it's going to be plenty of golf course."

The project site in Sherrard is located just south of Moline, world headquarters for golf equipment giant John Deere, whose One Source program was designed to be a one-stop shop for new course development projects like Fyre Lake. Because the course site is so close to Moline (just 15 miles), the company has taken its involvement with Fyre Lake one step further, designating Fyre Lake National Golf Club & Marina a John Deere "Company Town" project. This entitles Fyre Lake's developers (Paul H. Van Henkelum, CEO of Wisconsin-based RSV Engineering, Inc.) and its contractor (Golf Creations) to additional discounts in the purchase of equipment and supplies.

Golf Creations is well known for finishing its projects on time and on budget, but this will surely assist in holding the golf course budget at Fyre Lake GC to its estimated $6 million. "Any time you can save the developer money without compromising the golf course product, well, that's a no-brainer. So the Company Town designation is a welcome tool," Stieneke said. "We see our role as a dual advocate. We're the developer's on-course agents, striving to keep costs down. By the same token, because Golf Creations has such a familiarity with the design process, we're also able to advocate for the architect - and the golf course - when the architect is not on site. We want to make the course look and play its best while building it in the most economical fashion."

Golf Creations routinely handles construction of Lohmann's original designs (the new Blackstone Golf Club in Marengo, Ill., the nationally acclaimed Canyata in Marshall, Ill., just named to Golfweek's top 50 new courses built in the last three years), in addition to LGD renovations including Midlothian CC and Grand Geneva Resort & Spa in Lake Geneva, Wis. But GC has also worked, and drawn similar plaudits, for its work with architects Ron Prichard (at Exmoor CC in Highland Park, Ill.), Greg Nash (Whisper Creek Golf Club in Huntley, Ill.), Craig Schreiner (Oconomowoc (Wis.) Country Club, and Arthur Hills at Westmoreland CC in Wilmette, Ill.
For more information on Golf Creations and Lohmann Golf Designs, call 815/923-3400 or visit www.lohmann.com. For more information on Fyre Lake National, call 800/575-1394 or visit www.fyrelakenational.com.