Golf Creations Directs Renovation at Westmoreland
Westmoreland Country Club in Wilmette, Ill., reopened on June 23, following an innovative greens reconstruction project implemented by Golf Creations, the course-construction division at Lohmann Golf Designs (LGD).
The architects at Toledo, Ohio-based Arthur Hills/Steve Forrest and Associates directed the refurbishment of Westmoreland CC, a venerable Chicago-area club originally designed by Langford & Moreau. Hills made several site visits during construction and Paul Latshaw, one of the country's most high-profile superintendents, was involved, too.
Why the "A List" audience?Because Westmoreland was a test case for a pair of leading-edge technologies: a new subsurface air system, and a new ceramic soil mix. Hills and Latshaw were there to make sure everything went exactly according to plan. Thanks to Golf Creations, it did.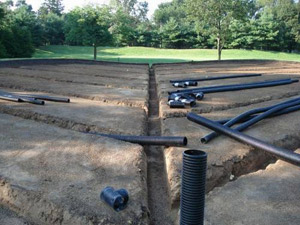 "Hey, no pressure," laughed Golf Creations operations manager Kevin Stieneke. "Mr. Hills was great to work with; he was there four or five times during construction. And the superintendent at Westmoreland, Frank Heery, used to work for Latshaw at Congressional. Mr. Latshaw was hired by the club because he was familiar with these new products, and how they performed."
Precision Air is a competitor of SubAir; both systems allow the circulation of air underneath the green surface to provide roots with 1) oxygen; 2) cool air when it's hot; and 3) warmth when it's cold.
"Normally on a USGA green," Stieneke explained, "the tile lines are laid 15 feet apart. But on the Westmoreland project we did these tile lines 10 feet apart and ran perimeter tile all the way around each green, too. A normal green would take 600 feet of tile. We did 1,300 feet for each green at Westmoreland. The more tile, the more spots where the air is pushing up into the soil profile, and the more air the better."
Added Heery: "What we have basically done is create a true manifold that allows us to tie into the drainage and blow warm and cold air underneath. The ultimate would be to have the permanent heating and cooling units tied in underneath. But, right now, we are a percentage of the way there with the mobile units. If we run into trouble this year we can evacuate water quickly or blow air in with those units. I have seen this work at Congressional CC. It has a lot of benefits. Black layer is almost nonexistent when you blow air underneath."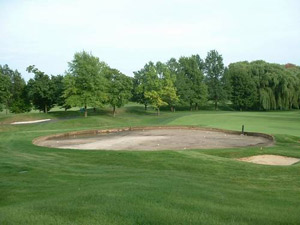 Heery noted that the mobile units could blow warmer, ambient air under the greens for 20 to 30 minutes in the winter to help melt ice on the greens. If and when the time comes to install permanent units, Golf Creations left the greens in a state allowing permanent machines to be installed in as little as an hour apiece.
"Golf Creations did a great job," said Heery, adding that the company and subcontractor Leibold Construction are the top two contractors he has worked with. "We were extremely happy. Having Leibold and Golf Creations working side by side, it almost looked like they were trying to outdo each other. It was like seeing the two Super Bowl teams go at it. Both were excellent and we were the beneficiary."
Golf Creations reconstructed 20 greens at Westmoreland in this painstaking manner (all 18 plus two practice greens). It re-cored each putting surface, installed Precision Air System capability on each one, and rebuilt every green contour to its original state thanks to high-tech LiDAR photography taken of every green prior to groundbreaking. Light Detection and Ranging (LiDAR) is a remote sensing system used to collect topographic data. It's a technology pioneered by the National Oceanic and Atmospheric Administration (NOAA) and NASA scientists to document topographic changes along shorelines.

Instead of peat, the Golf Creations team rebuilt the soil profiles at Westmoreland using a ceramic mix called Perma Pore. Tested in a nursery Heery has maintained at Westmoreland, Perma Pore is designed to hold more water in the profile during times of drought.

"We did all this in about eight weeks," Stieneke said. "We started July 17 and the majority of the seeding was finished September 15. And we did everything out there with float-tire trucks to minimize damage to the course."

Ken Gibson, the Hills/Forrest designer who led the day-to-day effort at Westmoreland, couldn't say enough about the Golf Creations performance. "They were great to work with, very up front and impressive from pre-bid all the way through to completion," Gibson said. "This was the first time we had worked with Golf Creations and I was really impressed with their attention to detail. Their green tie-ins were fantastic."

Golf Creations often handles construction of Lohmann's original designs (the new Blackstone Golf Club in Marengo, Ill., the nationally acclaimed Canyata in Marshall, Ill.) in addition to LGD renovations including Midlothian CC and Grand Geneva Resort and Spa in Lake Geneva, Wisc. The company has also worked with, and drawn similar plaudits, for its work with architects Ron Prichard (at Exmoor CC in Highland Park, Ill.), Greg Nash (Whisper Creek Golf Club in Huntley, Ill.) and Craig Schreiner at Oconomowoc (Wis.) Country Club.

"Some folks tend to think Golf Creations works only on Lohmann Golf Designs projects, but we work with folks like Arthur Hills and other architects quite frequently," said Lohmann, a past president of the American Society of Golf Course Architects. "In the case of Westmoreland, it was especially nice to be working on a project that featured such cutting-edge technologies. It shows that we are trusted in the marketplace to do the job exactly right."

For more information about Golf Creations or Lohmann Golf Designs, call 815/923-3400 or visit www.lohmann.com.