Golf Creations Recasts Itself to Better Meet Market Needs
(Marengo, Ill.) In March 2003, course contractor Golf Creations, the sister construction division of Lohmann Golf Designs (LGD), has refocused its core business strategy to better meet the needs of its customers – namely, superintendents, general managers and course owners looking to execute specialty construction/renovation projects at existing facilities.
"We're getting back to what we did when we founded Golf Creations back in 1986," explains Bob Lohmann, founder and principal of Golf Creations and LGD. "We created the company to do feature and specialty construction: greens, tees and bunkers. That's what we do best, that's what the market needs right now, so that's what we'll concentrate on going forward."
Golf Creations started out as a complement to Lohmann's course design business, but the 1990s golf construction boom soon presented larger and larger contracting opportunities. "It led to drainage and sod work, irrigation jobs, huge clearing projects and mass grading," Lohmann says. "One thing led to another and soon we were doing entire golf courses! We attempted to fill a market void because, at that time, there weren't enough full-service contractors out there to meet the demand.
"But that sort of construction was not what we created Golf Creations to do, and it's not what we do best. Our expertise is construction management; intricate feature construction on greens, bunkers and tees; and pulling all this together in an economical package for our clients. So that's what we'll be doing from now on."
Lohmann pointed out that personnel – a prickly issue for most contractors, who see shapers and superintendents come and go with alarming frequency – has remained a constant at Golf Creations during this time of transition. Tim Schnepf remains GC's contract administrator/estimator; equipment manager Scott Mattson still rides herd on the Golf Creations fleet; and Scott Schaul remains the firm's feature shaper, a position he's held since 1987. The one new addition is field operations manager Kevin Steineke, who's no stranger to LGD projects. "Kevin actually worked for me at The Merit Club," says Lohmann, whose award-winning design there hosted the 2000 U.S. Women's Open.
"Our new focus at Golf Creations allows us and our clients more flexibility," Lohmann continues. "How you build your greens and bunkers is so important. We plan to work closely with supers and owners to implement the design vision in an efficient, economical way. Much of this sort of renovation work is being done in-house by superintendents themselves, and that's okay. We feel like Golf Creations and our complementary design expertise is the perfect fit for these projects.
"If we do a bigger job, we can bring in other contractors to do the mass grading or irrigation. Through our design division, we enjoy outstanding, existing relationships with these larger contractors. In this way we can put those relationships to work for our clients."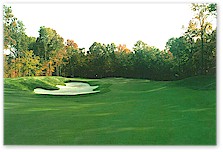 Golf Creations has plenty on its plate for 2003. Having completed a tee renovation project at Grand Geneva Resort in Wisconsin, GC will continue with modifications to the Brute and Highlands courses in 2003. Work also continues at Canyata, a "personal" 18-hole golf course now taking shape on the Marshall, Ill. estate of energy magnate Jerry Forsythe. The front nine at Canyata (see accompanying photo) will open for play this summer; shaping and seeding of the back should be completed this fall, allowing an 18-hole grand opening in the summer of 2004.
Across the state in Galena, Golf Creations will begin a bunker-renovation project this spring on the South Course at Eagle Ridge Resort, a nationally renowned facility managed by Troon Golf. "Golf Creations did renovation work on the North Course at Eagle Ridge a few years back, and the following year we did a project in San Antonio at LaCantera, another Troon property," said Lohmann. "Troon likes our work and we certainly like working for them. Nobody manages a classier portfolio of courses than Troon."
Lohmann Golf Designs and its sister construction division, Golf Creations, have lent their renovation expertise to more than 60 courses across the Midwest. Indeed, Lohmann – past president of the American Society of Golf Course Architects – recently moderated a Chicagoland session of Remodeling University, a roving ASGCA-sponsored seminar program aimed at assisting golf facilities currently weighing their renovation options.

LGD is also responsible for more than 30 original golf course designs, including The Merit Club in Gurnee, Ill., and Hunter's Ridge GC in Marion, Iowa, considered one of the state's top daily-fee courses. LGD's first East Coast design – Mattaponi Springs Golf Club at Penola Station, in Ruther Glen, Va. – will open for play this year.