Golf, Eats, Beaches & Beers - Best of Myrtle Beach for a Fall or Winter Golf Getaway
Not much golf gets played north of the Mason-Dixon Line in the winter months, but plenty of golf gets planned. From New York to Washington State (not to mention across all of Canada), phone lines are buzzing and keyboards burning as snow-challenged golfers research, plan and orchestrate getaways to sunny destinations.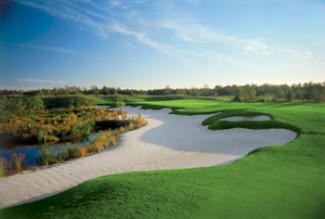 Barefoot Resort Fazio
The veritable "Golf Capital of the World" - Myrtle Beach, S.C. - should be on the short list of every have-clubs-will-travel type this season. The golf is affordable, the hospitality unrivaled, and the seafood so fresh you can hear the Atlantic Ocean if you put your ear to it.

Many readers may think "been there, done that" but with120 golf courses and 60-plus miles of beaches, dining and entertainment on the celebrated Grand Strand, Myrtle Beach is sure to produce a memorable golf trip without breaking the bank.

The Golf

No other locale in the golfing world showcases the handiwork of such a wide array of acclaimed course designers. Myrtle Beach boasts a virtual "all-star architect team" consisting of Jack Nicklaus, Tom Fazio, Pete Dye, Tom Doak, Robert Trent Jones, Rees Jones, Greg Norman, Davis Love III, Mike Strantz and Dan Maples.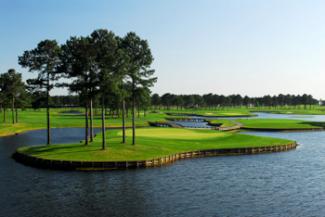 Man-O-War Island Greens
For those seeking to add a notch to their "Top 100" resumes, some of the best public access courses in the United States can be checked off: Caledonia Golf and Fish Club, Tidewater Golf Club, Dunes Golf Club and Grande Dunes.

Additionally, Barefoot Resort in North Myrtle Beach may be the only property in the world with both Dye and Fazio-designed courses on-site. Add in layouts from Love and Norman and one would be hard-pressed to find four 18s of this caliber in one spot.

Born into a family with roots in golf course construction dating back to the 19th century, Dan Maples is another architect whose name carries great weight in the Carolinas. A trio of his "can't-miss" courses is located on Myrtle Beach: Mystical Golf's The Witch, Man-O-War and The Wizard. The area presents literally dozens of mid-level, daily-fee tracks that are perfect destinations for a long weekend with the guys or quality time with a significant other.
The Eats, Beaches & Beers

Myrtle Beach is second-to-none when it comes to post-round fun and there are plenty of off-the-beaten-path suggestions for those who want an authentic Carolinian experience.

For breakfast by the beach, head to Sea Captain's House Restaurant for their renowned crab cakes benedict or traditional Southern fare like country ham and pecan waffles. Searching for the best beachfront burger joint? Look no further than River City Café for a fun, rustic atmosphere and one-of-a-kind, run-down-your-chin, made-to-order patty.

To experience the slow-paced South Carolina life, the Greater Grand Strand is home to one of the oldest and most unique towns in the state, Little River. Known for its fresh seafood, fishing charters and annual blue crab festival, it is also home to two Las-Vegas-style casino gambling boats and Jet Ski rentals.

Head a little further south to the fishing village of Murrells Inlet to experience Myrtle Beach like a local. It used to serve as a gateway to some of the area's major rice and indigo plantations, and no part of the Grand Strand has managed to retain the majority of its original character like the Inlet.

The Hot Fish Club remains a favorite gathering place for locals. Open Wednesday-Sunday, stop in for happy hour at the gazebo bar, crack crabs on the back porch and wind down the evening with nightly performances by the area's best rock and country bands.
Hang Up Your Visor, Kick off Your Spikes

For accommodations, Myrtle Beach Seaside Resorts operates vacation rental properties with six oceanfront and ocean-view condo-hotels in North Myrtle Beach and Myrtle Beach. All feature views of the pristine northern region of the Grand Strand. Units range from one to three bedrooms, and all lodging options provide easy access to golf, dining, shopping, beaches and other area attractions.
Getting There

Numerous airlines offer direct flights to Myrtle Beach International Airport (MYR) from more than 20 cities in the U.S. and Canada. The Grand Strand is within a half-day drive of Southeastern population centers like Atlanta, Charlotte and Raleigh-Durham-Chapel Hill, and a day's drive from Washington D.C., Philadelphia and other East Coast and Midwest metro areas.