Golf Gifts for 2010
By: Joel Zuckerman
Mark Twain, gone more than a century, remains the master of the pithy quote. He famously said that "golf is a good walk spoiled," and in an entirely different vein, once opined that "clothes make the man."

In honor of Twain's insight and brevity, this season's Holiday Gift Guide will eschew all manner of clubs, balls, hardware, training aids, gadgets, gewgaws, books and bric-a-brac, instead focusing solely on golf-related garments and accessories. Check out this variety of software (soft-wear?) products for a golfer on your shopping list, and be happy you don't need a powerful new PC to enjoy them: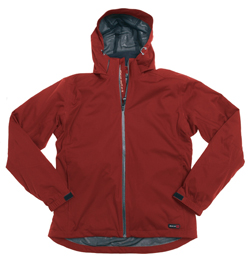 Abacus Pitch Hooded Jacket
Why is Pitch rainwear by Abacus the winner of the clothing function award at the Golf Europe trade show? Waterproof, windproof, breathable, stretchable, lightweight and stylish are among the reasons. The Pitch jacket is made of soft, stretch fabric so it breathes beautifully and stretches with every movement, keeping water out while letting air in. The seams are taped and absolutely water-resistant and the sleeves are removable. Pitch has proven its mettle as the outerwear of choice for the last two European Solheim Cup teams. And let's face it: Is there anyone more style-conscious than a European woman? www.abacus-golf.com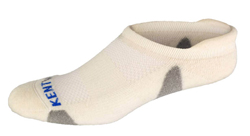 Kentwool Men's Low-Profile
Blisters, much like the yips, are something a golfer never thinks about. Until they arrive. Then this totally unexpected problem becomes all-consuming, superseding nearly every other on-course concern. While curing the yips is a mystery best left to a sports psychologist, curing blisters is easy: Wear Kentwool socks. They're billed as the best golf sock in the business, and their high-quality design and cushioning capability will definitely do the job in keeping blisters at bay. If you have shiny new golf shoes, are planning a couple of 36-hole days, or are getting out of a cart and walking the course for the first time in a long time, make sure Kentwool socks are part of the equation. www.kentwool.com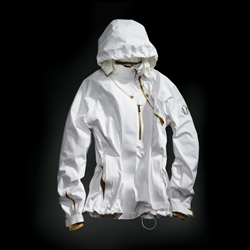 From the 2010 Sunice Collection
Sunice golf wear has long been known as one of Canada's top outerwear brands. And by necessity their garments must be both stylish and functional, owing to the vagaries of the weather during a typically compact golf season in the Great White North. Sunice's 2011 golfwear embodies the perfect fusion of science and fashion-forward style. Updated classic cuts, interesting contrasts and subtle detailing give their newest collection a clean contemporary feel, and provide comfort and the ultimate freedom of movement. These shirts fit well, look great, and are built to last in a land where the midsummer sun stays out so long you can tee it up after dinner, and still complete a leisurely 18 holes. www.sunice.com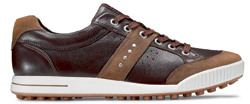 ECCO 2011 - Men's Golf Street Premier - Sephia_Bison
More air travelers are eschewing baggage-handling fees these days and relying on carry-on luggage. But how does one pack enough footwear into a valise designed to fit into an overhead compartment? One answer is Golf Street shoes by Ecco. Designed to be worn both on and off the course, Golf Street's unique versatility is based on an ingeniously engineered outsole that has approximately 100 molded traction bars with more than 800 tractions angles for excellent grip in all conditions. Wear-resistant and highly durable, the outsole is constructed from a TPU material that has been shown to last five times longer than rubber. Geared toward fashion-conscious men seeking a shoe that can carry them from home to the fairway to the city and beyond, Golf Street is one of the hottest new "hybrids" in the game. www.ecco.com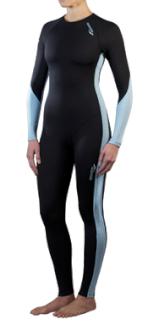 AMP PRO2 RecoverySuit - Female
Saucony pressure garments, such as their Amp Pro 2 model, assist athletes in recovering from intense workouts (or maybe 36 holes walking?) by improving circulation, and increasing oxygenated blood levels in the body. The manufacturer claims the garment reduces recovery time between workouts, in part by minimizing swelling and tissue damage. They look like a cross between a wetsuit and a union suit, and just a bit like the form-fitting, full-body leotard that turns Peter Parker into Spiderman. But it might be just the thing to wear to recover more quickly on the redeye back from Portland after a three-day binge at Bandon Dunes, or maybe for a transoceanic flight after a week-long golf foray to the UK. However, for practicality's sake, it would be helpful if there was a zipper at the fly area. www.saucony.com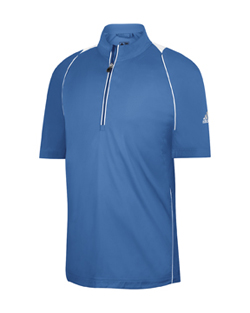 Adidas ClimaProof Wind Short Sleeve Jacket
Adidas windshirts are among the lightest and least-intrusive garments in golf. Many players find any outerwear to be somewhat constricting, yet it's a fact of life and golf that there will be times when a single layer (i.e., a golf shirt) won't provide adequate protection from whatever elements are impeding the proceedings. This Adidas product is as light as a filament, and even with short sleeves, offers less resistance in a shoulder turn or follow-through than do most sleeveless wind-vests. But it features underarm panels, on-seam zip pockets, and water resistance up to 600mm. It's like the Manny Pacquiao of outer garments - lightweight but tough, a real champion. www.adidasgolf.com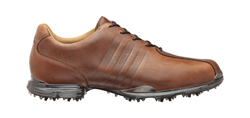 Adidas Adipure Z Golf Shoe
Here's all you need to know about the gorgeous Alligator (and other) belts produced by Atlanta's House of Fleming: Darren Clarke has purchased well over 200 and Ian Poulter over 100. Dozens of PGA Tour stars keep their britches hitched with these wearable, beautiful status symbols, handcrafted in the USA. If European Tour dandies like Clarke and Poulter see the value in an entire closet full of these stylish, rich-looking accessories, surely there's room for one or two in your armoire as well. www.houseoffleming.com
Adipure Z golf shoes by Adidas are a style throwback to the simple sophistication and class of a bygone era in the game. Today's young Tour pros are dressing hip-hop style, with neon colors, bejeweled belt buckles and funky, beanie-style headwear. But one could easily imagine icons like Ben Hogan, Byron Nelson or Walter Hagen wearing these beautiful shoes made of burnished, hand-polished leather and other premium materials that provide a rich look and feel. At a glance, they look old-school in the best sense of the word. But a closer inspection also reveals the use of THiNTech low-profile sole technology that brings the foot closer to the ground for improved stability, power-transfer and balance, and a 10-spike configuration for superior grip and perimeter stability. www.adidasgolf.com
Joel Zuckerman, called "One of the Southeast's most respected and sought-after golf writers" by Golfer's Guide Magazine, is an award-winning travel writer based in Savannah, Ga., and Park City, Utah. He has written five books, including the epic "Pete Dye Golf Courses" in 2008. Joel's course reviews, player profiles, essays and features have appeared in more that 100 publications internationally, including Sports Illustrated, Golf, Continental Magazine, Travel & Leisure Golf, Sky Magazine, Golf Connoisseur, Golfweek, Estates West, Millionaire and Golf International. For more of Joel, visit www.vagabondgolfer.com.