Golf Gulf Shores Releases Top Golf and Grub Spots
Following national recognition of its draw for authentic 'Bama coastal cuisine, Golf Gulf Shores has released its list of best golf holes and dining spots.
"Locals and regular visitors to Gulf Shores have long known that this area is a major 'foodie' hot spot," said Golf Gulf Shores Executive Director Duncan Millar. "The seafood is right-off-the-boat fresh and the beer is ice-cold, plus there's a wide variety of restaurants and bars in close proximity to our award-winning golf courses."

The list follows recent television and national media exposure of the destination's focus on local tastes that are unique to the region - such as the famed "Royal Reds" shellfish.
Famous visitors include President Barack Obama, who feasted at Tacky Jacks, and Food Network star Guy Fieri, who hosted Gulf Shores' "Supper in the Sand" event that celebrated the local community's spirit and return of summer seafood. Fieri also featured local Panini Pete's on his extremely popular "Diners, Drive Ins and Dives" and "Guy's Big Bite" shows. The Original Oyster House, in Gulf Shores, was recently featured on "Man vs. Food" with Adam Richman. And The Hangout, also in Gulf Shores, earned "Best hangout bar in a golf destination" honors from renowned golf travel writer Jason Deegan in "My 2010 Travel Awards, Part 3: Golf Grub, the tasty final chapter," which appeared on TravelGolf.com.

Affordable stay-and-play rates starting at $73 per person per night - including golf - can be customized for groups of all sizes and tastes through Golf Gulf Shores' online booking portal at www.golf.gulfshores.com.
Here are the best pairings of Golf and Grub in Gulf Shores:

Craft Farms (Cotton Creek and Cypress Bend Golf Courses)

Best Hole: The 395-yard sixth is Cotton Creek's most-challenging hole. After a well-placed tee shot over water to the fairway, the approach must also carry water to the green. Cypress Bend's trickiest hole is the 401-yard fourth. Drives must avert fairway bunkers on both sides and a creek diagonally bisecting the hole while approaches must carry water to a T-shaped, well-bunkered green.

Best Bite: Arrive by boat or car at LuLu's at Homeport Marina (left, 251.967.LULU/5858; www.lulubuffett.com) in Gulf Shores. This 10,000-square-foot, indoor/outdoor waterfront institution offers lots of fun, music, Lucy Buffett's homemade gumbo, towering Cheeseburgers in Paradise and ice-cold margaritas.

Glenlakes Golf Club

Best Hole: The Vista/Dunes course's 495-yard 16th hole (Dunes' No. 7) is a risk-reward par 5 with water flanking the hole's right side before encircling an island green. A good drive prompts a second-shot dilemma, as even layups must find a fairway that narrows from the 100-yard marker to the water fronting the putting surface.

Best Bite: Wolf Bay Lodge (251/987-5129; http://www.wolf-bay-lodge.com) - just a six-minute drive from Glenlakes - is where locals and visitors alike go to unwind and enjoy every kind of fresh seafood imaginable, although the must-have is the local steamed Royal Reds and Fried Crawfish Tails.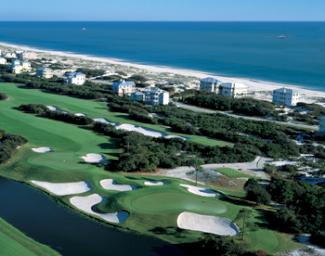 Aerial View of Kiva Dunes
Gulf Shores Golf Club

Best Hole: The most interesting hole is the 595-yard seventh, where a massive bunker awaits drives in the middle of the fairway, with just 40 yards separating it and water lurking down the hole's left side. All that's left to worry about are the six bunkers surrounding the putting surface on the approach.

Best Bite: Indoor/outdoor Live Bait at The Wharf (251/224-2248; www.livebaitrestaurant.com) in Orange Beach is a waterfront favorite whose extensive menu includes House specialties Grilled or Blackened Shrimp and the Bait House Chop. The restaurant's Live Bait Food & Spirits and Live Bait Too! bar area (251/974-1612) features live bands.

Kiva Dunes

Best Hole: The 215-yard, par-3 17th is a beauty and a beast that's an infamous scorecard wrecker. Water hugging the hole's entire left side must be carried from the two back sets of tees. A bunker lurks on the back right side of the two-tiered putting surface, which is a narrow, deep - and often elusive - target.

Best Bite: Tacky Jacks 2 (251/968-8341; www.tackyjacks.com) - sister location of Tacky Jacks, where visiting President Obama ate last year - is a popular waterfront eatery with golfers and families near Kiva Dunes. Tacky Jacks 2's varied menu includes its famous Steamed Royal Reds - a local delicacy only available in Gulf Shores - and Shrimp and Grits.
Lost Key Golf Club

Best Hole: The 150-yard par-3 13th is Lost Key's signature hole for a reason. Despite hitting a wedge or short iron, golfers must find the pin-placement zone (there are three) in which the hole is cut on the boomerang-shaped green or risk a three-putt. The left bunker is to be avoided at all costs.

Best Bite: Cobalt Restaurant (251/923-5300; www.cobaltrestaurant.net) in Orange Beach - nestled under the Perdido Pass Bridge - offers a unique waterfront dining experience. You'll never go wrong by ordering the Blackened Redfish or Fresh Catch of the day.

Peninsula Golf and Racquet Club

Best Hole: The Cypress nine's 608-yard eighth is the second-longest of Peninsula's 27 holes. This brute demands an accurate tee shot and a layup to the fairway's right side to avoid water guarding the hole's left side. Approaches short and left will be wet, while a rear-greenside bunker can snag long approaches.

Best Bite: Gulf Shores' Original Oyster House's (251/948-2445; www.originaloysterhouse.com) specialty seafood platters include the Adam Richman-inspired "Man vs.Food" Platter, which includes Bourbon Glazed Ahi Tuna, Shrimp Scampi, Fried Oysters, Stuffed Crab and Fried Crawfish Tails, plus two sides.
Rock Creek Golf Club

Best Hole: The 434-yard second is Rock Creek's signature - and No. 1 handicap - hole. Long drives must avoid running through the end of the landing area some 75 yards below. The long approach is a forced, uphill carry over a large wetland to a guarded green with a tall, wooden bulkhead backdrop.

Best Bite: Panini Pete's (251/929-0122; www.paninipetes.com) has been featured on Guy Fieri's "Diners, Drive-Ins and Dives" and "Guy's Big Bite" Food Network shows for good reason. The paninis and burgers are luscious, as are the Hot Beignets, a New Orleans favorite with a Panini Pete squeeze-of-lemon twist.

TimberCreek Golf Club

Best Hole: Water abuts the left edge of the Pines nine's 426-yard seventh hole. Right-side drives can be directed toward the middle by fairway mounds. Long tee shots can bring water into play, but can simplify approach shots. The right-to-left sloping fairway promotes a draw approach where a fade is often needed.

Best Bite: Wintzell's Oyster House (251/626-5714; www.wintzellsoysterhouse.com) - in the Eastern Shore Centre across the street from TimberCreek - has built an institution around its famous "oysters any way you want 'em … fried, stewed or nude," and now also charbroiled.
About Golf Gulf Shores

Golf Gulf Shores is the moniker for the Gulf Shores Golf Association, the partnership that promotes the destination and its custom golf packages built by its partners, for golf groups, families, and corporate outings. The destination offers nine golf courses, countless lodging options and a wealth of outdoor activity on its 32-mile waterfront destination. Course highlights:

Cotton Creek at Craft Farms - Arnold Palmer Signature Design with generous fairways lined by Southern Hardwoods, undulating greens and a championship test from 7,028 yards, and owned and operated by Honours Golf.

Cypress Bend at Craft Farms - The sister Honours Golf property to Cotton Creek, the Arnold Palmer Signature Design meanders through cord-grass accented lakes which come into play on nearly every hole.

Glenlakes Golf Club - Scottish-style links course designed by Von Hagge and known for its extensive bunkering and postage-stamp greens.

Kiva Dunes - A "Top 100 Course in America" by Golf Digest, the Jerry Pate design is the only beachfront resort course in Gulf Shores.

Lost Key - The stunning course, redesigned by the Arnold Palmer Design Group in 2006, rewards accuracy off the tee and with approaches as it winds through woods and wetlands. It also boasts a new state-of-the-art clubhouse.

Peninsula Golf and Racquet Club - Owned and operated by Honours Golf, the 27-hole facility offers chilled apples on the tee. The 830-acre park includes 30 lakes and fairways surrounded by Bon Secour Wildlife Preserve.

Rock Creek Golf Club - Also owned by Honours Golf and boasting rolling terrain and fairways lined by pines, the Earl Stone design overlooks freshwater wetlands and the Rock Creek basin.

TimberCreek Golf Club - This 27-hole design was crafted by Earl Stone and feels like an inland Carolina course with fairways lined by loblolly pines, dogwoods and magnolias.

Gulf Shores Golf Club - Formerly known as The Golf Club of the Wharf, this was the Gulf Shores' first course. Opened it 1960, it was redesigned by Jay and Carter Morrish in 2005. For more information, visit www.golfgulfshores.com or call 888/815-1902.