Golf Helps Boston Marathon Victims & Others Get Back on Track
By: Rob Duca
J.P. Norden remembers lying in his hospital bed after losing his right leg in the bombing at last April's Boston Marathon, assuming his days of playing golf were over.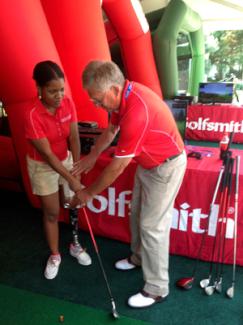 Rick Johnson Offers Instruction to
Marathon Bombing Victim Mery Daniel
"I didn't think I'd ever be able to do anything ever again, let alone play golf," he said.

Four months later he's anxiously waiting for the day when he tees it up. More importantly, it's not just a dream for Norden, 33, and others like him who have suffered traumatic injuries. Spaulding Rehabilitation Hospital in Boston, in conjunction with Golfsmith and Nike Golf, is making it a reality through its innovative "Back in the Swing Adaptive Golf Program."

Norden and other Marathon bombing victims were at TPC-Boston on Wednesday as part of the Deutsche Bank Championship's Community Appreciation Day, where PGA Tour pro Robert Garrigus and Spaulding Adaptive Sports instructor Rick Johnson - the long-time head professional at the Hyannisport Club on Cape Cod - provided swing tips to help victims bring golf back into their lives.

Visible signs will be everywhere honoring bombing victims during this week's tournament. The second leg of the four-event FedEx Cup Playoffs starts Friday. Players, caddies and volunteers will be given blue-and-gold ribbons to wear, and spectators are being asked to wear those colors during Monday's final round, which has been designated Boston Strong Day.
Norden, a 12-handicap before his injury, still faces additional surgeries before he will be able to swing a golf club again. But he's counting the days.

"This is an amazing program, and it's unbelievable that they would do this for us," he said. "Playing golf again is something I really want to do bad. I've got a little road ahead of me, so I can't really go out and do it this year, but I'm looking forward to it. It's the first thing I want to do."

Mery Daniel, 31, is also excited to have the opportunity to play golf. She lost her left leg on that horrific Patriots Day, and she is taking up the sport for the first time.

"I never played, but I liked to watch golf, especially Tiger Woods," she said, a smile flashing across her face. "Golf is a challenge, and I love challenges. It helps me mentally and physically. I have to deal with the fact that I'll never have my leg again, and I have to get accustomed to what I have and make the best out of it. I'm just learning golf now and it's exciting. It's a beautiful game and I think it will help me rehabilitate."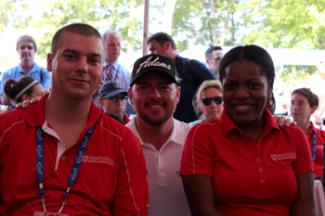 Marathon Victims J.P Norden & Mery Daniel
with PGA Tour Pro Robert Garrigus
As part of the Adaptive Golf program, those who have suffered traumatic injuries will be custom-fitted by Golfsmith and provided with Nike clubs and other apparel. They will also receive personalized instruction.

The program is yet another step in their recovery, said Johnson.

"Social rehabilitation is just as important as physical rehabilitation. Golf provides a 360-degree approach that encompasses all aspects of life. Adaptive Golf gives these people a reason to get out, push themselves and accomplish something," he said.

"Golf is therapy for all of us who play it, in different ways. For some, it's very competitive, and for others it's just to relax and enjoy great surroundings."

Johnson spent decades teaching golf at Hyannisport and, more recently, at Willowbend in Mashpee, Mass. He learned of Spaulding's program while listening to a local morning talk-radio show. Intrigued, he began volunteering. Soon after, he offered suggestions to improve the program.
"I thought they needed to add something with the mechanics and knowledge of the golf swing," he said. "I became passionate about it. The rewards you get from working with the participants and their caregivers is unbelievable. There is such joy in bringing people back into the game of golf.

"This program has completely changed my life."

Johnson works with people suffering from a wide range of disabilities, including strokes, spinal-cord issues, amputations and brain trauma. "We have people who have looked at their clubs sitting in the corner for years thinking they would never play golf again, and all of a sudden they're back in the game," he said.

The nature of instruction is clearly different, the challenges unique. Johnson assesses each golfer based on their individual situation and then makes adjustments. "You take your knowledge of swing mechanics and see where they can fit in," he said.

He finds that positive results are quickly achieved.
"In some ways it's easier [than teaching a golfer without a disability], because their minds are cleansed and the expectations are relatively low," he said. "They just know that they're back swinging a club and they think, I can do this again."

Norden discovered the program earlier this week when he received an invitation to participate in the ceremony at TPC-Boston.

"They've offered to teach me how to swing again," he marveled. "And now they're giving us clubs, too. I can't say enough about them. I've been fighting to get back to a normal life. At first you don't think it will ever happen. But it's slowly getting there.

"I've been playing golf since I was 15. I can't wait to get back in it."
Rob Duca is an award-winning sports columnist who wrote for the Cape Cod Times for 25 years, covering golf, the Boston Red Sox, the Boston Celtics and the Boston Bruins. He is now managing editor of Golf & Leisure Cape Cod magazine and has written for a variety of other publications, including Sports Illustrated, the Boston Globe, Yankee magazine and Cape Cod Life.