Golf, History & Hospitality Converge at Jamaica's Rose Hall Plantation
By: David Wood
As winter comes on and the days grow short, golfers begin to contemplate tropical, sun-splashed fairways where they can find refuge during the upcoming months. While worthy candidates abound, none offers the unique combination of championship golf, colorful history and superb hospitality served up by Jamaica's Cinnamon Hill Golf Course and Hilton Rose Hall Resort & Spa.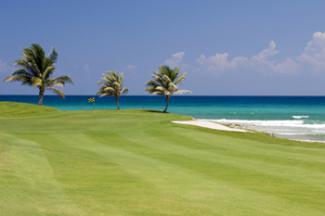 5th Hole at Cinnamon Hill
Both are located within Montego Bay's scenic Rose Hall Plantation. Its 7,000 acres were purchased more than 40 years ago by the late American entrepreneur John W. Rollins, and have been transformed from 18th-century sugar-cane farms into a popular recreation and relaxation sanctuary.

The 6,828-yard, par-72 Cinnamon Hill was re-designed by golf architect Robert von Hagge in 2001. Its open and windswept front nine frequently moves just steps from the Caribbean. A case in point is "Majestic Blue," the 453-yard, par-4 fifth hole. A solid drive avoiding three fairways bunkers left and one right will be rewarded with a mid-iron approach to the peninsula-shaped green. Just don't let the arresting ocean backdrop distract from the task at hand, especially when firing at back pins guarded by water on both sides.

Caribbean is also integral at No. 6, the 160-yard "Witches Reef." Soak in spectacular views from the tee box (Jamaica's northernmost point), but be sure to aim left and pull the proper club. A pushed or sliced shot is sure to find the waves lapping the entire right side of the putting surface.
As the course climbs into the Jamaican hills, caddies won't be shy about acting as unofficial tour guides and bringing the site's vibrant history to life. They'll point out landmarks like the family burial plot of famed English poet Elizabeth Barrett Browning; the long-time home of Johnny and June Carter Cash; a centuries-old aqueduct and gravesites abutting the 17th green; and a waterfall behind No. 15 where a famous scene from the James Bond thriller "Live and Let Die" was filmed.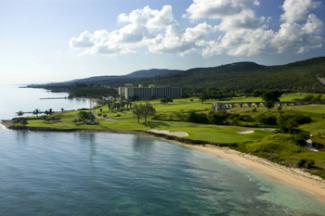 Aerial View of Cinnamon Hill
"Cinnamon Hill is the Caribbean's most unique golf setting," says Robbie Ames, director of golf. "The combination of beachfront holes, towering aqueducts, ancient gravesites, cascading waterfalls, exotic flora and centuries-old great houses is unmatched."

Ames knows a thing or two about good golf courses. A three-time All-American at Florida A&M, he represented Trinidad and Tobago in four World Cups. He then turned to caddying for his brother, four-time PGA Tour winner Stephen Ames. Robbie helped Stephen conquer TPC Sawgrass to win the 2006 Players Championship.

For more information about Cinnamon Hill, visit www.cinnamonhilljamaica.com, or call 876.953.2984 or 9381.
Where to Stay

Adjacent to Cinnamon Hill and between the Caribbean and the Blue Mountains is the all-inclusive, 489-room Hilton Rose Hall Resort & Spa. It boasts an 1,800-foot ribbon of private, white-sand beach, the Sugar Mill Falls Water Park (Jamaica's largest), full-service Soothe Spa, a water-sports center, six lighted tennis courts, several restaurants, and meeting and banquet facilities.
"A nod to our exceptional service and offerings, golfers don't have to worry about anything other than their swings and scores," says Ron Day, general manager of Hilton Rose Hall Resort & Spa. "Comfortable rooms, an idyllic beachfront location, a wide variety of dining and entertainment options, rejuvenating spa and more create an ideal escape."

For more about Hilton Rose Hall Resort & Spa, visit www.rosehallresort.com or call 866/799-3661.

Cinnamon Hill and Hilton Rose Hall are offering four-night/three-round "stay-and-play" packages beginning at $953. Seven-night/five-round packages start at $1,608. For more details, contact Caroline Clarke at cclarke@luxuryresorts.com or 876/953-2650.
Getting There

The Rose Hall Plantation properties are only 15 minutes from Montego Bay's Sangster International Airport (MBJ). There are frequent nonstop flights from New York, Chicago, Boston, Miami, Washington, Detroit, Atlanta, Philadelphia, Orlando, Toronto, Montreal and other major cities.
In addition to writing on golf and travel, author and noted speaker David Wood has made several appearances on "Late Night with David Letterman" as well as dozens of other television shows. His book - "Around the World in 80 Rounds" - was just released in paperback on www.Amazon.com. Currently he works in public relations with Buffalo Communications in Vienna, Va. His website is www.DavidWoodSpeaking.com.