Golf in a Delightful Part of the World
By: Joel Zuckerman
I'm a good golfer, so why were the golf gods so vengeful?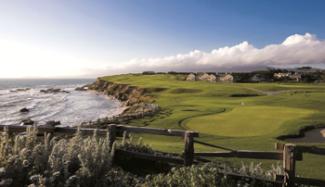 18th Hole at the
Old Course at Half Moon Bay
I don't mean good like Tiger or Rory, I mean good as in not evil. I mean good as in not apathetic or indifferent or irresponsible. I fix dozens of ball marks, use half-a-sandbox each nine by constantly filling divots, even lay down the flag stick as gently as mama lays her baby into the crib -none within my purview thud to the putting surface like a felled redwood.

However, walking in anticipation of taking in the single greatest view in planet golf, along the earthen footpath between a natural tunnel of gnarled cypress trees beyond the 14th green, heading to the ocean, the heavens had opened up into a torrential rain, with 40-mph headwinds. All we could do was laugh, or cry, because the ethereal 15th and epic 16th, the beauteous and beastly back-to-back, over-ocean par-3s at Cypress Point Golf Club on California's Monterey Peninsula, were more than unplayable. It was raining and gusting so violently one couldn't even lower the umbrella to see them, never mind swing at them.

Cypress Point, for the uninitiated, is a club as inaccessible as Atlantis, and on the indelible hour in question, bore a striking resemblance. It was designed in 1928 by Alister MacKenzie, who created Augusta National some four years later. Both are among the most exclusive golf bastions in the world, but instead of tall Georgia pines and flowering azaleas as hallmarks, the West Coast venue, just a few miles from the equally exalted Pebble Beach Golf Links, is highlighted by crashing waves, rugged rocks and arcing plumes of sea spray.

The visit was arranged thanks to my cousin's plumber's bookie's landlord, who knew the caddie master's sister's podiatrist. Something like that, anyway. Suffice it to say twine was tugged, and there I was.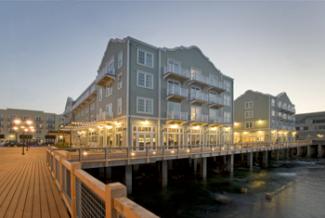 The Clement Monterey
Slogging into the clubhouse afterwards, wetter than Michael Phelps on the medal stand, I realized that, though the round had been ruined by that brutal hour, it was a golf adventure never to be forgotten. A short time later, dried off and at lunch back in Monterey, the knife was twisted further owing to the sunny skies, puffy cirrus clouds and baby's breath wind that had magically returned, the angry squall nothing but a harrowing memory. Such is life in Northern California.

The disappointment ebbed like a receding tide when I considered the surroundings. We were ensconced in a lovely Inter-Continental Hotel called the Clement Monterey, smack-dab in the middle of Cannery Row. The sardine factories, well-meaning vagrants, drunken ne'er-do-wells and kindhearted ladies of the evening so vividly rendered by native son John Steinbeck in the literary masterpiece of the same name are long gone. They've been replaced by Dippin' Dots, Bubba Gump's, ubiquitous T-shirt shops and other garish, franchise intrusions of the modern tourist world. But there's a Monterey magic still, from the salty air, sparkling bay, and the world-class aquarium that brings into sharp focus the interdependence of the sea and all its creatures at this unique portion of the California coast.

The 208-room hotel is lovely on its own merits, and would be a destination worth visiting if it was off the beaten track. But its true appeal is the fact it is mere steps from virtually all the action, literally two minutes to the aquarium, with two dozen restaurants and an equal number of shops within five minutes of the front door. It's no wonder the hotel, newly constructed in 2008, receives a four-diamond rating from AAA, which only designates 4 percent of lodging properties so loftily.
While the full-service hotel has no shortage of dining options, any visitor would be pleased to make the brief trek to the Sardine Factory situated in a building that, you guessed it, was once a sardine factory. Now some 45 years old and still under original ownership, the menu is expansive and eclectic, much like the building itself. Besides the main dining room or bar area, patrons can dine in the Conservatory, the Captain's Room, or the ultimate in privacy, the Wine Cellar. This award-winning establishment is not to be missed when visiting the area.

Speaking of award-winning and not-to-be-missed, any golfer would be charmed (and potentially harmed) by the superb Pasatiempo Golf Course (www.pasatiempo.com), less than an hour north (basically hugging the coastline around Monterey Bay) in Santa Cruz. The view of the course from the winding driveway as one climbs towards the clubhouse reveals some of the most elegant and distinctive bunkering found anywhere within America's 50 states. This is one of the truly great semiprivate facilities in the West, and traveling golfers who want to seek out the game's finest experiences should be thankful they can access this "Golden Age" jewel.

Like Cypress Point, this is another MacKenzie design, dating from 1929. The course is rugged, walker-friendly but with significant elevation changes, plenty of natural hazards and excruciatingly difficult greens. Pasatiempo is the brainchild of one of the least-known, yet most important female figures in golf, 1921 U.S. Women's Amateur champion Marion Hollins. Her impressive playing record takes a back seat to her skills as a visionary, involved as she was not only at 'Pasa,' as it's known, but also at both Cypress Point and to a lesser degree, Augusta National.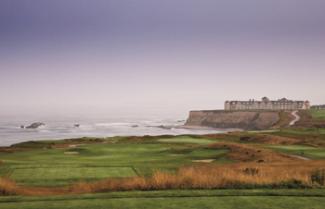 Green on Half Moon Bay Resort's Ocean Course
An overnight visit to Pasatiempo requires lodging somewhere in Santa Cruz. But an hour further north brings the intrepid golf traveler to one of the most impressive, convenient, and dramatically beautiful outposts on the West Coast. It's the unforgettable Ritz-Carlton Half Moon Bay Resort, with two exceptional courses, a state-of-the-art hotel and, most memorably, the crashing Pacific surf, 100-or-so feet below the cliff-side property. The setting is so magical it's no wonder that a good percentage of visitors (honeymooners, conventioneers) have no interest in golf whatsoever. But if golf is also part of your milieu, you'd be hard pressed to find a more wondrous environment.

The Ocean Course, unveiled in 1997, provides the "wow" factor - 18 holes of water views, not a roadway or home to be seen. The main challenge is playing into the prevailing coastal breezes, but the rolling terrain has acre-wide fairways, subtle elevation changes and no shortage of rustic native grasses.

The Old Course is curiously named considering its barely middle-aged, created in 1973. But this inland counterpoint to the seaside venue has plenty of encroaching water, hairpin fairways, and one of the most scintillating finishing holes anywhere. The ocean frames the entire western length of the 18th, with the sound of powerful waves crashing against the cliffs providing auditory distraction. Woe be to those with slicing tendencies; that doomed pellet will float over the cliff towards oblivion and, like Jimmy Hoffa himself, will never be seen again. Heading down the 18th fairway, the welcoming hotel in sight, the final approach shot must carry a jagged creek to a green practically in the Ritz-Carlton's formidable shadow.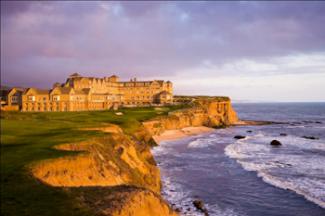 Ritz-Carlton Half Moon Bay Resort
The 261 luxurious rooms, including more than 50 with their own fire pits, add even more panache to this exceptional property. The spa sparkles, the fitness center is both expansive and state-of-the-art, and the walking/jogging trails endless. But many visitors are more inclined to wine and dine, with emphasis on the former. Guests receive a glass of local wine upon check-in, and many make a beeline to ENO, the resort's custom-built wine room, for flights of wines, cheese and chocolate.

Dining alternatives include The Conservatory for casual fare, or Novio as a more formal option. But the town of Half Moon Bay, perhaps a 10-minute drive, offers charms of its own. The main drag has plenty to choose from, including an excellent bistro named Pasta Moon, offering a delightful amalgamation of California-inspired Italian cuisine. Ingredients sourced from local farmers and ranchers help to insure that most everything on the diverse menu is fresh and seasonal.

Another attractive aspect of both the Ritz-Carlton (www.ritzcarlton.com/en/Properties/HalfMoonBay/Default.htm) and the nearby town of Half Moon Bay is its close proximity to the San Francisco airport - less than 25 miles away. This convenience is a blessing and a curse. The former promotes incredible ease of travel, getting to and from.

But the latter? With so many wonderful options for lodging, dining and golf in the immediate region, and heading due south towards Monterey, it wouldn't be a tragedy if visitors were forced to loiter a bit longer in this delightful part of the world, before having to jet back from whence they came.
Joel Zuckerman, called "One of the Southeast's most respected and sought-after golf writers" by Golfer's Guide Magazine, is an award-winning travel writer based in Savannah, Ga. His six books to date include "Pete Dye - Golf Courses," which was honored as "Book of the Year" by the International Network of Golf. His seventh book, entitled "Pro's Pros - Extraordinary Club Professionals Making Golf Great!," is scheduled for release in early 2013. Joel's course reviews, player profiles, essays and features have appeared in 110 publications, including Sports Illustrated, Golf, Continental Magazine and Delta's Sky Magazine. He has played more than 800 courses in 40-plus states and a dozen countries. For more about Joel, visit visit www.vagabondgolfer.com.