Golf in Aruba Elicits Plenty of Smiles
By: Steve Habel
I knew very little about Aruba before flying into the tiny island nation last summer. Some might think the destination's simple slogan - "Aruba: One Happy Island" - might be hard to deliver consistently. But after spending three days on Aruba's sun-splashed shores and enjoying various eateries and the island's two golf courses, I found myself smiling a lot more than usual.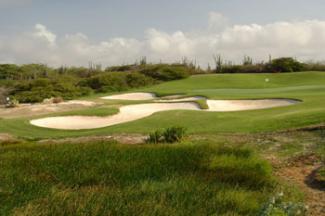 Tierra del Sol
Situated in the southern Caribbean, roughly 15 miles from Venezuela, Aruba is celebrated for its breezy, year-round 80-degree weather, gorgeous beaches, nonstop nightlife, and shops, restaurants and over a dozen casinos.

Aruba is part of the Kingdom of The Netherlands, which also includes Curacao and St. Maarten in the Caribbean. Aruba is popular with Americans because of near-perfect beaches comprised of more than seven miles of powdery, white sand lapped by water almost too blue to believe.

Its north coast is wild and rugged, battered by the waves of the Caribbean Sea and pocked with caves and wild rock formations. It's a wonderful area to explore on horseback or ATV. There's not much chance of getting lost as the island is just 19.6 miles long and about six miles wide, roughly the size of Washington, D.C.

The climate is not tropical, but rather desert-like, with cactus the prevailing flora on terrain almost entirely flat. The highest elevation, so-called Mount Jamanota, is only 617 feet above sea level. Rocky expanses characterize the interior of the island, which has no natural fresh water lake. The balmy climate and remarkable landscape make Aruba an ideal environment for golf.

There are two golf courses here - Tierra Del Sol Resort & Country Club, built in 1995, and the nine-hole layout at Divi Aruba Resort, which opened in 2004. These completely different types of courses are good complements, giving golfers a bit of variety.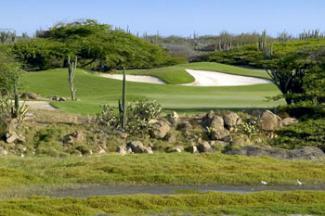 Cacti Dot the Course at Tierra de Sol
Tierra Del Sol a Lot Like Scottsdale - with the Caribbean

Tierra Del Sol is categorized as a desert-style course with an ocean view, an unlikely occurrence of the kind memorialized in the mid-1980s by country music's George Strait in his song, "Ocean Front Property."

Fashioned by the Robert Trent Jones II firm and overseen by then-associate Kyle Phillips, Tierra del Sol occupies the scenic northwest tip of Aruba. It's the centerpiece of an upscale community, the island's first fractional ownership property.

Jones Jr. and Phillips followed the site's natural contours and embraced the resources of the island, melding manicured fairways and challenging greens with an eye toward preserving Aruba's endemic plants and animals.

Players will likely spot plenty of wildlife, from green parakeets and egrets perched on the pipe-organ cactus, to the lizards, iguanas and salamanders basking on rocks. A saltwater salina on the 4th hole is home to several exotic birds; wild burros often graze alongside the par-5 fifth; and Aruba's endangered burrowing owls nest along the small coral caves near the par-3 sixth.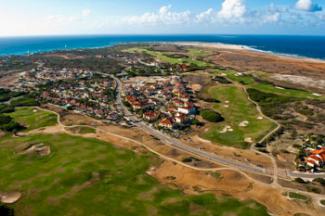 Holes 10 (at top), 11 & 12 at Tierra del Sol
The par-71 course stretches 6,811 yards from the tips (where it's rated 74.2 with a 132 Slope), but don't be fooled into thinking Tierra del Sol is easy because of its relative brevity. The holes wind through cactus, limestone cliffs and wind-warped divi-divi trees. The wind, which almost always blows briskly, makes the course play several hundred yards further than the yardage.

The fairways are mostly accommodating and its putting surfaces are large, fast and true. Lakes enter play on seven holes and are visible on several more, while a handful of holes play across wastelands influenced by the tides. Tierra del Sol's first three holes head downwind toward the island's landmark California Lighthouse, set on Aruba's northwest tip and named for the steamship California, which wrecked nearby on September 23, 1891.

The routing then turns into the wind and the challenge begins in earnest, with the 310-yard, par-4 fifth playing more like a mid-range two-shotter than a hole some golfers think they should try to reach from the tee.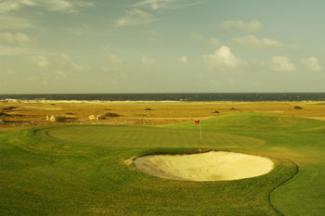 The 7th Green at at Tierra del Sol is on the Beach
The 386-yard 10th starts at an elevated tee that affords vistas of the island below. The back nine has three par-3s, two of which play more than 200 yards, along with the short par-5 12th (at just 479 yards and playing into a crosswind, it's imperative to grab a stroke or two here), and the 468-yard closer, which ascends along a right-leaning path before concluding at a tough green.

The most talked-about hole at Tierra del Sol is the 534-yard par-5 14th, which involves carries over waste areas on both the second and third shots. Birdies here are rare and pars are tough to achieve, so play conservatively.

Tierra del Sol is a great course with dependable tradewinds and remarkable views from nearly every hole. It annually ranks among the Caribbean's best and has received a 4½-star rating from Golf Digest. Two Champions Tour events have been played at the course, which also hosted "Shell's Wonderful World of Golf" with Payne Stewart versus Nick Price, and held the Johnnie Walker Pro-Am for seven years. Links magazine gave the course its "Top 100 Award."
For more information, visit www.tierradelsol.com.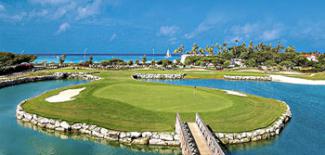 Island Green at the 9th Hole at the Links at Divi
Links at Divi a Nice Diversion

Routed within open spaces at the expansive Divi Village Golf & Beach Resort near Aruba's main entertainment district, the Links at Divi is a nine-hole jewel. Playing only 2,952 yards, it's totally flat but features plenty of bunkers and water, particularly at the 307-yard par-4 ninth hole with its island green.

Opened in 2004 as a public venue and designed by Florida-based Karl Litten, with help from Lorie Viola, the Links at Divi is good test, with water hazards and lagoons on six holes. The track is turfed throughout with Seashore Pasplaum, which thrives in this warm climate and can be irrigated with brackish saltwater.

No par-4 here is longer than 363 yards, so accuracy and course management are key to scoring well. The 486-yard par-5 fourth can be attacked from the fairway in two, but anything short and right on the approach will find water.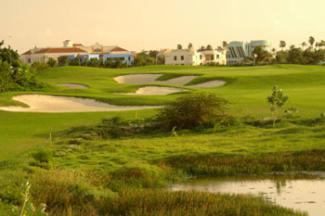 The Approach to the 4th Hole at The Links at Divi
The 125-yard fifth is kind of like Miley Cyrus - diminutive but dangerous, as the carry to the putting surface is all over water. Just as tough is the 167-yard seventh, which plays slightly uphill and across a series of bunkers.

The Links at Divi is always in good shape with fast, receptive greens. It provides a nice counterbalance to Tierra del Sol, giving visitors a second option for quality golf on the "Happy Island."

Lodging at Divi is first-rate and on par with some of the Caribbean's top resorts. And it's right across the street from one of Aruba's best beaches.
For more information, go to www.divivillage.com/DiviVillage.
Steve Habel is a freelance writer contributing Cybergolf news stories, features, equipment and book reviews and personality profiles from his base in Austin, Texas. He also works as an associate editor for Horns Illustrated magazine, a publication focusing on University of Texas sports, and is a contributing writer for Texas Golf Insider, Golf Oklahoma magazine, Tri-State Golfer and ATX Man magazine. Habel's blog (www.shotoverthegreen.blogspot.com) features news on golf and chronicles his many travels, including playing almost 1,000 golf courses since 2008. Habel is a member of the Golf Writers Association of America and the Texas Golf Writers Association.